Weekly Email – Christmas 2
Friday 31 December 2021
at 13:45
---
Documents
Dear friends,
As I look back on a wonderful celebration of the beginning of Christmas at All Saints', I am sure I am not the only person to be doing so thinking that we are incredibly lucky to have so many committed volunteers and staff who help us prepare and celebrate the great feasts of the Christian year. I want to say a huge thank you to all who have contributed to our keeping of Christmas.
A huge vote of thanks should go to Stevie Farr, our Director of Music, and our choir who have worked heroically through the vicissitudes of COVID to provide such excellent music for the many liturgies of the past week. Choirs have been particularly affected by the spread of the Omicron variant in the run up to Christmas.
You may know that Jeremiah Stephenson, our assistant director of music, came down with COVID just before Christmas. We were grateful that Jordan Wong agreed to play in his place, but he came down with the Coronavirus a day later! Our solution in the end was that Stevie played the organ for our great liturgies, which he did wonderfully, with deps drafted in to direct and sing.
What a heroic effort on everyone's part to deal with a week of great uncertainty! We are hugely grateful to all who contributed in any way to the music over Christmas, but especially to Stevie, who deserves a medal in the New Year's Honours for the complexities, dramas, and problems he so ably and calmly dealt with!
A big thank you also goes to our wonderful serving team. The time, energy and effort they have put into preparing for our Christmas liturgies is exemplary. I know many of them travelled long distances to get here on Christmas morning, having only got into bed the night before at 2.00 am after getting home from our midnight Mass! How lucky we are to have such a devoted group of servers, and our particular thanks goes to Cedric Stephens, our Head Server, for leading and organising them so ably.
How beautiful our church looked for Christmas! An army of volunteers helped clean and prepare the building, arranging flowers, building the crib, preparing the High Altar, and changing frontals. I would particularly like to thank Shawn Welby-Cooke, Paul Weston, John Forde, and Peter Little for all they have done over the past week on this front.
We should also be grateful to those who have organised the welcome and hospitality we have shown to so many visitors over the past few days. Janet Drake and Chris Self have prepared gallons of mulled wine over the past month, and hundreds of mince pies! Thank you to all who volunteered to help serve them.
Thanks are also due to Kate Hodgetts and to all who man our bar for the many occasions when that has been the locus of our welcome to visitors over the past few weeks. We are grateful for all the time and effort that goes into running our club, and appreciate all that Kate and Martin do to make it such a well organised place of refreshment and cheer!
Above all, I would like to thanks my colleagues Fr Michael and Fr Julian for their hard work, support, and energy over Christmas. We are so lucky to have them in our clergy team and I am especially grateful to them for their liturgical contribution to the life of All Saints', particularly for their excellent preaching over this Advent and Christmas.
As I look back on a wonderful beginning to our celebration of Christmas, I wish our whole All Saints' family a very happy Christmas and a safe and healthy New Year. May the joy of the angels, the eagerness of the shepherds, the perseverance of the wise men, the obedience of Joseph and Mary, and the peace of the Christ child be yours this Christmas.
Fr Peter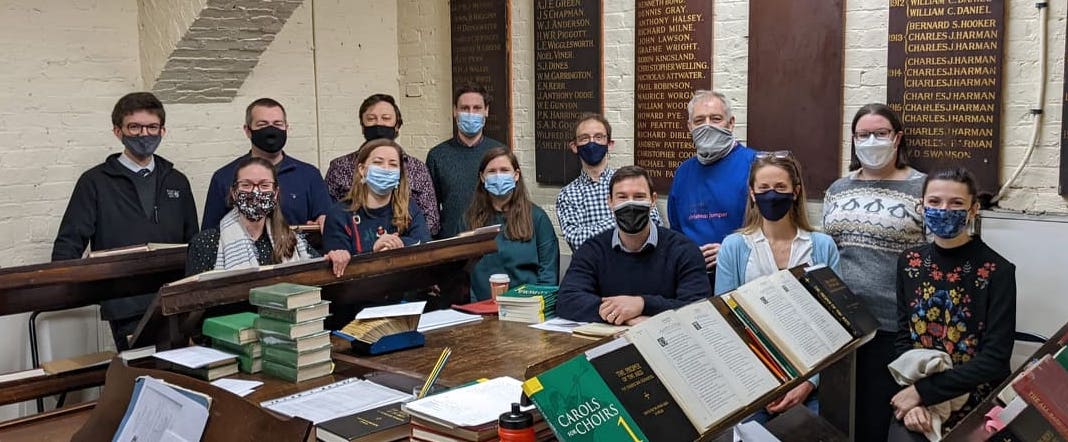 A huge thank you to everyone involved in our parish's music making over the Advent and Christmas period. We are very grateful indeed to our whole choir.
Looking ahead
As we look ahead to the new year, 2022, do put the following dates of major parish celebrations in your diary.
Feast of Charles, King and Martyr – Sat 29th January 2022.
The Society of King Charles the Martyr will have its principal commemoration of the royal martyr at All Saints' on Saturday 29th January at 12 noon. We are very pleased to host this event again whilst the Banqueting House undergoes repair and restoration.
Lent Lecture, Fri 8th April 2022, 6.00 pm – Fr Dominic Keech
We look forward to Fr Dominic Keech's lecture on St Augustine, entitled, "The Infinite Vision: St Augustine and the formation of the Western Mind." This will be an excellent opportunity to deepen our knowledge and understanding of the Christian faith as we make our way through Lent.
Holy Week 2022 – Guest preacher: Archbishop Rowan Williams
We are particularly looking forward to being joined by Archbishop Rowan Williams as our Holy Week preacher. This will doubtless be a wonderful homiletic experience, and I urge as many of you a possible to join us over those holy days as we celebrate the Passover of the Lord together.
Dedication Sunday and Friends Festival – Sun 29th May 2022
We will revert to keeping our Dedication festival around the actual date of the consecration of our church. There will be a large reception after the 11.00 am High Mass. We will also use this as an opportunity to celebrate the support we receive from the Friends of All Saints'. I would encourage all Friends to make a special effort to come to All Saints' on this day, so we can thank you and celebrate your generosity.
Corpus Christi 2022 – Thurs 16th June 2022, 6.00 pm
We will keep Corpus Christi on the day itself, Thursday 16th June, and will have our traditional procession of the Blessed Sacrament down Oxford Street that night. Do please come and support this liturgy if you are able, as we proclaim our faith in Christ the bread of heaven at the heart of London's West End.
Assumption 2022 – Guest preacher: Fr Graeme Rowlands
We hope to build on the success of this year's celebration of the Assumption and will keep the feast this year on Sunday 14th August 2022. The main procession through the West End will be in the evening at 6.00 pm, and Fr Graeme Rowlands will be our preacher on that occasion.
Feast of the Epiphany 2022
The Feast of the Epiphany will be celebrated on Thursday 6th January with a Low Mass at 12 noon and a High Mass at 6.00 pm. The Mass setting with be Mozart's Spaurmesse, and the Offertory motet will be by Crotch, Lo, Star-led chiefs. Our preacher will be Fr Michael Bowie.
Daily Masses
Please note that we return to our normal pattern of Masses on Monday 3rd January 2022, with Low Masses at 12 noon and 6.15 pm each day (the one exception this week being Thursday 6th Jan, when there is a High Mass in the evening at 6.00 pm). We will also return to having the church open for prayer and visiting each afternoon from 3rd January.
Dürer Exhibition at National Gallery
Friday 14th January 2022, 5.15pm
Don't forget to sign up for our parish trip to visit "Dürer's Journeys: Travels of a Renaissance Artist" at the National Gallery on Friday 14th January, followed by dinner at Le Beaujolais restaurant. More details of the exhibition are available here.
We will meet at the National Gallery for a talk from Dr Susan Foister, deputy director of the gallery, at 5.15pm. After viewing the exhibition there is the opportunity to have dinner together at Le Beaujolais restaurant in Litchfield Street.
Tickets are on a strictly 'first come, first served' basis. The exhibition tickets cost £20. A three-course dinner at Le Beaujolais will be £37 (without wine – each person will be able to pay for their own wine on the night), so if you wish to stay on for dinner, the total is £57. If you are a member of the National Gallery, the cost is £37 – please send your membership number to office@asms.uk so we can include you in the group.
To buy your ticket – either with dinner or without – visit this page and select one of the three price options. If you are unable to make a payment electronically by card, the parish office will be able to receive a cheque.
Links for Sunday
The link for the Propers for Christmas 2 is at the end of this email.
Click here for the YouTube live stream for High Mass.
Evensong and Benediction is at 6pm. The music includes Purcell in G minor, Gibbons See, see the word is incarnate, Anerio O salutaris and Asola Tantum ergo.
Flowers
The flowers, this week, are given by Sue Prain in memory of Philip Prain.
We are looking for volunteers to help with the flowers in church. If you have a particular talent for flower arranging and would like to help from time to time or on a regular basis, please contact Shawn on 07988 287 663 or shawnwilbe@outlook.com.
If you would like to make a donation for flowers, please contact Shawn or speak to Chris Self.
Walsingham Devotion
Tomorrow week our monthly Walsingham Devotion, in the form of the Rosary with intercessions, will be offered at 1130 before the noon Mass.
Prayer list
Prisoners and captives
Nazanin Zhagari-Ratcliffe, Ismaeil Maghrebinejad, Nasrin Sotoudeh
Maira Shabhaz
Rohingya Christians in Pakistan, Karen Christians in Burma, and Tigrayan Christians in Ethiopia
The sick
Fr Harry Hodgetts, Martin Berka, Sue Yesnick, Elizabeth Lyon, Ross Dixon, Bernard Holmes, Jack de Gruiter, Anne-Marie Chartier, Carol Harrison, Ruth Wilson, Sara Vise, Joyce and David Cox, James Shrimpton, Rosemary Harris
Those known to us recently departed
Arjan Melwani, Michael McParland
Anniversaries of death
2nd – Hugh Glaisyer Pr
3rd – Berdmore Compton Pr (second vicar of All Saints), Eileen Prior
4th – Henry Howell, John Wylde Pr, Joan Banyard, John Auton
5th – Ernest Waggett, Timothy Shaw, Emily Finnis, Tom Ryder Pr, Mary Park, Constance Tweed
6th – Robert Routledge, Winifred Nash, Richard Mosbery
7th – Fay Ireland, Jill Horley, Anthony Bullock
8th – Kay Leahy, Christine Ellis
Calendar and Intentions
January 2022
The Calendar and Intentions will now be published monthly on the website. You can view January's here.
Supporting All Saints
Parish Giving Scheme
You can set up a regular donation to All Saints here.
We use the Parish Giving Scheme, which allows contributions to be anonymous and deals with Gift Aid, saving our office a lot of time. You can read about how the scheme works here.
Donations for general church purposes
To give by BACS please use the following details, advising the Administrator to collect Gift Aid:
PCC All Saints (Charity no. 1132895)
Sort Code 60-09-15
A/C 04559452
Parish Legacy Policy
We are always delighted to hear from anyone who wants to support us with a donation. Our PCC Legacy Policy encourages people to leave bequests specifically to one of our two related charities to be used for purposes of lasting value (rather than day to day costs):
All Saints Choir & Music Trust (Charity # 802994)
or The All Saints Foundation (Charity # 273390).