Weekly Email – Advent 2
Friday 2 December 2022
at 13:30
---
Documents
Dear friends,
I want to let you know about a number of discussions which our PCC has been having over the past few months to deal with the financial complexities we are all being confronted with at the moment.
Our parish is finding itself as affected by inflationary price rises and reduced income as everyone else. I want you to know about a number of plans we have formulated to tackle these issues. I am very grateful to the PCC – and especially our treasurer Patrick – for the energetic way in which they have responded to these tricky questions and for the wise and pragmatic decisions they have made.
The issue is basically this. Over the past twelve months nearly every single outgoing and bill has increased, whilst our income has remained static and in some areas has reduced. It is also the case that a number of broader trends in giving which had been masked by the chaos and unpredictability of the COVID years have become more apparent now we have returned to some semblance of post-COVID normality.
Unless we act quickly to resolve this situation, our treasurer is predicting an overspend of £30,000 next year. The PCC has agreed this should not happen and that action should be taken urgently to rectify this situation.
I want to say a huge thank you to all who regularly support our parish through the Parish Giving Scheme. Our parish is dependent on this income for funding its day-to-day life. We receive support that covers around 50% of our music budget from our parish's Choir and Music Trust. The All Saints' Foundation is also able to cover certain "infrastructure" investment such a work on our buildings or specific projects. However, the lion's share of our income for day-to-day outgoings, and for at least half of our choir and music expenses, remains the generous giving of our parishioners.
The two main prongs of our approach for dealing with the present challenge are to reduce expenditure through finding savings, and to embark on a major stewardship campaign in the early months of next year, probably focussing on Lent 2023.
A small PCC sub-committee has been formed to examine our expenditure and identify potential savings. It will also suggest underexploited areas of our parish's assets and life where further income might be found. I think it will be perfectly possible to both save and generate considerable amounts of money through this process and we await the committee's findings in the next few weeks.
Of equal, if not greater importance, however, will be the work that needs doing next year if we are to increase our income from parishioners' giving through a stewardship campaign.
The work we have done in examining patterns of giving shows that there has been a slow but steady reduction over the past decade or so in the number of people who contribute to our parish's finances through regular giving.
There appears to be no one clear point at which giving has dropped off, nor a specific cause that explains it at any particular moment. The pattern is rather the regular occurrence of two to four people who give generously each year either dying or moving away from London, and not being replaced as contributors.
We have dropped from 119 regular givers in 2014 to 87 regular givers in 2022 – that's 32 fewer now than we had in 2014, which equates to a reduction in income of about £30,000 per annum.
The spread of regular donations has also changed. The picture in 2014 was one in which a larger number of people each gave what, on average, was a smaller amount – the average monthly donation in 2014 was £88. By contrast, we have fewer regular givers now, but they tend to give larger amounts each – our current average monthly donation is £92.
This reduction in giving has not accompanied a general reduction in congregation size, however. If anything we have grown, with good numbers of newer parishioners, especially in younger age brackets, in the period post-COVID. We can also count on the new presence of a large family of online worshippers who join us online each week, many of whom are pert of our renewed Friends Scheme. It would seem that many of these newer members of our in-person and online congregation may never have been invited to think about regular giving through the Parish Giving Scheme.
It seems clear we need to undertake an extensive stewardship campaign in which we invite those who do not regularly donate through the Parish Giving Scheme to think about doing so, and encourage those who already contribute to think about increasing their regular giving.
A stewardship campaign is also not just about asking people for money. It will also involve a call to donate time and talent as much as financial resources. There will, I suspect, be many areas of our parish's life where a renewed spirit of volunteering will enable us to save money in areas where we now pay for some services and activities. The giving of time can sometimes be a more precious and useful gift.
I ask you to think in the immediate term about whether you might be in a position to increase your regular giving. If you do not already give by regular donation, you might wish to set up a regular donation through the Parish Giving Scheme, here. More details about various mechanisms for giving can be found in the short article below.
Next Lent, we will formally launch a stewardship campaign which will seek to ensure that every parishioner has the opportunity to reflect on how they give of "time, talent and treasure" to the mission of Christ's church, and I ask you to keep these efforts in your prayers as we prepare for that important period of renewal and appeal.
Fr Peter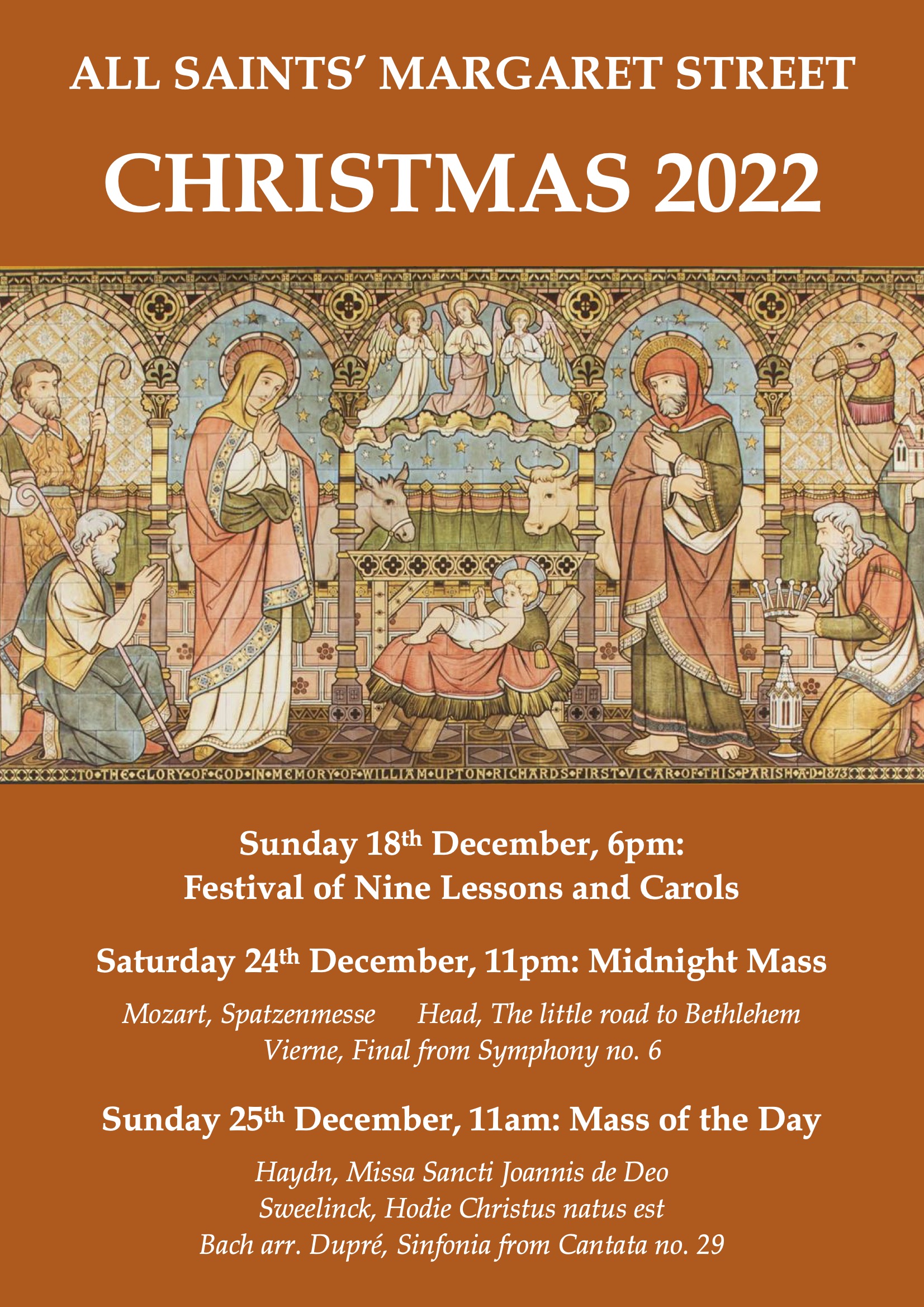 Carol Services
In the run-up to Christmas, several organisations, colleges and schools will be using All Saints' for their London Christmas Carol Services. We welcome them and are so pleased they want to celebrate the feast of Christmas in our beautiful church.
Please note that on nights when these carol services take place, there will be no 6.30 pm Mass. Although these carols services are arranged by particular groups, and some charge their members for tickets, they all remain public acts of worship. All parishioners of All Saints', therefore, may attend any of these liturgies free of charge if they wish.
Friday 2nd Dec, 7.00 pm – Magdalene College, Cambridge
Tuesday 6th Dec, 6.30 pm – Rugby School
Wednesday 7th Dec, 6.30 pm – Bishop's Diocesan College School, Cape Town
Friday 9th Dec, 6.00 pm – Merton College, Oxford
Tuesday 13th Dec, 6.00 pm – Magdalen College, Oxford
Thursday 15th Dec, 6.00 pm – Freud's Communications
Please note that our PARISH Service of Nine Lessons and Carols will take place this year on Sunday 18th December at 6.00 pm (rather than being on a Monday).
Ways of giving to All Saints'
There are several ways of giving to All Saints.
The best way to set up a regular gift if you live in the UK is through the Parish Giving Scheme. To do this, click on the "Set up a regular payment" option here. This has two advantages over a simple standing order: first, we receive Gift Aid back on your donation much more efficiently and quickly; second, you can opt in to an excellent process that increases your donation each year in line with inflation, meaning you don't have to worry in the long run about falling behind in the amount your give as a result of rising prices.
If you wish to make a one-off gift, you can do this through our CAF account. You can do this by clicking on "Make a one-off donation" here. This takes payment either by bank transfer from your current account, or payment with a credit card. The advantage of using CAF is that, once again, we can claim Gift Aid back much more easily. CAF is particularly good for making donations by credit card from abroad.
We realise that if you are wanting to donate regularly from outside the UK, this can prove to be a little problematic. We are working on ways of making this possible, as the Parish Giving Scheme requires you to have a UK bank account. One solution is for us to set up a parish PayPal account, which we are in the process of doing, and which should allow regular payments from outside the UK.
At the moment, the only way odonate to All Saints' from abroad is by individual donations through CAF on the donate page of our website. We hope that by the New Year we will have resolved some of these problems for those who very generously contribute from outside the United Kingdom and will have formulated a better way of offering the possibility of regular donation from abroad (probably involving PayPal).
All Saints' Festival Appeal, 2022
Huge thanks to all who contributed so generously to this year's All Saints' Festival Appeal. We are pleased to announce that the final total of funds raised, before Gift Aid, is £4371.75.
Immaculate Conception
Please note that we will be restoring our parish's former practice of celebrating a High Mass on the  feast of the Immaculate Conception of the Blessed Virgin Mary, at 6.30 pm on Thursday 8th December 2002. Music: Rachmaninoff-Vale, Mass in B-flat; Motet: Bruckner, Ave Maria. Preacher: the Vicar.
Guest preacher
We look forward to welcoming Fr Bruce Batstone, Vicar of St Mary with St George, Hornsey, as our guest preacher at the High Mass for Advent 3 on Sunday 11th December. 
All Saints' Club AGM
There has not been a Club AGM since May 2019 because of the pandemic. To regularise the situation, a general meeting of the Club will be held this Sunday, 4th December, immediately after Evensong and Benediction. All members of the Club are invited to join the meeting and the bar will open after the meeting.
Parish outing to the British Library
There will be a parish trip to see a new exhibition focussed on Alexander the Great on Tuesday 31st January, 2023. We will meet at the British Library at 6.15 pm and the cost of the trip is £15, followed by dinner at Pizza Express at 8.00 pm at a cost of £25. To book a place, please email the Parish Office.
Services in the Octave of Christmas
Please note that in the week between Christmas Day and New Year's Day, there will only be one Mass each day, at 12 noon (i.e. the 6.30 pm Mass will not take place). There will also be no 5.15 pm Mass and no Evensong and Benediction on Christmas Day and on New Year's Day.
King Charles the Martyr
The annual commemoration of the saintly death of King Charles I, which is organised each year by the Society of King Charles the Martyr, will take place at All Saints', Margaret Street, on Monday 30th January 2023 at 12 noon. This is because the Banqueting House is still undergoing renovation.
Next Zoom Theology Seminar
Our next Zoom Theology seminar will take place on Tuesday 24th January 2023. Its subject will be: "When history is painful: difficult and contentious memorialisation in churches."
This seminar will be led by Fr Charles Card-Reynolds, and will take the example of S. George's Cathedral, Kingstown, St Vincent which contains multiple colonial era memorials to those directly and indirectly involved with enslavement.
The Zoom link for the seminar can be found here.
Links for Sunday
The links for the livestream and service sheet for this Sunday's High Mass are at the end of this email.
Evensong and Benediction takes place at 6pm on Sunday, with music this week including Morley's Short Service and Naylor's Vox dicentis: Clama.
Prayer list
The sick
Fr. Harry Hodgetts, Elizabeth Lyon, James Shrimpton, Gloria Fleming, David Craig, Martin Berka, James Rodger, Amanda Barrett, Don McWhinney, Benedict Milne, Greg Loveday, Keith Bevan, Theresa Moses
The faithful departed
Jason Dowler, Christopher Atkinson Pr., James Rosie-Evans Pr.
Anniversaries of death
December 4th – Pamela Freer, Robert Fletcher
5th – Mary Skelton, Mary Burton, Florence Duggan
6th – William Gelson, Thomas Vaughan, Rita Mather
7th – Morgan Griffiths Pr., John Slater, Frances Lloyd, Zena Monk
8th – Maude Bull, Christine Bramma, Ines Baxter
10th – Marian Borton, Hamish Gray, Natalie Dyrnes, Daniel Thomas
The Friends of All Saints'
December 4th – Kate Burling, Graham Burns, Maureen Cambrey, Adrian Carlton-Oatley, Kate Charles
5th – Stuart Chillingworth, Sandy Christian, Laurence Clark, Roger Clark, Catharine Clarke, Sr. Jane Cledwyn-Davies
6th – David and Mavis Cleggett, Graham Colville, Alan Cook, Patrick Cook, Karolyn Cooper
7th – William Cooper Bailey, Tony Coote, Peter Coulson, Steven Cox, Yvonne Craig, Kirill Dashkovskiy
8th – Christopher Davies, Robert Davies, Francis Davis, Jack de Gruiter, Laura Denton, Linda Edwards
9th – Pamela Edwards, John Eldridge, Terrence Ellsworth, Sue Enoch, Carolyn Farrar, Sue Feakin
10th – Adrian Felaar, Julia Fielden, Janice Fielden, Nigel Fisher, Gloria Fleming, Stuart Fletcher
Service times this week
Sunday 4th December – Advent 2
11.00 am Solemn Mass
5.15 pm Low Mass
6.00 pm Evensong and Benediction
Monday 5th December – Feria
12.00 noon Mass
Tuesday 6th December – Feria
12.00 noon Mass
6.30 pm Rugby School Carol Service
Wednesday 7th December – St. Ambrose
12.00 noon Mass
6.00 pm Bishop's Diocesan College School, Cape Town, Carol Service
Thursday 8th December – The Immaculate Conception
12.00 noon Mass
6.30 pm High Mass
Friday 9th December – Feria
12.00 noon Mass
6.00 pm Merton College, Oxford, Carol Service
Saturday 10th December – Our Lady of Loreto
11.30 am Rosary
12.00 noon Mass of Our Lady of Walsingham
6.30 pm Vigil Mass of Sunday
Sunday 11th December – Advent 3
11.00 am High Mass
5.15 pm Low Mass
6.00 pm Evensong and Benediction