Weekly Email – Advent 3
Friday 9 December 2022
at 13:30
---
Documents
Dear friends,
A group of parishioners from All Saints' has just returned from the Shrine of Our Lady of Walsingham, where we took part last weekend in the Shrine's Advent retreat.
It has long been the practice of our parish to take time out from the hustle and bustle of the world once a year and offer a time of silent retreat.  These retreats have not taken place since the beginning of the COVID pandemic, so last week's visit to Walsingham marked the restoration of this worthy parish tradition.
The Advent retreat at Walsingham is attended by a wide range of people. We were not the only group there – I would say there were around 75 people in total. Everyone present in the Shrine keeps silence from after dinner on Friday evening until after the parish mass on Sunday morning.
Each day is punctuated by the offices and Mass, and by a series of addresses given by the retreat conductor, who, on this occasion, was Bishop Roger Jupp. There is also the opportunity to receive the healing ministries of the church (anointing, laying on of hands, confession) on the Saturday evening. We finished our time in Walsingham with sprinkling at the Holy Well and Benediction on the Sunday afternoon.
We were led in our meditation by Bishop Roger, who focussed his excellent talks on a beautiful prayer written by a priest called Cheslyn Jones, who was Principal of Chichester Theological College and later of Pusey House, Oxford.
Fr Cheslyn had written the prayer whilst at Chichester for theological students who were hesitant about Marian devotion. He offered the prayer as a way of explaining and exemplifying why we pray the Hail Mary. It apparently became a college tradition that the prayer was said each night after Compline for generations of seminarians. Indeed, Fr Pip Bevan, a parishioner of All Saints', has told me already he remembers it being prayed each night when he was a student there. Here is the prayer Fr Cheslwyn wrote in full:
Holy Spirit, giver of life, who didst overshadow Mary,
that she might become the mother of Jesus our Saviour,
do thou likewise work silently within my heart to form within me,
the fullness of his redeemed and redeeming humanity.
Give me his loving heart to burn with love for God and love for men.
Give me a share in his joy and his sorrow, his weakness and his strength,
his labour for the world's salvation.
May Mary, blessed among women, mother of our Saviour pray for me,
that Christ may be formed in me, and that I may grow
in union of heart and will with Jesus Christ, her Son,
our Lord and Saviour. Amen.
In his first two addresses, Bishop Roger explored the character of the earliest known devotions to Our Lady dating from the third century, and explored the mention in the first few lines of Fr Cheslyn's prayer of the overshadowing of the Holy Spirit in Mary's life. The only reason we have any justification in reverencing Mary is because of the action of the Holy Spirit. It is at the Annunciation that she becomes both mother of God and the sister of all believers in Christ because we can hope for the action of the same overshadowing Spirit in our Christian pilgrimage through life.
The third address delved into the imagery used in the prayer of Christ's heart burning for love of all people. Our heart must gradually be conformed to the loving heart of Jesus. Bishop Roger pointed out that we can only gain some participation in Christ's heart by virtue of the Cross. It is his sacrifice of Calvary that opens up the very heart of God to us, so that we can echo it in the heartbeat of our lives. Bishop Roger then explored the prayer's mention of gaining a share in Christ's "sorrow and joy." Sorrow and joy seem emotional opposites in the eyes of the world, but are so often actually the two sides of the same coin. They lie at the heart of the incarnation, as well as at the heart of our participation in Christ.
In the fourth and final address, Bishop Roger examined the final section of the prayer of Fr Cheslyn. It reveals how Mary's example allows the image of Christ to be formed in us. The Annunciation makes her the first Christian disciple, because the angel's message proclaims the revelation of Jesus as the Son of God and the one hoped for by Israel. Through Mary's "yes" to God, we learn what is means to grow in what the prayer refers to as "union of heart and will" with her son. We find in Mary a powerful exemplar and a loving intercessor, helping us to follow, love and obey her Son, Jesus Christ.
I offer this beautiful and useful prayer to you as part of your own private devotions, and as part of your preparation for Christmas. It was a text unknown to me before this week, but I found it to contain endless theological nuggets of beauty and theological depth.
I pray Mary, our mother, will accompany us all on our Advent journey of preparation for the birth of her Son, who is our Lord and Saviour.
Fr Peter
Congratulations, Aiden!
It was announced yesterday that Aiden Hargreaves-Smith has been elected as a Guardian of the Holy House of the Shrine of Our Lady of Walsingham. We offer Aiden our heartfelt congratulations and assure him of our prayers as he takes up this important vocation and role. You can read the press release issued by the Master of the Guardian, Bishop Philip North, here.
News from the Friends of All Saints'
The Friends of All Saints' has experienced a remarkable rejuvenation over the past twelve months since it was re-founded in January, and continues to grow month by month. We want to express a huge thank you to all who generously support the scheme.
The latest membership figures are in, and a number of new members have joined in the past few weeks. Since January, 177 people have joined the renewed Friends Scheme. Of those 177, 102 are "Friends," contributing at least £25 per year, and 75 are "Benefactors" contributing at least £120 per year. This represents annual giving of around £11,550 to All Saints'. This is an extraordinary achievement for which we are very grateful indeed.
The purpose of the Friends is to help a wider community to stay in touch with us and to support the life and mission of All Saints' by prayer, companionship and giving. Friends, in their turn, receive the bi-annual Parish Paper, draw strength from being remembered by name at the Mass at All Saints' each month, and know they have a spiritual home at the heart of London.
We would particularly like to encourage our online worshippers to consider joining the Scheme. It helps us keep in touch better with you and know where our online worshippers are located. If you would like to join the Friends of All Saints', please do so here, where information is available about levels of giving and how the Scheme works.
All Saints' in the Evening Standard
All Saints' was mentioned on Wednesday in the London Evening Standard.  Will Self wrote a fascinating article about his experiences of London church going, and particularly the treasures of the English choral tradition available in our city. He speaks of the places where he attends Evensong, and mentions All Saints' as one of his favourites.
He says the following: "Another Evensong I enjoy attending is All Saints', Margaret Street, at the back of Oxford Street. This extraordinary church is held by no less an authority than Pevsner to be the finest Gothic revival building in London. Its interior is lavishly decorated – with not a square inch that isn't either patterned or a picture. Every Sunday there's a sung evensong here, and while the choir may be small, the setting – and the great clouds of incense smoke – never fail to uplift me."
The article is a very interesting panegyric to the virtue of investing in and valuing church music, the beauty of traditional liturgy and architecture, and an unsparing critique of the illegal and unwarranted closure of churches imposed upon the Church of England by its own House of Bishops during COVID.
You can read the article online here, or if you can't get beyond the pay wall, you can read it below.
Carol Services
Please note there will be no 6.30 pm Mass on the following evenings due to carol services taking place at All Saints':
Friday 9th Dec, 6.00 pm – Merton College, Oxford
Tuesday 13th Dec, 6.00 pm – Magdalen College, Oxford
Thursday 15th Dec, 6.00 pm – Freud's Communications
Our parish Service of Nine Lessons and Carols will take place this year on Sunday 18th December at 6.00 pm (rather than being on a Monday).
Grenfell Prince RIP
A Mass of Requiem will be celebrated tomorrow, Saturday 10th December, at 12 noon for the repose of the soul of Genfell Prince, who died earlier this year. We will be joined by a number of his friends to give thanks for his life and commend his soul to the Lord.  This means there will be no Walsingham Cell Rosary this month.
Guest preacher
We look forward to welcoming Fr Bruce Batstone, Vicar of St Mary with St George, Hornsey, as our guest preacher this Sunday at the High Mass for Advent 3.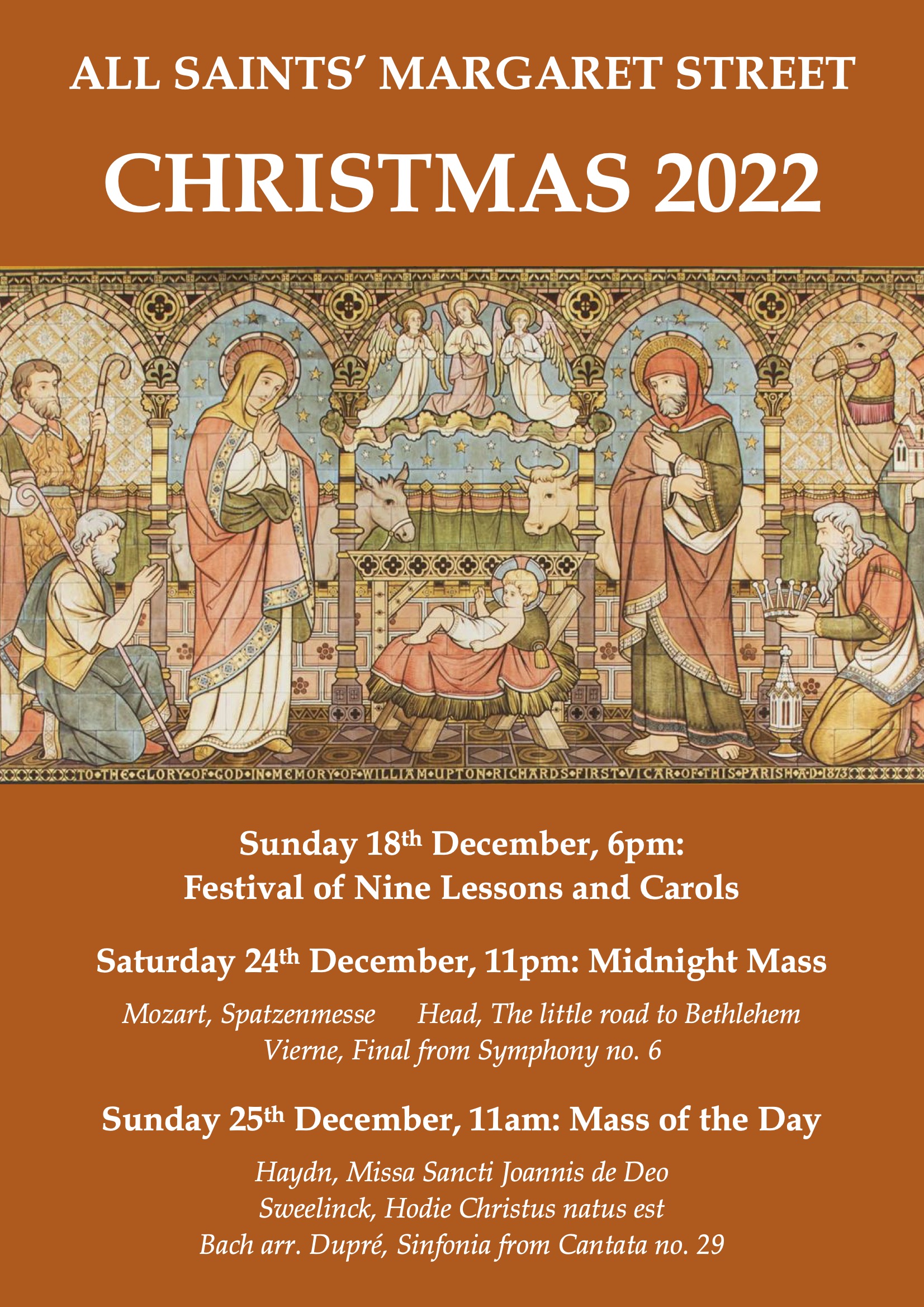 Next Zoom Theology Seminar
Our next Zoom Theology seminar will take place on Tuesday 24th January 2023. Its subject will be: "When history is painful: difficult and contentious memorialisation in churches."
This seminar will be led by Fr Charles Card-Reynolds, and will take the example of S. George's Cathedral, Kingstown, St Vincent which contains multiple colonial era memorials to those directly and indirectly involved with enslavement.
The Zoom link for the seminar can be found here.
Parish outing to the British Library
There will be a parish trip to see a new exhibition focussed on Alexander the Great on Tuesday 31st January, 2023. We will meet at the British Library at 6.15 pm and the cost of the trip is £15, followed by dinner at Pizza Express at 8.00 pm at a cost of £25. To book a place, please email the Parish Office.
New Bishop of Oswestry
We congratulate Fr Paul Thomas, the Vicar of St James', Sussex Gardens, on his appointment as Bishop of Oswestry, which was announced last week. He is a good friend of our parish. He has often covered Masses here and undertook a parish visitation when he was acting Archdeacon. He will very much be in our prayers as he takes up this new role.
Services in the Octave of Christmas
Please note that in the week between Christmas Day and New Year's Day, there will only be one Mass each day, at 12 noon (i.e. the 6.30 pm Mass will not take place). There will also be no 5.15 pm Mass and no Evensong and Benediction on Christmas Day and on New Year's Day.
Links for Sunday
The links for the livestream and service sheet for this Sunday's High Mass are at the end of this email.
Evensong and Benediction takes place at 6pm on Sunday, with music this week including Batten's Fourth Service and Gibbons's This is the record of John.
Flowers this Sunday
The flowers are given by Caroline Sibbald in memory of her brother, Fr David Paton, whose anniversary falls on Wednesday 14 December.
We are looking for volunteers to help with the flowers in church and the Courtyard Garden. If you have a particular talent for flower arranging or gardening, or can even help with watering or sweeping the courtyard, please contact Shawn on 07988 287 663 or shawnwilbe@outlook.com.
If you would like to make a donation for flowers or the garden, please contact Shawn.
Prayer list
The sick
Fr. Harry Hodgetts, Elizabeth Lyon, James Shrimpton, Gloria Fleming, David Craig, Martin Berka, James Rodger, Amanda Barrett, Don McWhinney, Greg Loveday, Keith Bevan, Theresa Moses, Cathy Horan
The faithful departed
Jason Dowler, Christopher Atkinson Pr., James Rosie-Evans Pr.
Anniversaries of death
December 11th – Amelia Jones, Alice Trevor, Annie Jevons, Roscow Shedden Bp., Margaret Butterworth, Guy Pritchard, Ros Tagoe
12th – James Burling, Chris Fairbairn, Richard Eyre Pr., Ian Stevens
13th – Mary Packer, David Vickery Pr., John Turner, Lindsey Boynton
14th – William Lloyd Pr., Robert Kirk, David Paton Pr.
15th – James Forsyth, Doris King, Leonard Beeken
The Friends of All Saints'
December 11th – Christopher Forman, Anthony Fox, Charlotte Gauthier, Margaret Goddard, Paul Golding, John Goldsmith
12th – Genevieve Gomi, Fr. Thomas Greene, Fr. Michael Gudgeon, Sheelagh Gudgeon, Ginger and Del Hall, Monica Joan Hall
13th – Roger Hancock, Jill Hargreaves, Patrick Hartley, Eoghan Healy, Fr. David Hobden
14th – Canon Graham Holcombe, James and Gwendoline Holdcroft, Fr. Andrew Hollins, Edwin Holmes, Bp. David Hope
15th – Roy Hopkins, Fr. David Hutt, Andrew Jervis, Arthur Johnson, Malcolm Kemp, Alan Kimbrough
16th – Roger Knight, Brenda Koupis, Deirdre Laing, Graham Last, Christopher Laws, Cornelius Logue
17th – Henry Macey, Dirk Maney, Bp. Michael Marshall, John Martell, Robert Mason, Judith Mather
Service times this week
Saturday 10th December – Our Lady of Loreto
12.00 noon Requiem Mass for Grenfell Prince
Please note that the Rosary is not said today
6.30 pm Vigil Mass of Sunday
Sunday 11th December – Advent 3
11.00 am High Mass
5.15 pm Low Mass
6.00 pm Evensong and Benediction
Monday 12th December – Our Lady of Guadalupe
12.00 noon Mass
6.30 pm Mass
Tuesday 13th December – St. Lucy
12.00 noon Mass
6.00 pm Magdalen College Oxford Carol Service
Wednesday 14th December – St. John of the Cross
12.00 noon Mass
6.30 pm Mass
Thursday 15th December – Feria
12.00 noon Mass
6.00 pm Freud's Communications Carol Service
Friday 16th December – Feria
12.00 noon Mass
6.30 pm Mass
Saturday 17th December – O Sapientia
12.00 noon Requiem Mass
6.30 pm Vigil Mass of Sunday
Sunday 18th December – Advent 4 (O Adonai)
11.00 am High Mass
5.15 pm Low Mass
6.00 pm Festival of Nine Lessons and Carols