Weekly Email – All Saints' Festival Sunday
Friday 3 November 2023
at 13:45
---
Dear friends,
I write half way through our All Saints' Festival week. We have already had a wonderful few days celebrating All Saints' and All Souls' – yet our Festival Sunday is still to come, which I look forward to with excitement.
It has been particularly good to hear several first rate sermons over the past few days from visiting preachers.
In his homily for All Saints' Day, Fr Richard Bastable encouraged us to understand the feast as a celebration of God's holiness both in those recognised by the Church as saints, but also in those countless holy souls known only to God. They may be forgotten by us or unknown by our age, but not to God – and their communion with him means they support us through their prayer and praise in heaven.
I was struck by Fr Bastable's point that the saints are those who have lived out the Beatitudes (which was the gospel reading for that day) – they lived lives poor in spirit, merciful, meek, making peace, living in purity of heart, and sometimes suffering persecution for Jesus' sake. This vision of beatitude is something God offers to us through the grace of our baptism.  We make this our own by growing into our baptismal vocation our whole life long. You can watch Fr Bastable's excellent homily again here.
Fr Barry Orford preached at our Solemn Requiem for All Souls'. He emphasised the way in which the corporate and expansive vision of All Saints' Day is somehow made more personal and immediate to us on All Souls' Day as we come to the Mass with our own individual intentions, praying for our loved ones and friends. At that Mass we pray all the faithful departed – hence the catafalque – but we do so through the lens of our own experience and the memory of those we have loved but see no longer.
He introduced a fascinating and important thought – that our communion with the departed is not a static but a dynamic thing. Our communion with them is not simply like human memory which doesn't change or even grows dim; rather the faithful departed are now part of God's purposes and action in a way that can be perfected more fully than during their earthly lives.
In God's presence, the departed move ever more deeply into his life and participate ever more richly in the beatific vision as they continue to journey with God and into God. You can watch Fr Orford's fascinating homily here.
I look forward to the culmination of our keeping of this season of the saints with our Festival High Mass on Sunday. The music will be splendid, and will include, as is our tradition, the Missa Omnium Sanctorum by our own Norman Caplin. Our Festival Sunday would, of course, not be complete without singing that much loved hymn, In our day of thanksgiving, and do not forget that in the evening there will be a Te Deum of thanksgiving offered in the presence of the Blessed Sacrament at Evensong and Benediction to bring our feast to a conclusion.
The High Mass on Sunday will be followed by a splendid bring-and-share parish lunch. Do be in touch with Kate Hodgetts to signal what food you intend to bring. I look forward to seeing so many of you on Sunday, I wish you all a happy feast, and ask that God's saints will continue to pray for us as we seek to do his will together as a parish.
Fr Peter
A message from Frances O'Neil
My dear friends at All Saints',
I have been overwhelmed by the cards and letters and phone calls which I have received over the last few weeks.  Their good wishes, kindness and concern, and especially their prayers have upheld me through a difficult time and made me realise what a tremendous support a family of faith can make to a community.
Your messages have brought back many memories:  meals together, pilgrimages, courtyard conversations, visits far and wide, happy times both across oceans and side by side.  As one gets towards the end of one's life one realises what an opportunity it brings for peace and reconciliation and I will always be grateful for the friendship, love and enjoyment that All Saints' has brought me.
With all my good wishes to you and future members of the congregation.
Frances
All Saints' Festival Sunday – 5th November
High Mass followed by bring and share parish lunch | 11.00 am
Music: Caplin, Missa Omnium Sanctorum; Victoria, O quam gloriosum.
Preacher: The Revd Alan Rimmer
Solemn Evensong and Benediction with Te Deum | 6.00 pm
Music: Stanford, Canticles in C; Moore, O quam gloriosum, Sumsion, Te Deum; Henschel, Tantum Ergo.
Parish Lunch – this Sunday!
Please let Kate Hodgetts know if you are able to contribute food to our Bring and Share Lunch this Sunday (5th Nov), to celebrate our All Saints' Festival Sunday. The more food the better, as we will have many mouths to feed!
All Saints' Festival Appeal
The two focusses of this year's All Saints'-tide appeal will be the American Soup Kitchen on the Tottenham Court Road, and the Mark Bushby Scholarship Fund. All funds raised will be split equally between the two causes.
The Soup Kitchen at the American International Church on the Tottenham Court Road is well known to us and is a project we have supported for many years. Our donations will go towards the costs of their mental health worker.
The Mark Bushby Scholarship Fund was set up in his memory by his friends in 2021 to fund a scholarship with Brent Music Service. Each scholarship provides a promising young musician with four years of one-on-one instrumental tuition, and is administered by the London Music Fund (Registered Charity 1141216). Scholars come from families who would not otherwise be able to afford music lessons for their children.
The appeal will run until the end of November. You can donate to the appeal online here.
Young Adults Group
The next walk for younger members of our congregation will take place on Saturday, November 11th, meeting around 9am at St Pancras International. Fr Alan hopes to lead a route from Rye to New Romney, via All Saints', Lydd ("the cathedral of the marsh") and Dungeness. Splendid churches, bracing winds and fish and chips guaranteed. Please be in touch with him to register your interest!
There will also be an Advent party at Fr Alan's home on St Ambrose's Day, Thursday December 7th, 7-9pm. Fr Alan warmly invites our younger people to No. 6 for seasonal drinks. Let him know if you plan to join us.
Ray Oram RIP
The funeral of Ray Oram will take place on Friday 10th November at 2:00 pm at Enfield Crematorium, Great Cambridge Road, Enfield EN1 4DS.
A High Mass of Requiem will be celebrated at St Magnus the Martyr, Lower Thames Street, at a later date.
There will also be a Low Mass of Requiem celebrated at All Saints' the night before Ray's funeral, on Thursday 9th November at 6.30 pm, followed by a drink in his honour for those present.
Virtual Coffee Hour – Sunday 19th November
Our next virtual coffee hour after the High Mass will take place on Sunday 19th November and will be hosted by Fr Alan. The Zoom link is here. (Meeting ID: 815 3380 0451; Passcode: Sybil)
The idea behind this is simple: if you are an online worshipper, grab a cup of coffee and join Fr Alan online via Zoom for a chat and catch-up directly after the end of the High Mass.
Next Zoom Theology Seminar
Our next Zoom Theology session will take place online on Tuesday, December 5th, 2023, at 7.00 pm. It will be entitled, "A small world in a great one: Eco-Theology and St Maximus the Confessor," and will be led by Fr Nathan Mulcock.
Fr Nathan is Chaplain of Mansfield College, Oxford, and is pursuing a doctorate in in the realm of Eco-Theology, with particular reference to the Patristic theologian St Maximus the Confessor.
He will introduce us to the parameters of this modern discipline and also give us an opportunity for the closer reading of some of the ancient texts that inform them. The Zoom link and further information can be found here.
William Dodsworth biography
Fr Stephen Young, a former Assistant Priest of this parish, has recently published an excellent biography of William Dodsworth, Minister of the Margaret Chapel and a hugely influential individual in the early history of our parish. A book launch for the work took place at All Saints' a couple of weeks ago.
In order to order a copy, please be in touch directly with Michael Yelton, Secretary and Treasurer of the Anglo-Catholic History Society: michaelyelton@achs.org.uk
Attendance last Sunday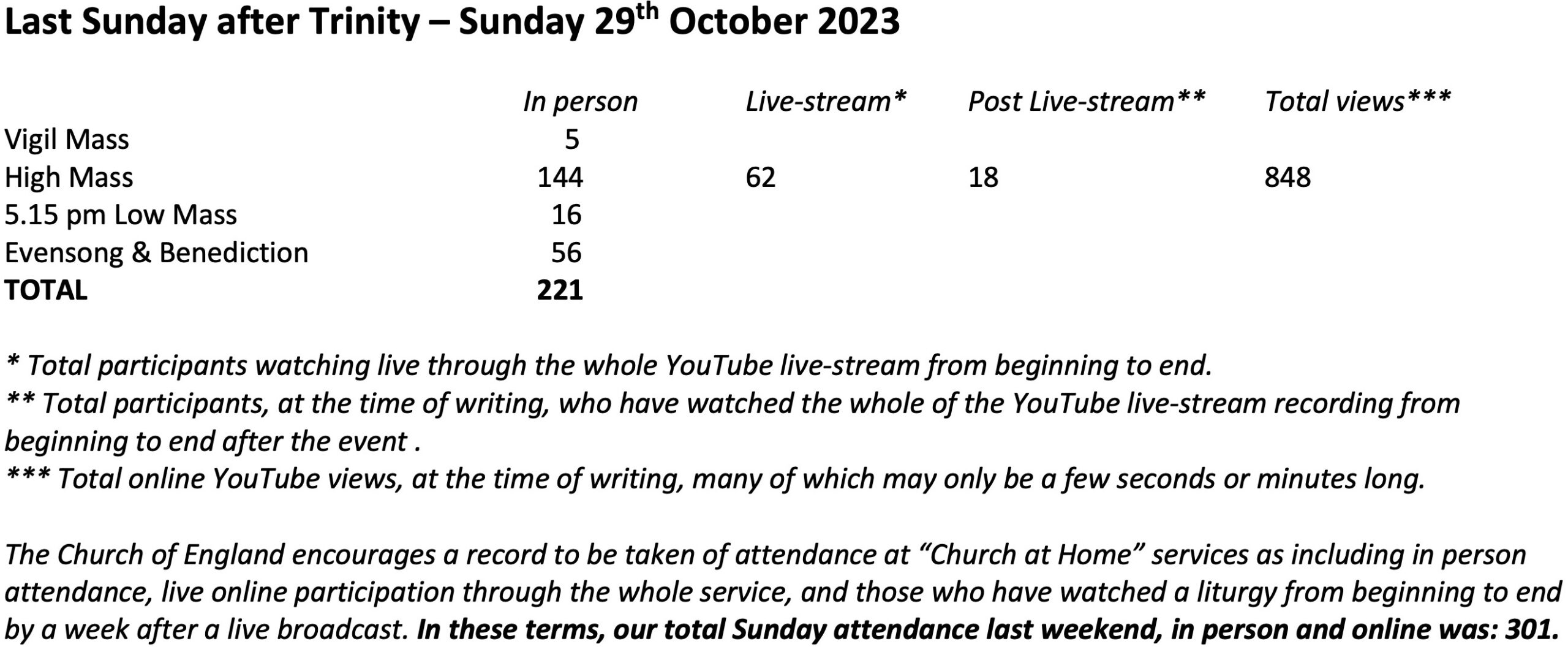 Flowers
The flowers by the shrine of Our Lady of Margaret Street are kindly donated by sponsored by Fr Steve Rice and the people of St Timothy's Winston Salem, North Carolina. We are very grateful for their generosity!
Prayer List
The Friends of All Saints' Margaret Street:
November 5th – Richard Hoskinson, Arthur Johnson, Alan Kimbrough, Brenda Koupis, The Very Rev'd Harry Krauss
6th – Deirdre Laing, Graham Last, Graham Mather, Judith Mather, The Rev'd Dr Stephen McClatchie
7th – The Rev'd Peter McGeary, Nigel McNeill, Anne Merritt, Thomas Moller, Dr John Morrell
8th – Fr Stephen Morris, Christopher Naylor, Brian            Newman, Graham Norman
9th – Anna Oesterby-Joergensen, Fr Peter Oesterby-Joergensen, Alma Pearson, Simon Pusey, Gordon Reid
10th – Dr Steve Rice, John Rick, Hilary Rodger, Gwynedd Sooke, Richard Stallwood
11th – Louise Stallwood, Ann Tacchi, Michael Taylor, Sam Walsh, Christopher Walsh
12th – Christopher Waterhouse, Dr Roger White, Martin Woods, The Rev'd John Wylam, Stuart Chillingworth
The sick:
Martin Berka, Keith Bevan, Roy Breare, Fr John O'Brien, Roger Dilks, Fr. Harry Hodgetts, Elizabeth Lyon, Frances O'Neil, James Roger, Bruce Ross-Smith, Mary Rowe.
The faithful departed:
Ray Oram, Alan Osbourne, John Chapman
Those whose anniversaries of death fall at this time:
November 5th – Helen St Aubyn, Curtis Berk, Daphne Gordon, Terence Duggan, Glyn Thomas, Rosemary Crome
6th – Philip Gould
7th – Constance Peters
8th – Dudley Sholté, Arnold Fryer, Barbara Reynolds
10th – John Groves, Alan Bishton
11th – Paul Leyland, Violet Vanbrugh, Malcolm McHaffiePr, Dorothy Cavan
12th – John Mayo Pr, Miss C. F. R. Keeble
Service times this week
Sunday 5th November – All Saints' Festival Sunday
11.00 am High Mass
5.15 pm Mass
6.00 pm Evensong and Benediction
Monday 6th November – Feria
12.00 pm Mass
6.30 pm Mass
Tuesday 7th November – Feria
12.00 pm Mass
6.00 pm Mass
Wednesday 8th November – Feria
12.00 pm Mass
6.30 pm Mass
Thursday 9th November – Dedication of the Lateran Basilica
12.00 pm Mass
6.30 pm Mass
Friday 10th November – S. Leo the Great
12.00 pm Mass
6.30 pm Mass
Saturday 11th November – S. Martin of Tours
11.30 Rosary
12.00 pm Mass of Our Lady of Walsingham
6.30 pm Vigil Mass of Sunday
Sunday 12th November – Remembrance Sunday
11.00 am High Mass
5.15 pm Mass
6.00 pm Evensong and Benediction