Weekly Email – Christmas Day
Friday 23 December 2022
at 13:30
---
Documents
Dear friends,
One of the greatest delights of being in London each Christmas is to wander around the West End gazing at the festive lights which go up each year.
One display I always look forward to seeing is the how the authorities decide to decorate Carnaby Street in Soho. Along with a myriad other decorations, this year's display involves a series of words and phrases associated with Christmas lit up on balloons and illuminated neon signs.
When I first saw it, it all seemed intoxicatingly exciting.  But the longer I looked, the more a curious doubt, which I could not quite pin down, popped up in my mind that all was not quite how it should be.
It became clear to me what this problem was when I noticed one section with a series of very simple words lit up on huge inflatable decorations: Joy; Hope; and Love.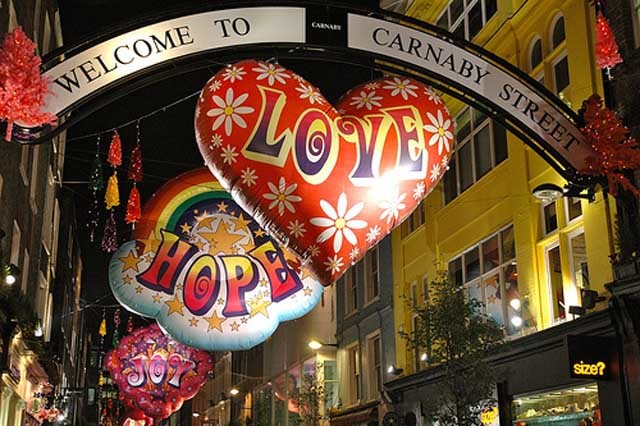 What could possibly be wrong with such an admirable series of virtues, you might ask. As I looked at this trio of words, I realised that they echoed very closely the so-called "theological virtues" of the Christian tradition laid out by St Paul in 1 Corinthians 13: Faith; Hope; and Love. The decorators of Carnaby Street obviously wanted to echo this phrase as it rings in people's imaginations, yet felt somehow unable to include the word, "Faith."
The question came back to my mind time and time again, why had "Faith" been swopped out for "Joy" in this triad of secular virtues? What was it about "Faith" that was so complicated or difficult or intractable that meant the secular authorities had to change it? And why was "Joy" seen as more acceptable?
I sense for the secular world, Christmas is a celebration that frequently takes place on an almost exclusively emotional level. It has become a feel-good festival about many things which are undoubtedly positive and good: community, friends, family, and gift-giving.
One can see how a general feeling of secular "hope" might form part of that – a sense of looking to the future with optimism, or always seeing the best in a situation rather than the worst. "Love," too, with its thousand different post-modern meanings and resonances can easily be associated with Christmas by the secular imagination – a broad celebration of the need we all have for friendship, affection, affirmation and kindness.
Yet, it is clearly "faith" that the decorators of Carnaby Street couldn't cope with. For Christians, faith is the gift of God that helps us to believe and trust in the one who made us. It is not about suspending the function of the brains God gave us, nor about believing things which reason tells us are impossible, contradictory or harmful.
Rather, Faith is the thing that prompts us to see and experience the world in its fullness through the lens of Hope and Love. By this, I don't mean a secular sense of always looking on the bright side of life, but rather living that life with a deep sense of trust in the God we know to be at the heart of our existence, even though his presence can at times be challenging, puzzling or difficult to sense.
For Christians, Faith is also about a person – Jesus Christ, whose birth we celebrate this weekend. It is not about trusting in a set of political principles, or philosophical assertions – but in a person we know and love. It is about our being able to reach out to the God who was born in a stable in Bethlehem for the simple reason that it is through that birth that he has already reached out to us first.
In the end, I suppose the ultimate theological irony of those three theological balloons on Carnaby Street is that for a Christian, although Joy is a fundamentally important thing, it is not possible without Faith.  The secular world might understand Joy as an emotion – feeling happy and positive; but for Christians, Joy is that deep, thankful response of the human heart to God's love.
Yes, Joy will frequently be synonymous with an emotional sense of happiness, but it ultimately goes beyond that, and tells us something much deeper and more important about what it will be like to be with God for all eternity. The vision of God which we look forward to in heaven with be a fulfilment of our wishes, aspirations and longings that goes way beyond anything our mortal minds can now imagine. It will be a perfect communion in which we know and love the one for whom we were made, and be known and loved by him perfectly in return.
As we embrace one again the mystery of the Incarnation this weekend, let us give thanks for the fact that it is the Babe of Bethlehem who allows us to know and trust God through through his gifts to us of Faith, Hope and Love.
Let us not scorn the secular excesses of the Christmassy world around us, but let us resolve to help our family and friends to know the deeper, more exciting truth that actually lies at the heart of it all – that in the Christ Child God gives himself to us so that we might know eternal life with him.
And let us not lose sight of that true Joy which characterises the life of Faith, and which should be our response to God's gift of life to us. For Joy is the sign that God is alive in us; but it is first and foremost the product and fruit of Faith.
Fr Peter
Christmas Day Services
Midnight Mass 
Saturday 24th December 2022 | 11.00 pm
High Mass with blessing of the crib
Music: Mozart, Spatzenmesse; Head, The little road to Bethlehem.
Voluntary: Widor, Final from Symphonie VI
Preacher: The Revd Dr Barry Orford
Mass of the Day
Sunday 25th December 2022 | 11.00 am
High Mass
Music: Haydn, Missa Sancti Joannis de Deo; Sweelinck, Hodie Christus Natus est.
Voluntary: Sinfonia from Cantata 29 – Bach arr. Dupré
Preacher: the Vicar.
Services in the Octave of Christmas
Please note that in the week between Christmas Day and New Year's Day, there will only be one Mass each day, at 12 noon (i.e. the 6.30 pm Mass will not take place). There will also be no 5.15 pm Mass and no Evensong and Benediction on Christmas Day and on New Year's Day.
Epiphany 2023
We look forward to welcoming the Revd James Hill, Vicar of St Benet Fink, Tottenham, as our preacher for the feast of the Epiphany, which will be kept on Friday 6th January with a High Mass at 6.30 pm. The music will include Mozart's Missa Brevis in F and Crotch's Lo! star-led chiefs. 
Our traditional Epiphany-tide Carol Service and Benediction will take place on Sunday 8th January at 6.00 pm. Music will include: Palestrina, Surge, illuminare (pt. 1); Handl, Omnes de Saba; Phillip Moore, Benedictus; Bingham, And lo, the star; Elgar, Light of the world; and Poulenc, Videntes stellam. The Tantum ergo at Benediction will be the setting by Vierne.
The season of Epiphany encompasses some of the most beautiful and richly theological hymnody of the whole church year, and the carol service will include many of those great hymns: Of the Father's heart begotten; Brightest and Best; As with gladness men of old; Bethlehem of noblest cities; and O worship the Lord in the beauty of holiness. Do join us online or in person on Friday 6th and Sunday 8th January.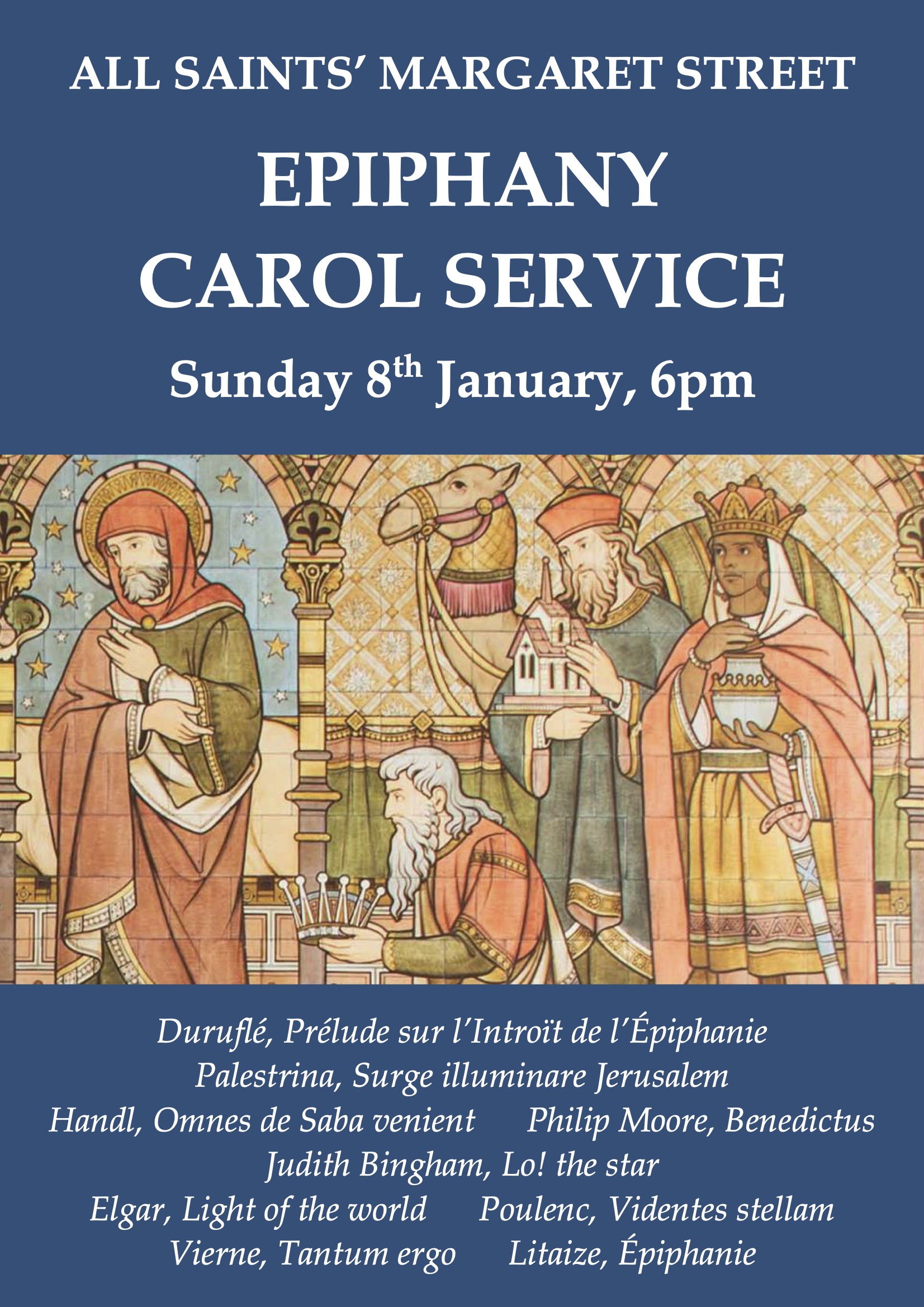 National Gallery Virtual Exhibition:
Fruits of the Spirit – Art from the Heart
We are very pleased that the curator of the National Gallery's virtual exhibition entitled, "Fruits of the Spirit – Art from the Heart," the Revd Dr Ayla Lepine, will give our Lent Lecture in March on the topic of this interesting project.
The lecture will take place at All Saints' in person and online on Thursday 23rd March at 7.30 pm.
This innovative virtual experience organised by the National Gallery pairs nine pictures from the National Gallery's collection with nine from partner institutions. The exhibition is inspired by Saint Paul's description of the effects and fruits of the Spirit described in his Letter to the Galatians: love, joy, peace, patience, kindness, generosity, faithfulness, gentleness, and self-control.
Ayla will explore the themes the artwork brings up, the theological questions they prompt, and the difference that online interaction with works of art makes.
You "visit" the exhibition by clicking on the link here to enter a virtual gallery in the comfort of your own home wherever you are in the world. You can see pictures side by side each other which in reality live hundreds of miles apart!
Links for Sunday
The links for the livestream and service sheet for tomorrow's Midnight Mass of Christmas are at the end of this email.
Sunday morning's High Mass of Christmas Day will be streamed here, and a service sheet is also available at the end of this email.
King Charles the Martyr
The annual commemoration of the saintly death of King Charles I, which is organised each year by the Society of King Charles the Martyr, will take place at All Saints', Margaret Street, with a High Mass on Monday 30th January 2023 at 12 noon. This is because the Banqueting House is still undergoing renovation.
Next Zoom Theology Seminar
Our next Zoom Theology seminar will take place on Tuesday 24th January 2023 at 7.00 pm. Its subject will be: "When history is painful: difficult and contentious memorialisation in churches."
This seminar will be led by Fr Charles Card-Reynolds, and will take the example of S. George's Cathedral, Kingstown, St Vincent which contains multiple colonial era memorials to those directly and indirectly involved with enslavement.
The Zoom link for the seminar can be found here.
Parish outing to the British Library
There will be a parish trip to see a new exhibition focussed on Alexander the Great on Tuesday 31st January, 2023. We will meet at the British Library at 6.15 pm and the cost of the trip is £15, followed by dinner at Pizza Express at 8.00 pm for those who wish to stay on at a cost of £25. To book a place, please email the Parish Office.
Prayer list
The sick
Fr. Harry Hodgetts, Elizabeth Lyon, James Shrimpton, Gloria Fleming, David Craig, Martin Berka, James Rodger, Amanda Barrett, Don McWhinney, Greg Loveday, Keith Bevan, Cathy Horan, Kevin Coughlan
The faithful departed
Sister Frieda SJG, Mary Priday
Anniversaries of death
December 26th – Hugh Warren Pr., Lennox Berkeley
27th – Desmond Berk, Kenneth Bond
28th – Percy Flemine, Richard Williams, Paul Drake, Ernest Gaskell, Gordon Symes, Rosemary Harris
29th – Katherine Mundy Dn., Brian Lee
30th – Elaine Boyton, Mona Crompton, John Freebairn-Smith, Malcolm Melville Pr., Elizabeth Young
The Friends of All Saints'
December 25th – Fr. Peter Simpson, Ingrid Slaughter, Gwynedd Sooke, Richard and Louise Stallwood, Jason Stewart
26th – Ian & Veronica Summers, Sebastian Taite-Ellis, Michael Taylor, Andrew Thompson, Pat Thompson
27th – Charles Thomson, James Thomson, Jeremy Thorp, Daniel Turner, Christine Vaughn Lillie, Sam Walsh
28th – Christopher Walsh, Christopher Waterhouse, Philip Wayne, Fr. Benjamin Weitzmann, Michael Westcott
29th – James White, Matthew Whittaker, Tim Widdowfield, David Wilcox, Ian Wilson
30th – Juliet Windham, Philip Wood, Martin Woods, Martin Wooley, David Wright, Fr. John Wylam
31st – Friends in special need
Service times this week
Saturday 24th December – Feria (Christmas Eve)
12.00 noon Mass
11.00 pm Midnight Mass
Sunday 25th December – Christmas Day
11.00 am High Mass
Monday 26th December – St. Stephen
12.00 noon Mass
Tuesday 27th December – St. John, Apostle and Evangelist
12.00 noon Mass
Wednesday 28th December – The Holy Innocents, Martyrs
12.00 noon Mass
Thursday 29th December – St. Thomas Becket
12.00 noon Mass
Friday 30th December – The Holy Family
12.00 noon Mass
Saturday 31st December – St. Silvester
12.00 noon Mass
Sunday 1st January – The Naming and Circumcision of Christ
11.00 am Solemn Mass