Weekly Email – Epiphany 2
Friday 13 January 2023
at 13:45
---
Documents
Dear friends,
I have spent several hours this week contemplating the National Gallery's new online exhibition entitled, "Fruits of the Spirit: Art from the Heart." The exhibition will form the focus of our Lent Lecture on Thursday 23rd March at 7.30 pm. We are very lucky indeed that the Revd Dr Ayla Lepine, who is the exhibition's curator, has agreed to speak to us on that occasion.
The conception behind the exhibition is fascinating. The idea is that you can see and compare images that actually reside in different galleries a long way from each other in far-flung parts of the country. You enter the exhibition virtually (simply follow the link here), and from the comfort of your own home wherever you are in the world, you move around the online space in which the paintings are displayed. Nine pairs of paintings exemplify one of the Fruits of the Spirit described by St Paul in Galatians.
I urge you to have a look at this exhibit. Its beauty is that you can come back again and again when you want. You can spend a huge amount of time taking it all in in one go, or just spend a few moments each day looking at a different element of it each time.
The first thing I would say of the experience is how well suited it is to what one might describe as "slow looking". Sometimes galleries can be very full and the people around one can distract or sap our attention. With this much more personal virtual experience, I found my attention was more acute, and I took more time to ponder, contemplate and mull over what I was seeing.
It was curious how "physical" the experience of seeing the pictures felt. It brought home to me how important moving around a gallery is: we experience pictures' presence as they heave into view, or recede from our sight; you catch glimpses of them around corners; you can get up close, and then move away for a different perspective.
At the heart of the exhibition's hermeneutic is the metaphorical and literal placing of images side by side. This begins with the "physical" juxtaposing of images next to each other, but this prompts us then conceptually to compare the ideas or images they contain.
A picture's neighbour brings out points of contrast or similarity that one wouldn't have noticed otherwise, or gives a radically different background to viewing it than that which one is used to. Placing a humble picture next to a famous one can elevate the less well known image or challenge our perceptions of which in indeed the "greater" work of art.
Ayla Lepine, the curator, is to be congratulated on the fascinating subtlety of the connections she draws and the theological points each pair of images prompts for her.
I found the room devoted to "Generosity" really striking: the placing side by side of Van Eyck's "Portrait of Giovanni Arnofoli and his Wife" next to Ron Stenberg's "Two Auld Wifies." Ayla uses the famous presence of the painter in Van Eyck's mirror to draw out the intriguing idea of the generosity of remembrance. The Stenberg image challenges us to see "generously," acknowledging the presence of people who otherwise are often overlooked or unseen – revealed through the story that the two figures the artist thought were two women, are actually a mother and son.
I really loved the juxtaposition of the two images presented in the section dedicated to "Love": Titian's "Virgin Suckling the Infant Christ" and Ernst Neuschul's "Black Mother". The Titian image strikes one at first glance as such a human image, brimming with direct and uncomplicatedly immediate love. However, its being paired with Neuschul's  picture of a black mother suckling her child in 1920s Berlin, prompts us to question the tradition of depicting Mary and her child as white Western Europeans. Furthermore, the Jewish heritage of the creator of "Black Mother," along with his exile from Germany, further raises in our minds the necessary acknowledgement of the terrible injustices of the 20th Century. What begins as a viewing experience that feels familiar and uncomplicated, becomes more intriguing but also more challenging the longer you contemplate these two images.
Some of the connections between pictures are less obvious and often ingenious. These are some of the most intriguing sections, in which we are tantalisingly invited to discover commonalities in two pictures that otherwise seem so different. Using Turner's "Rain, Steam and Speed" to exemplify self-control was genius. The speeding train invites us to see self-control in the human need to chose the speed at which we make our way through life. Pairing this with a landscape by Ben Hartley prompts us to discern the virtue of self-control in the way in which we need to limit our impact on the environment around us.
I heartily urge you to put some time aside to enjoy pondering this exhibition. It brought to my attention a number of beautiful images and artists I had never known about before. The technology is very well designed indeed, as even I could cope with it and found it very intuitively easy to use.  It has given me much to ruminate on, and I look forward to hearing Ayla Lepine when she comes to speak to us in Lent. What a triumph she has achieved in creating this exhibition and what accolades she deserves for this first-rate accomplishment!
Fr Peter
Congratulations to Bishop Philip North
We offer heartfelt congratulations to Bishop Philip North, the Bishop of Burnley and Master of the College of Guardians of the Shrine of Our Lady of Walsingham, on the recent announcement of his nomination to be the next Bishop of Blackburn.
Many All Saints' people will remember him fondly from his time as Administrator of the Shrine in Walsingham, and also from his time at Team Rector of Camden Town. Many will remember the occasion when he preached at All Saints' a few years ago at the invitation of Fr Alan Moses.
We will keep Bishop Philip in our prayers as he prepares for this new role and assure him of our best wishes and congratulations.
Couronne des Rois
We are very grateful indeed to Genevieve Gomi for making a splendid Couronne des Rois last Sunday for everyone to share after Mass. This is a beautiful orange blossom brioche cake prepared in Provence for the feast of the Epiphany.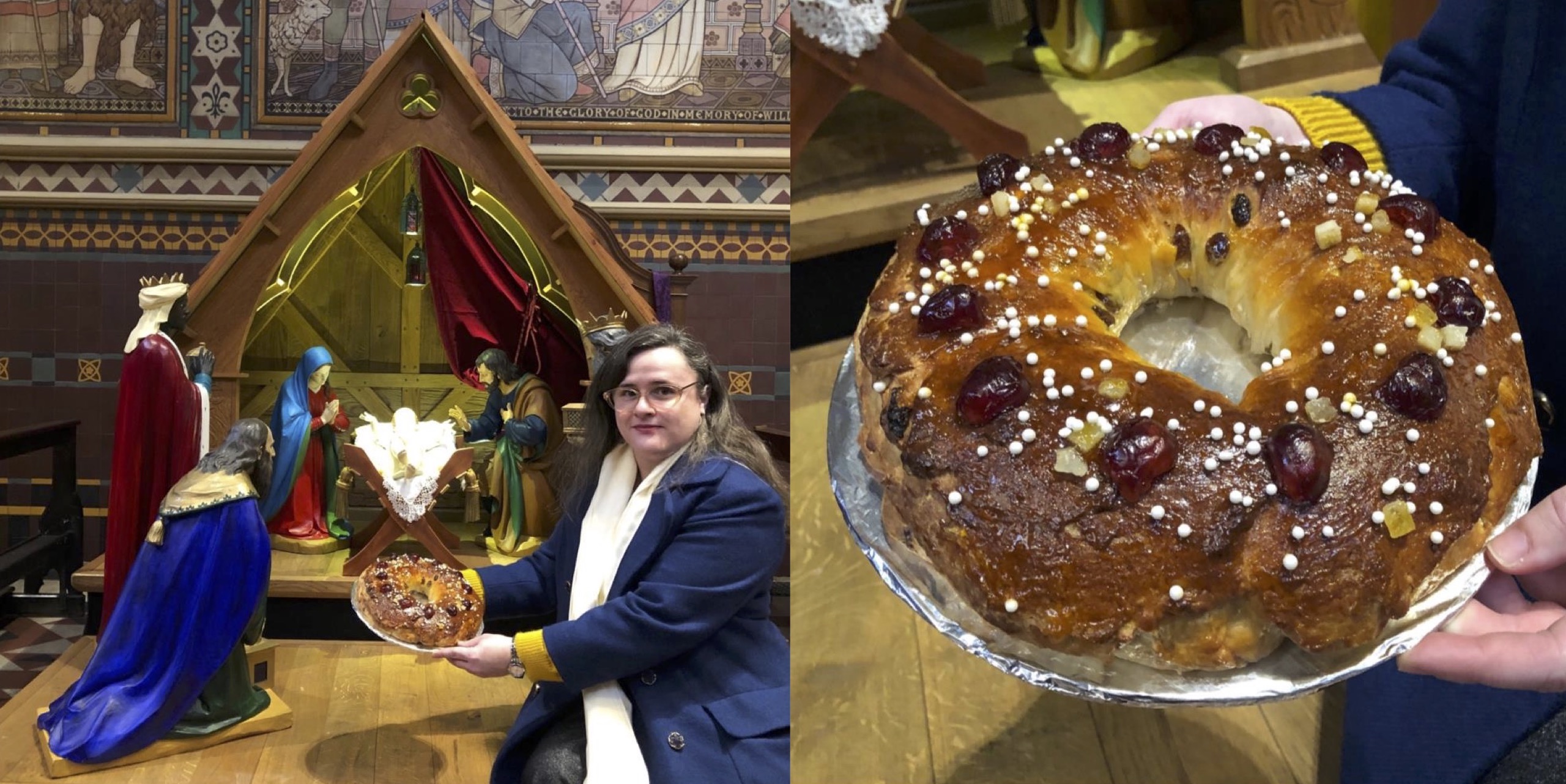 France divides into two when it comes to Epiphany patisserie: in the north, they eat the famous Galette des Rois, which is a puff pastry cake filled with almond cream.  In the south, however, they go for the less well-know, but more delectable, Couronne made of a raised yeast dough, and studded with candied fruits. Genevieve, being a Marseillaise, of course, prepared the Couronne for us.
The important thing with both cakes is the tradition surrounding the so-called "fève".  This is the French for a dried bean. Hidden in each cake is a tiny porcelain trinket. In days gone by this used to be dried fava bean in households of more modest income. This has remained the name for this object, even when it is made of plastic or porcelain. When the cake is cut in France, the youngest person present hides under the table and calls out the name of the person to receive the next slice. Whoever discovers the "fève" hidden in their piece is crowned king or queen for the day and wears a foil cardboard crown.
The tradition is not a million miles from our own of hiding sixpences in the Christmas pudding, and of wearing paper crowns from crackers at Christmas lunch.
Genevieve did not place a fève in this year's cake as she didn't want to take anyone by surprise or cause broken teeth, but perhaps this praiseworthy French tradition could be introduced next Epiphany!
Organ recital
An organ recital will take place at 3.30pm on Sunday 29th January at All Saints', given by Andrew Dewar, organist of the American Cathedral in Paris and professor at the Royal College of Music.
The programme is:
Vorspiel und Isoldens Liebestod from Tristan and Isolde (Wagner arr. Lemare)
Grand Prelude and Fugue, op. 63 (Holbrooke)
Admission is free and a collection will be raised for the All Saints' Choir and Music Trust.
Consecration of Fr Paul Thomas
Fr Paul Thomas, Vicar of St James', Sussex Gardens, will be consecrated to the Episcopate on the morning of Thursday 2nd February. A group of All Saints' friends of Fr Paul's will be attending the consecration and will be travelling down to Canterbury by train. If you would like to join the group, please be in touch with Fr Peter.
Licensing of Fr Alan Rimmer
Please note that our new Assistant Priest, Fr Alan Rimmer, will be licensed to our parish at Evensong at 6.00 pm on Sunday 12th February 2023. I am sure many will want to make a special effort to attend that liturgy in order to welcome Fr Alan to All Saints'. Do put this in your diaries.
Candlemas 2023
Thursday 2nd February 2023 – Feast of the Presentation of the Lord
Low Mass | 12 noon
High Mass with blessing of candles and procession | 6.30 pm
Preacher: The Revd Matthew Duckett, Priest-in-Charge, St Matthias', Colindale.
Music: Victoria, Missa Simile est regnum; Eccard, Maria wallt zum Heiligtum; Byrd, Hodie beata virgo.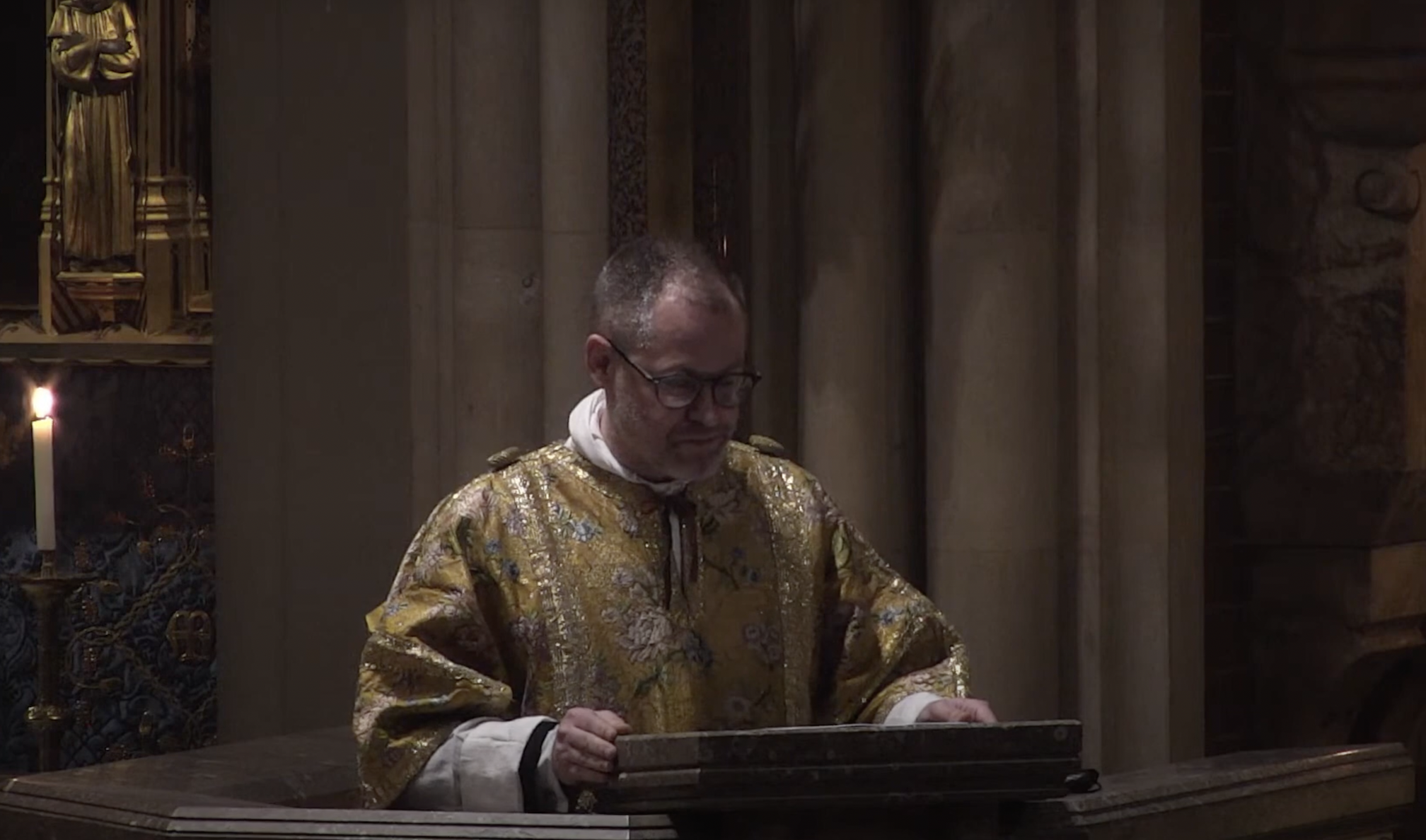 Next Zoom Theology Seminar
Our next Zoom Theology seminar will take place on Tuesday 24th January 2023 at 7.00 pm. Its subject will be: "When history is painful: difficult and contentious memorialisation in churches."
This seminar will be led by Fr Charles Card-Reynolds, and will take the example of S. George's Cathedral, Kingstown, St Vincent which contains multiple colonial era memorials to those directly and indirectly involved with enslavement.
The Zoom link for the seminar can be found here.
King Charles the Martyr
The annual commemoration of the saintly death of King Charles I, which is organised each year by the Society of King Charles the Martyr, will take place at All Saints', Margaret Street, with a High Mass on Monday 30th January 2023 at 12 noon. This is because the Banqueting House is still undergoing renovation.
Parish outing to the British Library
There will be a parish trip to see a new exhibition focussed on Alexander the Great on Tuesday 31st January, 2023. We will meet at the British Library at 6.15 pm and the cost of the trip is £15, followed by dinner at Pizza Express at 8.00 pm for those who wish to stay on at a cost of £25. To book a place, please email the Parish Office.
The Epiphany traditions of Italy: La Befana
Epiphany is celebrated with a number of fascinating traditions throughout Europe. One of the most intriguing is that of the good witch called La Befana whom Italians believe bring presents for children in the night of the Eve of Epiphany.
La Befana is usually presented as a stereotypical wizened old hag, but one who is kind and generous. She flies around Italy on her broom stick the night before Epiphany and leaves presents for children who have been well behaved and a lump of coal (or a stick in Sicily) for children who have been naughty.
Her name, La Befana, probably derives from an Italian demotic mispronunciation of the word "epiphania." The origins of this tradition are lost in the mists of time and many stories are told about her.
The most common account is that she met the Wise Men on their way to see the Christ Child when they paused to ask her for directions.  She didn't know where the baby was, but offered them accommodation because she had the best kept house in the village. When they invited her to accompany them to find the child, she responded that she couldn't as she had too much dusting and sweeping to do. Once they left, she repented of her decision and set out to try to find Jesu on her own, without success. To this very day, she wanders around, still seeking the Christ Child, but leaving presents for children as she goes.
A darker version of this edifying tale also exists in which La Befana was actually a heart-broken mother whose child had just died. Sent mad by her grief, she stumbled upon the manger and the child Jesus. In a state of grief-stricken delusion she gave him the presents she had made for her own child, thinking him to be her baby. In response to her generosity, Jesus gave back to her the gift that she would be the mother to every child in Italy.
Many scholars have sought to link the lore surrounding La Befana to the pagan practices of Ancient Rome. Around the beginning of the year, there was a pagan feast in honour of the gods Janus and Strenia, which involved gift-giving, and the Befana tradition could represent a "baptising" of this in order to suppress pagan religion. Indeed, linguistic traces of this can be found in the fact that a Christmas gift used to be referred to in Italian as a "strenna," evoking the feast of Strenia.
Other experts trace the origins of the Befana even further back in time to the Nicnevin figure of Celtic tradition, a witch figure who ushers in the New Year. In Piedmont and Lombardy, an image of a witch called Giubiana is sometimes burned on the last Thursday of January to represent the disappearance of the passing year.
The most colourful celebration of La Befana is the way in which her arrival in Venice is enacted by the gondoliers of that beautiful city in witch outfits. A regatta is held in which the city's finest athletes race, dressed as wizened old witches, to grab a stocking full of goodies handing from the Rialto bridge.
At the heart of all these curious traditions, it is fascinating that the trope of La Befana's life-long search from Christ speaks so powerfully about something at the heart of our Christian faith. La Befana's fabled search for Jesus which results in acts of generosity to children is surely a parable of the Christian life in which we discover and encounter Christ in our generosity to one another.
Whatever its origins, this intriguing tradition tells us much about the ways in which the Christmas story has been received and enfleshed in many Christian cultures over the centuries.
Attendance last Sunday

Links for Sunday
The links for the livestream and service sheet for this Sunday's High Mass are at the end of this email.
Evensong and Benediction takes place at 6pm this Sunday. Music will include Stanford's Evening Service in B-flat and Cornelius's The Three Kings.
Prayer list
The sick
Fr. Harry Hodgetts, Elizabeth Lyon, James Shrimpton, Gloria Fleming, David Craig, Martin Berka, James Rodger, Amanda Barrett, Don McWhinney, Greg Loveday, Keith Bevan, Cathy Horan, Kevin Coughlan, Tony Hawkins, Theresa Moses
The faithful departed
Pope Benedict XVI
Anniversaries of death
January 15th – John Spencer
16th – Margaret Henwood, George Haines, Dennis Black, Claire Browne
17th – Elizabeth King, Beatrice Ansah
18th – Albert Sheppard
19th – Arnold Lawson
20th – Kate Gorge, Josephine Whittley
21st – Harris Charlton, William Clark, Hannah Berry, John Snoswell, Mary Bishop, Virginia Smith, Isabella Fotheringham, Frank Whitehill, Lilian Yorke, Gwyneth Hopkins
The Friends of All Saints'
January 15th – Roy Hopkins, Richard Hoskinson, Fr. David Hutt, Andrew Jervis, Arthur Johnson, Malcolm Kemp, Alan Kimbrough
16th – Roger Knight, Brenda Koupis, The Very Rev'd Harry Krauss, Deirdre Laing, Graham Last, Christopher Laws, Cornelius Logue
17th – Henry Macey, Dirk Maney, Bp. Michael Marshall, John Martell, Robert Mason, Judith Mather
18th – Fr. Stephen McClatchie, Fr. Peter McGeary, Nigel McNeill, John McWhinney, Colin Menzies
19th – Anne Merritt, Hazel Miller, Thomas Moller, Barry Moore, John Morrell, Fr. Stephen Morris
20th – Inger Mosbery, Christopher Naylor, Fr. Philip Need, Brian Newman, Graham Norman, Elaine Norman
21st – Richard North, Fr. James Nuzzo, Priscilla Oakeshott, Anna and Fr. Peter Oesterby-Joergensen, Ray Oram
Service times this week
Saturday 14th January – Feria
11.30 am Rosary
12.00 noon Mass of Our Lady of Walsingham
6.30 pm Vigil Mass of Sunday
Sunday 15th January – Epiphany 2
11.00 am High Mass
5.15 pm Mass
6.00 Evensong and Benediction
Monday 16th January – Feria
12.00 noon Mass
6.30 pm Mass
Tuesday 17th January – St. Anthony the Great
12.00 noon Mass
6.30 pm Mass
Wednesday 18th January – Feria
12.00 noon Mass
6.30 pm Mass
Thursday 19th January – St. Wulfstan
12.00 noon Mass
6.30 pm Mass
Friday 20th January – Ss. Fabian and Sebastian
12.00 noon Mass
6.30 pm Mass
Saturday 21st January – St. Agnes
12.00 noon Mass of Requiem
6.30 pm Vigil Mass of Sunday
Sunday 22nd January – Epiphany 3
11.00 am Solemn Mass
5.15 pm Mass
6.00 Evensong and Benediction