Weekly Email – Epiphany 3
Friday 20 January 2023
at 13:45
---
Documents
Dear friends,
I am very pleased to announce an exciting parish event on Friday 26th May 2023, which will revolve around an evening visit to the National Gallery to see their forthcoming exhibition on the figure of St Francis.
I am thrilled that the Director of the Gallery himself has agreed to speak to our parish group about the exhibition, which he has personally curated.
As usual, the visit will be followed by dinner at Le Beaujolais restaurant for those who wish to stay on for supper.
The exhibition looks like being one of the blockbusters of the summer, and a fascinating exploration of one of the most remarkable figures in Christian history.
It will bring together some the earliest devotional images of St Francis with manuscripts, relics, and modern depiction of him. Extensive loans of pictures from major collections will allow us to see a wealth of art, telling the story of the way in which St Francis has been depicted, his life received, and his reputation developed and moulded throughout the ages.
The exhibition's curator, Gabriele Finaldi, has been Director of the National Gallery since 2015. He is a world-renowned authority on Spanish and Italian painting of the 16th to 18th Centuries, especially Jusepe de Ribera, a Spanish 17th century artist who worked mainly in Rome and Naples. He has had an extensive career both at the National Gallery and the Prado in Madrid. We are so lucky that he has agreed to speak to our group.
The National Gallery comments as follows on the exhibition: "Presenting the art and imagery of Saint Francis (1182–1226) from the 13th century to today, this exhibition looks at why this saint is a figure of enormous relevance to our time due to his spiritual radicalism, commitment to the poor, and love of God and nature, as well as his powerful appeals for peace, and openness to dialogue with other religions." You can read more on the Gallery's website here.
The exhibition is absolutely free, and we will meet at the Gallery at 6.00 pm. Please be in touch with the parish office to book a place. The cost of dinner at Le Beaujolais will be £50. The total number we can take for supper is capped at 30, so book early!
Fr Peter
Licensing of Fr Alan Rimmer
Please note that our new Assistant Priest, Fr Alan Rimmer, will be licensed to our parish at Evensong at 6.00 pm on Sunday 12th February 2023. I am sure many will want to make a special effort to attend that liturgy in order to welcome Fr Alan to All Saints'. Do put this in your diaries.
Confirmation
Please be in touch with Fr Peter if you would like to be baptised and/or confirmed this Easter. Confirmation classes will begin soon for those wishing to receive the sacraments of initiation. The confirmation will take place on Saturday 8th April at 9.00 pm at the Easter Vigil, which Bishop Jonathan will celebrate.
The All Saints' Margaret Street pie!
A video has just been re-released online by Deutsche Welle about Calum Franklin's famous pie made in the shape of All Saints' Margaret Street! You can see it here.
Calum is the pie chef at Holborn Dining Room. He finds inspiration in the architecture of London for his culinary inventions, and created a pie in response to seeing our church building.
The geometrical shapes of the crust echo the outline of some of our stained glass windows. Butterfield's decorative scheme also inspires the pie, as do the striped layers created by the cheese and potato filling.  Go to 2.15 of the video to see the windows which inspired this amazing creation!
Walsingham National Pilgrimage
The National Pilgrimage to the Shrine of Our Lady of Walsingham will take place on Monday 29th May 2023. The pilgrimage consists of a large outdoor Mass in the Abbey grounds at 12 noon. This is followed by a picnic lunch, and then at 2.30 pm an afternoon devotion, sermon, procession of Our Lady and Benediction.
As usual, we will be organising a coach for the day to take pilgrims to Walsingham and back. It will depart from Margaret Street at 7.30 am, and return to London, setting off around tea time, and arriving back in London by the late evening. The cost is £20 per head.
In order to book a place on the coach, please contact the parish office and make a payment to our office administrator, Jonathan.
Guest preacher
We look forward to welcoming the Revd Dr Canon Robin Ward as our visiting preacher on Sunday 29th January 2023. Fr Robin is the Principal of St Stephen's House, Oxford.
Organ recital
An organ recital will take place at 3.30pm on Sunday 29th January at All Saints', given by Andrew Dewar, organist of the American Cathedral in Paris and professor at the Royal College of Music.
The programme is:
Vorspiel und Isoldens Liebestod from Tristan and Isolde (Wagner arr. Lemare)
Grand Prelude and Fugue, op. 63 (Holbrooke)
Admission is free and a collection will be raised for the All Saints' Choir and Music Trust.
Consecration of Fr Paul Thomas
Fr Paul Thomas, Vicar of St James', Sussex Gardens, will be consecrated to the Episcopate on the morning of Thursday 2nd February. A group of All Saints' friends of Fr Paul's will be attending the consecration and will be travelling down to Canterbury by train. If you would like to join the group, please be in touch with Fr Peter, as tickets will need to be booked.
Candlemas 2023
Thursday 2nd February 2023 – Feast of the Presentation of the Lord
Low Mass | 12 noon
High Mass with blessing of candles and procession | 6.30 pm
Preacher: The Revd Matthew Duckett, Priest-in-Charge, St Matthias', Colindale.
Music: Victoria, Missa Simile est regnum; Eccard, Maria wallt zum Heiligtum; Byrd, Hodie beata virgo.
Next Zoom Theology Seminar
Our next Zoom Theology seminar will take place on Tuesday 24th January 2023 at 7.00 pm. Its subject will be: "When history is painful: difficult and contentious memorialisation in churches."
This seminar will be led by Fr Charles Card-Reynolds, and will take the example of S. George's Cathedral, Kingstown, St Vincent which contains multiple colonial era memorials to those directly and indirectly involved with enslavement.
The Zoom link for the seminar can be found here.
King Charles the Martyr
The annual commemoration of the saintly death of King Charles I, which is organised each year by the Society of King Charles the Martyr, will take place at All Saints', Margaret Street, with a High Mass on Monday 30th January 2023 at 12 noon. This is because the Banqueting House is still undergoing renovation.
Parish outing to the British Library
There will be a parish trip to see a new exhibition focussed on Alexander the Great on Tuesday 31st January, 2023. We will meet at the British Library at 6.15 pm and the cost of the trip is £15, followed by dinner at Pizza Express at 8.00 pm for those who wish to stay on at a cost of £25. To book a place, please email the Parish Office.
All Saints' Lent Lecture:
Fruits of the Spirit – Art from the Heart
We are very pleased that the curator of the National Gallery's virtual exhibition entitled, "Fruits of the Spirit – Art from the Heart," the Revd Dr Ayla Lepine, will give our Lent Lecture in March on the topic of this interesting project.
The lecture will take place at All Saints' in person and online on Thursday 23rd March at 7.30 pm.
This innovative virtual experience organised by the National Gallery pairs nine pictures from the National Gallery's collection with nine from partner institutions. The exhibition is inspired by Saint Paul's description of the effects and fruits of the Spirit described in his Letter to the Galatians: love, joy, peace, patience, kindness, generosity, faithfulness, gentleness, and self-control.
Ayla will explore the themes the artwork brings up, the theological questions they prompt, and the difference that online interaction with works of art makes.
You "visit" the exhibition by clicking on the link here to enter a virtual gallery in the comfort of your own home wherever you are in the world. You can see pictures side by side each other which in reality live hundreds of miles apart!
Flowers this Sunday
The flowers are dedicated to the blessed memory of Gwyneth Hopkins, whose year's mind falls on January 21st.
We are looking for volunteers to help with the flowers in church and the Courtyard Garden. If you have a particular talent for flower arranging or gardening, or can even help with watering or sweeping the courtyard, please contact Shawn on 07988 287 663 or shawnwilbe@outlook.com.
If you would like to make a donation for flowers or the garden, please contact Shawn.
Attendance last Sunday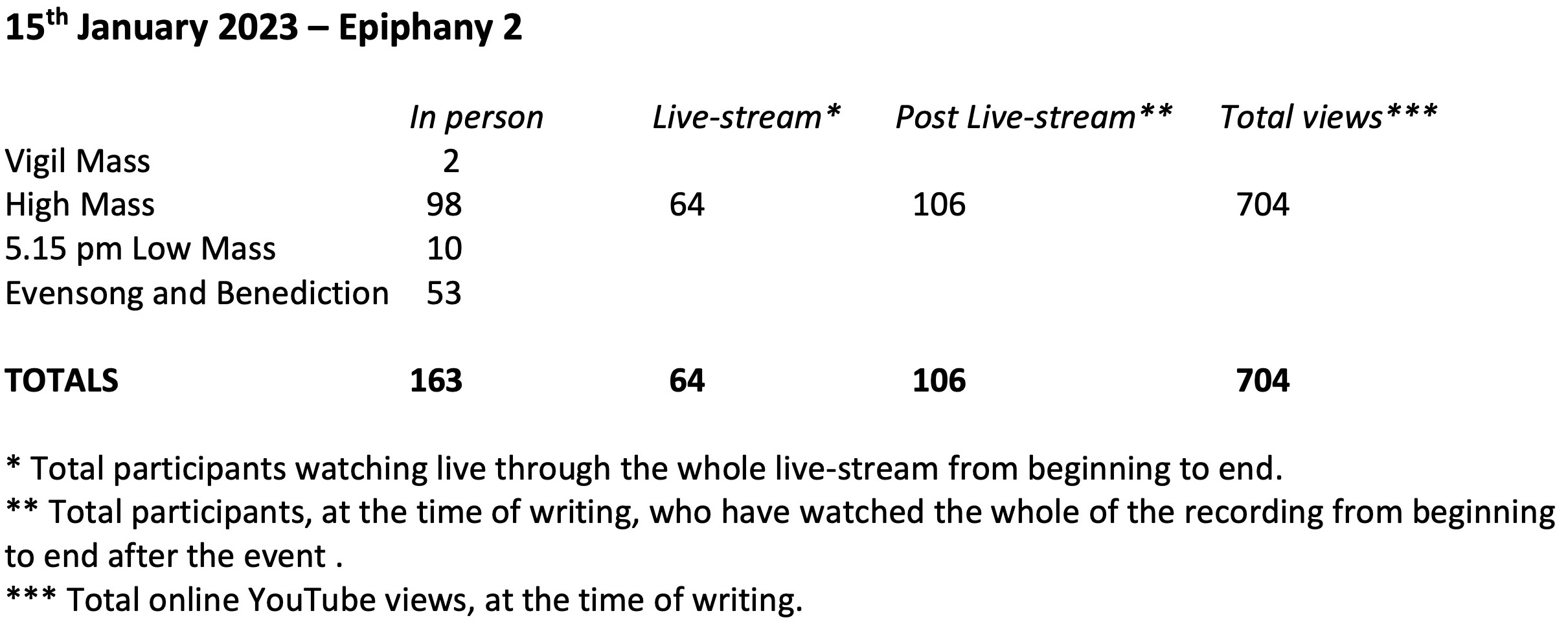 Links for Sunday
The links for the livestream and service sheet for this Sunday's High Mass are at the end of this email.
Evensong and Benediction takes place at 6pm this Sunday. Music will include Weelkes's Sixth Service and Victoria's O magnum mysterium.
Prayer list
The sick
Fr. Harry Hodgetts, Elizabeth Lyon, James Shrimpton, Gloria Fleming, David Craig, Martin Berka, James Rodger, Amanda Barrett, Don McWhinney, Greg Loveday, Keith Bevan, Cathy Horan, Kevin Coughlan, Tony Hawkins, Theresa Moses
The faithful departed
Stuart Froment
Anniversaries of death
January 22nd – Amony Lay, Annie Waggett, Maggie Dibley, Derek Allen Pr., Jim Swanton, Edith Laing
23rd – Kenneth Christie
25th – Ethel Boileau, Hilda Lawson, Watroslav Reith, Anthony Halsey Pr.
26th – Noel Campion, Frederic Hood Pr., Oswald Rodger, David Peschek, David Webb
27th – Walter Vale, Annie Taylor, Alice Savage, Jane Wildash
28th – Annie Benniston, Vera Martin, John Brackley, Barbara Niemyska
The Friends of All Saints'
January 22nd – Fr. Barry Orford, Samantha Parker, Malcolm Parr, Bhaven Patel, Alma Pearson, Pat Phillips
23rd – Colin Podmore, Nick and Cecilia Powell, Simon Pusey, Simon Rainey, Carlos Remotti-Breton, Steve Rice
24th – John Rick, Hilary Rodger, Fr. Jim Rosenthal, Mossman Roueche, Greg Round, Mary Sherred
25th – Fr. Peter Simpson, Ingrid Slaughter, Gwynedd Sooke, Richard and Louise Stallwood, Jason Stewart
26th – Ian & Veronica Summers, Ann Tacchi, Sebastian Taite-Ellis, Michael Taylor, Andrew Thompson, Pat Thompson
27th – Charles Thomson, James Thomson, Jeremy Thorp, Daniel Turner, Christine Vaughn Lillie, Sam Walsh
Service times this week
Saturday 21st January – St. Agnes
12.00 noon Mass of Requiem
6.30 pm Vigil Mass of Sunday
Sunday 22nd January – Epiphany 3
11.00 am Solemn Mass
5.15 pm Mass
6.00 Evensong and Benediction
Monday 23rd January – Feria
12.00 noon Mass
6.30 pm Mass
Tuesday 24th January – St. Francis de Sales
12.00 noon Mass
6.30 pm Mass
Wednesday 25th January – The Conversion of St. Paul
12.00 noon Mass
6.30 pm Mass
Thursday 26th January – Ss. Timothy and Titus
12.00 noon Mass
6.30 pm Mass
Friday 27th January – Feria
12.00 noon Mass
6.30 pm Mass
Saturday 28th January – St. Thomas Aquinas
12.00 noon Mass
6.30 pm Vigil Mass of Sunday
Sunday 29th January – Epiphany 4
11.00 am High Mass
5.15 pm Mass
6.00 Evensong and Benediction