Weekly Email – Pentecost
Friday 26 May 2023
at 13:45
---
Documents
Dear friends,
We keep this Sunday one of the most important Christian feasts of the whole year. Along with Christmas and Easter, Pentecost forms part of the crucial triptych that makes up our celebration of the Christian faith each year. It is the duty of every Christian to celebrate this feast with joy and thanksgiving, and to ensure they are present at the Mass on this day.
The feast will be kept with our accustomed solemnity at All Saints'. In addition to the High Mass on Sunday morning (Music: Dove, Missa Brevis; Palestrina, Dum Complerentur), a Te Deum (Stanford in C) will be offered in the presence of the Blessed Sacrament at Solemn Evensong (Canticles: Wood, Evening Service in D. Anthem: Atwood, Come Holy Ghost). We particularly look forward to hearing guest preacher, Fr Steve Rice, Rector of St Timothy's, Winston Salem, North Carolina, at the 11.00 am High Mass.
Christmas and Easter proclaim the Incarnation, Atonement, and Resurrection, but it is Pentecost with its gift of the Holy Spirit that reveals to us the purpose and meaning of those great mysteries. It is the presence of the Holy Spirit living in our hearts that makes the power of the Cross a reality in our lives. It is the indwelling of the Comforter that makes us part of the Risen Christ's Body and allows us to know that we are found in him, the Word make flesh.
The feast of Pentecost is, of course, the commemoration of events in Jerusalem when the Holy Spirit was first poured out on the disciples after Christ's Ascension. However, it might also stand at a personal level as a commemoration of that moment when the same Spirit was bestowed on us making us God's sons and daughters at our baptism. It is a wonderful feast to give thanks for that baptismal gift and to ask God to replenish and strengthen the presence of his Spirit within us.
In addition to Pentecost, however, we celebrate two other great celebrations on Sunday. Not only is it our Friends Sunday, but it is also our Dedication Sunday, when we remember the consecration of the church in 1859. Both of those celebrations, however, take their power from, and only make sense in the light of Pentecost.
As we celebrate the Friends of All Saints', we recall that it is only in the power of God's Holy Spirit that we have communion and fellowship with one another. It is the Spirit who gives us that bond of love and friendship that links us, in Christ, one to another, no matter where we are. When we give thanks for the support and presence of our wide circle of Friends we do so knowing that the Spirit binds and unites us, even though we may live many miles from each other. It is in the Spirit's power that we pray for each other, and are held in the presence of Christ.
It is also the Spirit who gives the gift of generosity. Our Friends Sunday is an opportunity for us to thank God for the help, assistance, and encouragement we receive from our family of Friends, who support our parish so prayerfully and so generously.
The Dedication of a church also makes no sense without a theology of the Holy Spirit. It is from the moment of consecration that the presence of the Paraclete decisively sets apart a building as the locus of God's dwelling, and as a place reserved for the worship of God. In celebrating our anniversary of Dedication on Sunday, we acknowledge the way our beautiful building has communicated God's presence and allowed him to be known here by so many generations who have gone before us.
In honour of all these various joyous causes for celebration we will be having a bring-and-share parish lunch this Sunday after the High Mass in our courtyard. I hope you will make a special effort to be present with us this Sunday for the Mass and to join us as we share fellowship with one another over lunch in celebration of the gift of God's Spirit to us.
Fr Peter
Guest Preacher this Sunday
We welcome as our guest preacher this Sunday for the feast of Pentecost Fr Steve Rice, Rector of St Timothy's Church, Winston Salem, North Carolina, USA.
Fr Steve knows our parish well and preached for us last year when he was in England for the National Pilgrimage to Walsingham. It will be a particular joy to see him again and to have a representative of our American Friends present as we also celebrate our Friends Sunday.
Parish Lunch this Sunday
Our "Friends Sunday" is an opportunity each year to thank those who support us and form part of our parish family through our "Friends of All Saints'" Scheme. The Friends are particularly encouraged to be with us this weekend. To celebrate their support and contribution, a special bring-and-share parish lunch will take place after the High Mass to which everyone is invited.
Please be in touch with Kate Hodgetts for Chris Self if you would like to bring something. Kate and Chris will be able to tell you what we are most in need of and what the most useful thing to bring would be.
We look forward to celebrating our family of Friends on Sunday and to sharing a time of fellowship, good food, and conversation together after the High Mass.
Corpus Christi video
We have just released a wonderful short video on social media aimed at attracting interest in our Corpus Christi procession.
It has been put together by Richard Everton, who has done an amazing job at creating a short taster of what our Corpus Christi procession is like. We are so grateful to him for all the time and professional care he has devoted to producing this terrific aid to our preparations for the feast day.
The video itself is now available on all our social media platforms: Facebook here; Twitter here; and Instagram here. Could we ask parishioners and friends on social media to "like" and "share"/"retweet" the video?
It is a really important part of our Christian discipleship to witness to Christ in all areas of our life, including online, and sharing this video would be an immense help in raising awareness of our celebration of Corpus Christi.
Organ Recital this Sunday
An organ recital will take place given by our own Jeremiah Stephenson at 3.30 pm this Sunday (28th May 2023).
The programme will include: Hymne 'Veni Creator Spiritus' by Nicolas de Grigny; and Prélude, Adagio et Chorale varié sur 'Veni Creator Spiritus' by Maurice Duruflé.
The recital is free to attend with a retiring collection donated to the All Saints' Choir and Music Trust.
Join the Friends of All Saints'
Our celebration of the Friends of All Saints' this Sunday offers an opportunity for us to encourage supporters of All Saints' who may live outside London or who are not able to worship with us regularly to join the Friends.
Joining the Friends of All Saints' is also particularly appropriate for our online worshippers and those who live abroad. You can find further details and the link for subscribing to the scheme here.
Our Friends scheme was rebooted last year. It continues to grow and I am pleased to announce that the total number of members now stands at 183. Of those,100 are "Friends" contributing £25 a year, 79 are "Benefactors" donating at least £120 a year, and 4 are "Patrons" giving £1000 a year.
This means the Friends of All Saints' currently contribute just under £16,000 a year to our parish's finances. We are hugely grateful for the generosity this represents. The Friends have had a huge difference to our parish finances – many thanks indeed!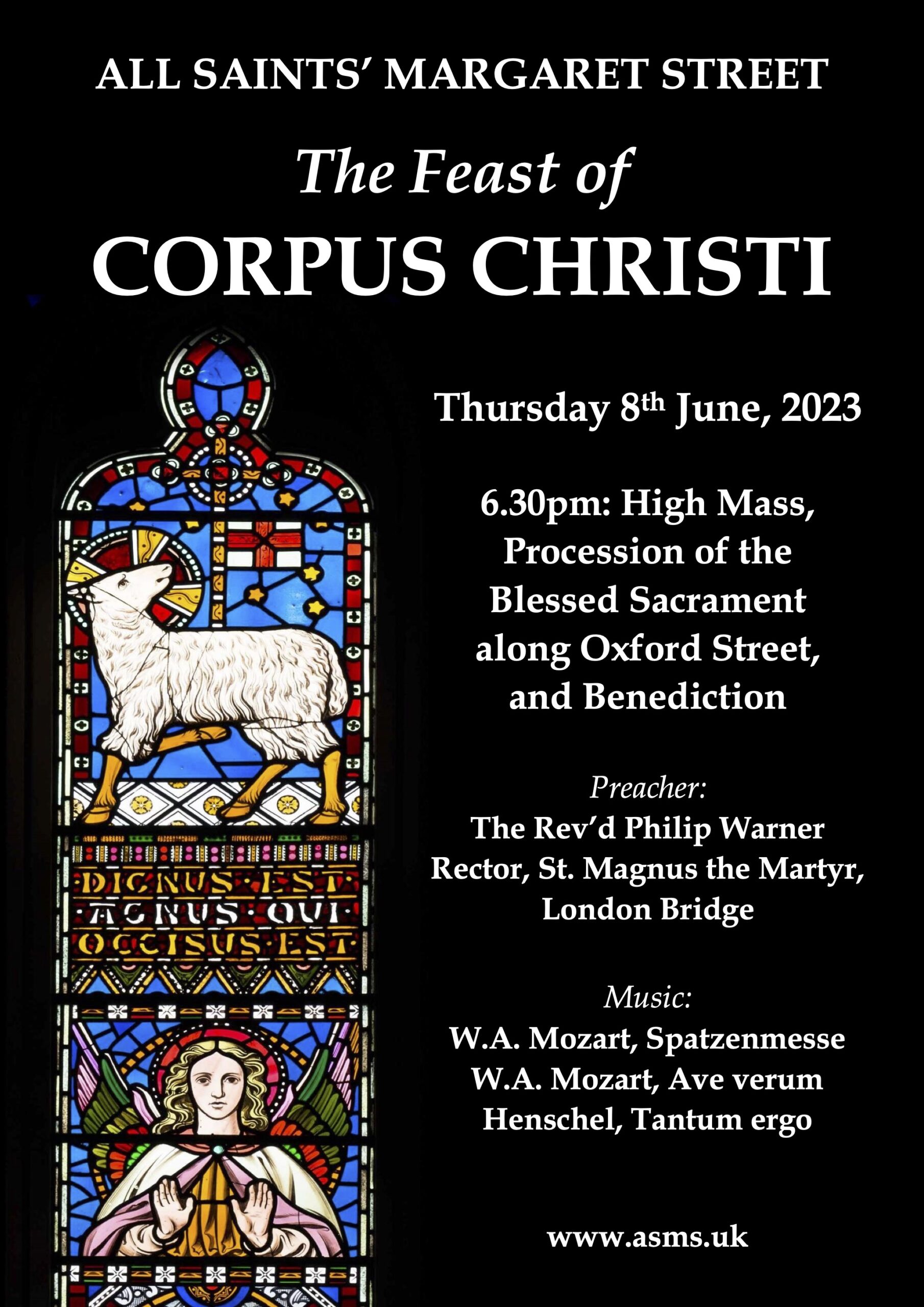 Walsingham National Pilgrimage
The National Pilgrimage to the Shrine of Our Lady of Walsingham takes place on Monday 29th May 2023. As usual, we will be organising a coach for the day to take pilgrims to Walsingham and back. There are still one or two tickets left. It will depart from Margaret Street at 7.30 am, and return to London, setting off around tea time, and arriving back in London by the late evening.
The cost is £20 per head. In order to book a place on the coach, please contact the parish office TODAY (Friday) and make a payment to our office administrator, Jonathan.
Next Zoom Theology Seminar cancelled
We regret to inform you that our next online Zoom Theology seminar has had to be cancelled as our speaker is, for a number of reasons, no longer able to be with us on that day. We apologise for the disappointment this will cause those who regularly participate.
We are in the process of assembling our Zoom Theology programme for the next "academic" year and will re-commence in the early autumn.
Forthcoming Guest preachers
Thursday 8th June – Corpus Christi
High Mass, Procession and Benediction | 6.30 pm
The Revd Philip Warner,
Rector, St Magnus the Martyr, London Bridge.
Sunday 11th June – Trinity 1
High Mass | 11.00 am
The Revd Dr Matthew Olver,
Associate Professor of Liturgics and Pastoral Theology,
Nashotah House, Wisconsin, USA.
Sunday 13th August 2023 – Assumptiontide Procession
Evensong, Procession of Our Lady and Benediction | 6.00 pm
The Rt Revd Glyn Webster.
Sunday 10th September – 14th Sunday after Trinity
High Mass | 11.00 am
The Revd Dr Michael Bowie,
Vicar, St Peter's, Eastern Hill, Melbourne, Australia.
Sunday 1st October – 17th Sunday after Trinity
High Mass | 11.00 am
The Revd Katy Hacker Hughes,
Priest Pastor, St Marylebone Parish Church.
Wednesday 1st November 2023 – All Saints' Day
High Mass | 6.30 pm
The Revd Richard Bastable,
Vicar, St Luke's Uxbridge Road, and St Matthew's, Kensington Olympia.
Tuesday 2nd November 2023 – All Souls' Day
High Mass of Requiem | 6.30 pm
The Revd Dr Barry Orford.
Attendance last Sunday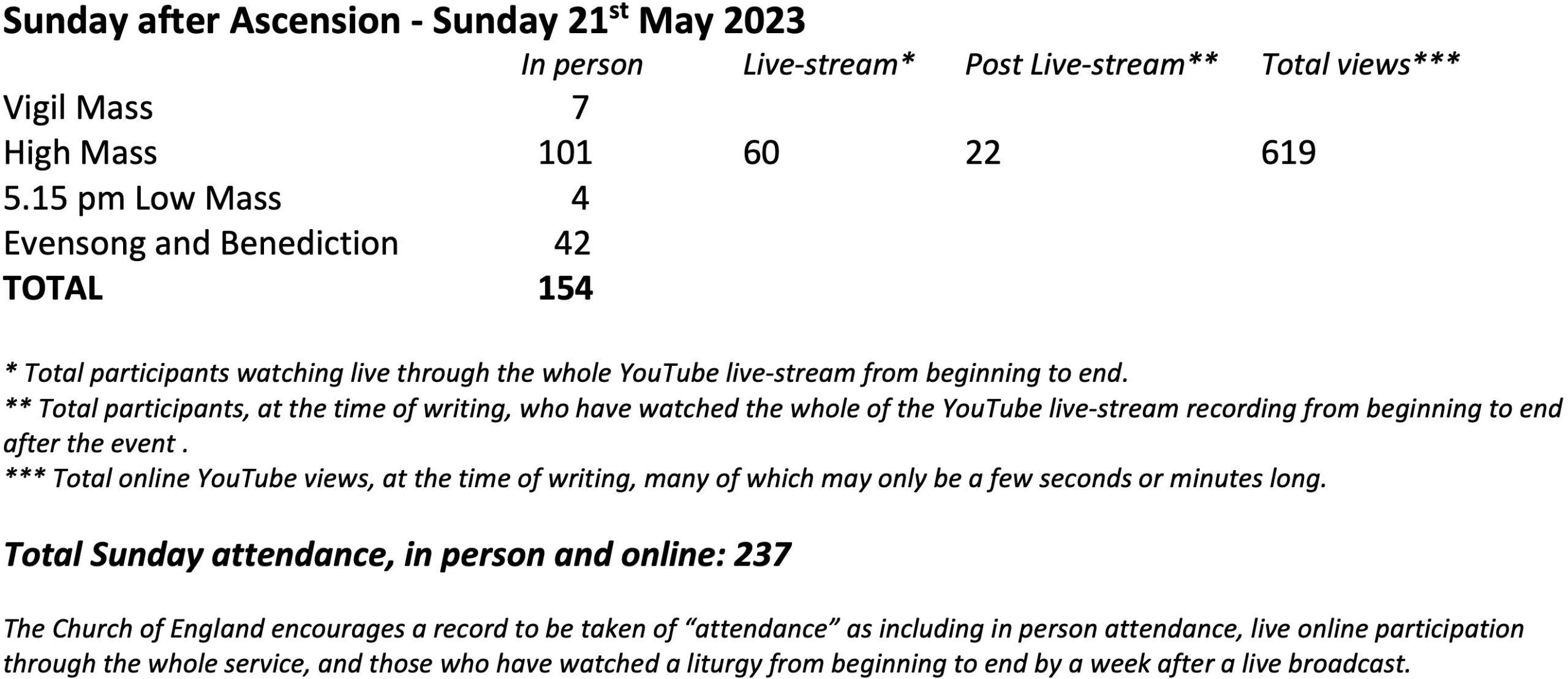 Links for Sunday
The links for the livestream and service sheet for this Sunday's High Mass are at the end of this email.
Evensong and Benediction takes place at 6pm this Sunday. Music will include Wood's Evening Service in D, Attwood's Come, Holy Ghost and Stanford's Te Deum in C.
Prayer list
The sick
Fr. Harry Hodgetts, Amanda Barrett, Greg Loveday, Don McWhinney, Martin Berka, Pete Turner, James Rodger, Andrew Rodger, David Craig, Charles Thomson, Elizabeth Lyon, Ray Oram, Keith Bevan, Marion Duggan, James Pearson, Eddie Burns, Mary Fourlong
The faithful departed
Roy Pearson, Pr.
Anniversaries of death
May 28th – Constance Crozier
29th – Agnes Barry, Brenda Lusha, Dominic Borg
30th – Henry Pelham-Clinton, Constance Porter
31st – Olga Gaunt
June 1st – Mary Bonar, Edna Hutt, Annie Key, Donald Barnes Pr.
2nd – Ronald Self
3rd – Ada Tomlinson, Bob Terwilliger Pr., Vyvian Hall, Gwen Rice
The Friends of All Saints'
May 28th – Tim Widdowfield, David Wilcox, T. Bradford Willis, Ian Wilson, Juliet Windham, Philip Wood
29th – Martin Woods, Martin Wooley, David Wright, Fr. John Wylam
30th – The Sisters of All Saints' Margaret Street
31st – Friends in special need
June 1st – Mark Allan, Martin Amherst-Lock, Mary and Stephen Attenborough, Richard Ayling, James Babington Smith, Ruth Baker
2nd – Stephen Barber, Dr. William Benefield, Fr. Adrian Berry, Charlotte Black, Graeme Bloom, David Blunden, Colin Bodkin
3rd – Fr. Michael Bowie, John Bristow, Eric Broglé, Fr. Julian Browning, Kate Burling, Graham Burns
Service times this week
Saturday 27th May – St. Augustine
12.00 pm Mass
6.30 pm Vigil Mass of Sunday
Sunday 28th May – Pentecost
11.00 am High Mass
5.15 pm Mass
6.00 pm Evensong and Benediction
Monday 29th May – Pope St. Paul VI
12.00 pm Mass
Tuesday 30th May – St. Joan of Arc
12.00 pm Mass
6.30 pm Mass
Wednesday 31st May – The Visitation of the BVM
12.00 pm Mass
6.30 pm Mass
Thursday 1st June – St. Justin
12.00 pm Mass
6.30 pm Mass
Friday 2nd June – Ss. Marcellinus and Peter
12.00 pm Mass
6.30 pm Mass
Saturday 3rd June – Ss. Charles Lwanga and companions
12.00 pm Mass
6.30 pm Vigil Mass of Sunday
Sunday 4th June – Trinity Sunday
11.00 am High Mass
5.15 pm Mass
6.00 pm Evensong and Benediction