Weekly Email – The Fourth Sunday in Lent
Friday 17 March 2023
at 13:45
---
Documents
Dear friends,
Our bi-monthly Zoom theology seminar took place this week focussed on the topic of the rites of Holy Week. We were very lucky and honoured to have Fr Jeremy Haselock addressing us. It was a fantastic evening of discussion and discovery. We had 49 participants present from all over England, Europe and North America.
Fr Jeremy's presentation was a fascinating reminder of one really important historical principle which lies at the heart of the liturgies we celebrate over Holy Week: that the rites as they exist now could not have come into existence anywhere else other than in Jerusalem.
Our keeping of the Paschal Mystery is deeply rooted in the topography and history of that Holy City, and the power of the corporate memories of the first Christians who lived there.
Fr Jeremy reminded us that the earliest celebration of Easter appears to have been one simple all-night vigil on Holy Saturday, in which the whole of the Paschal Mystery was commemorated. This one vigil drew Christians into corporate remembrance of the Passion, Death and Resurrection of Christ through reading the scriptures, and celebration of the Eucharist.
By the 4th Century, however, a more complex sequence of liturgical gatherings was emerging in Jerusalem, in which particular events were commemorated on particular days, in the particular places associated with them. It was also the case that Easter night was increasingly seen as the occasion par excellence when baptism was celebrated by the bishop and neophytes were sacramentally incorporated into Christ.
Under the energetic episcopal ministry of St Cyril of Jerusalem and his inspiring teaching, Holy Week begins to take the shape familiar to us. From Jerusalem, it is taken by pilgrims who experience it there to other parts of the Christian world. This Jerusalem pattern starts to operate as a universal model for celebrating the Paschal Mystery, even in places many hundred miles from the Holy Land.
Fr Jeremy also introduced us to several way of thinking about the different sorts of piety that have influenced how Holy Week liturgies have developed. The first is what one might call a "unitive" piety. This characterised the most ancient celebration of Easter when there was just one Vigil. One might see a "unitive" liturgical instinct present in the person who comes to Mass only every once in a while and just comes on Easter Day to celebrate the Death and Resurrection of Christ, ignoring the rest of Holy Week.
Secondly, there is what liturgical scholars refer to as a "rememberative" piety that comes out of the historicising instincts of the 4th Century, where events are commemorated in the different places that they happened and on the days they happened. This impulse can be seen in the chronological sense of our present Holy Week – where each day is a step forward in the events of the Passion, from Palm Sunday to Easter Day.
Thirdly, there is a "representational" piety, where the Passion is dramatically represented to us. This is seen in the reading of the passion narratives during Holy Week with different voices, in Medieval passion plays, and traditions of having an Easter sepulchre in churches in England in the Middle Ages. One might also see it in modern walks of witness involving tableaux vivants, passion processions in Mediterranean countries, in primary school Easter services where the children play different figures in the narrative, and in evangelistic "flash mob" events.
Fr Jeremy urged us to remember that at each juncture in our keeping of Holy Week, we are not just celebrating one event or incident that happened on a particular day.  Rather, the entire week is a celebration of the whole Paschal Mystery, in which Christ is present in our midst at the Risen One. Even in the darkest moments of our contemplation of the Cross of Christ, we keep before us the reality that he is Risen; and even though the story is focussed on one man, Jesus Christ, we know it reaches back to God's creation of the world, and forward to his recreation of all things in that same Christ.
I am very grateful indeed to Fr Jeremy for his teaching and for the excellent talk he gave. It has given me much to ponder as we approach Holy Week, and has prompted me to realise the fundamental importance of our keeping together of the rites of that time, as we celebrate Christ present in the liturgical gathering of his people, the one who died for us and is now risen in glory.
Fr Peter
Stewardship Campaign update
Since launching our PCC's stewardship campaign at the beginning of Lent, we have been inundated with responses, emails and messages, all pledging incredibly abundantly and sacrificially. I want to thank everyone who has replied and would like to say how grateful we are for your kindness and generosity.
In the past fortnight, we have received: 4 pledges from parishioners who already give regularly that they have increased their regular gift; 10 new members of the Parish Giving Scheme, now giving regularly each month to All Saints'; 10 new people have joined the Friends of All Saints'; and 6 Friends have entered the category of "Patron" meaning they give at least £1000 a year.
We have also received many of the "giving time" forms back with lots of new people volunteering for crucial roles in our parish's life. We will begin the process of sorting these responses and will reply in a week or two's time with suggestions for how we can take those offers of time forward.
I can't begin to say how grateful I am for the level of generosity and thoughtfulness which has characterised the response to our appeal so far. If you've not yet replied, have a think about how you might respond to our Lenten challenge to reflect on how we give of time and money, and see how God is calling you to give of yourself in his service.
Why I volunteer
We continue our series of short articles from members of our congregation about why they volunteer at All Saints'. This week we hear from Judith Mather who regularly gives of her time on our church welcoming rota. She spends time on Fridays afternoons every other week welcoming visitors and tourists to our church and ensuring the safety and security of our building. Be in touch with the parish office if you would like to volunteer for this important work.
Church welcoming is one of the biggest privileges you can do at All Saints'. It is good for your wellbeing as there are moments of silence and contemplation that as busy people you just don't get.
There is also a beauty in showing off our amazing church and spreading the gospel. The pride I get when guests come and when they would like to know what we are all about is amazing.
It is wonderful to show case ourselves as an inclusive and welcoming place  – I have had so many people from different nationalities who are so shocked and surprised at the beauty of All Saints' and what we stand for.
I promote our on line channels and have noticed a number of visitors who have also come back later in the week to High Mass on a Sunday, which again is spreading our message.
I have had a few amazing moments especially with a concert violinist who wanted to practice and a lady who was 93!
Judith Mather
5 tickets left!
There are 5 tickets left for our parish visit to the Royal Academy this Sunday at 3pm to see their latest exhibition entitled, "Spain and the Hispanic World." Please be in touch with our parish office to book a ticket. Cost is £20 per person.
Stations of the Cross
Stations of the Cross take place every Friday in Lent at All Saints' at 7.00 pm following the 6.30 pm evening Mass.
Feast of the Annunciation 2023
Saturday 25th March 2023
High Mass  12 noon
Preacher: The Revd Christopher Trundle, Vicar, Our Most Holy Redeemer, Clerkenwell, and Chair of the House of Clergy, Diocese of London.
Music: Haydn, Jugendmesse; Guerrero, Ave Virgo Sanctissima.
Ministry to young people
Over the past 18 months All Saints' has seen the emergence of a group of new parishioners often in their 20s and 30s. I am very pleased to announce that Fr Alan Rimmer will be putting energy over the next few months into renewing our ministry to these younger people and will be taking over direction of this part of our parish's life.
We are aiming to set up a programme of events that will extend through the year offering opportunities for fellowship, fun and formation for members of All Saints' who are in younger age brackets.
For the moment, I think it's simply easier to allow people to self-define as "young" (i.e. without imposing a strict age limit), though most of the people in this group are under 40.
To this end we are proposing three events over the coming months to which our young adults are invited:
1. Our young parishioners are warmly invited to dinner at Fr Alan's home in celebration of the Coronation on Thursday 4th May. Please let him know directly if you would like to attend.
2. We will be taking a group of our younger parishioners to the Society of Mary's May Devotion at S. Silas', Kentish Town, on Saturday 13th May. This begins with a Solemn Mass at 12 noon followed by a joyous procession through the streets of Camden Town to Holy Trinity, Hartland Road, where there is a lunch. It's a wonderful way of celebrating and proclaiming our faith. Let Fr Alan know if you wish to come.
3. In the evening of the same day as the May Devotion (Sat 13th May), Fr Alan will host a Eurovision Song Contest party at his home for our young adults. This will involve watching the Song Contest and having supper together as we enjoy an evening of Eurostrash fun!
Please reply to Fr Alan directly to let him know that you would like to attend any of these events so he has a good idea of how many people to cater for. Other halves are very welcome.
Please keep our ministry to younger people in your prayers as we seek to reach out to all generations and help them grow in faith and love.
Guest preacher: Fr Steve Rice
I am very pleased to announce that Fr Steve Rice will be preaching at All Saints' on the feast of Pentecost, Sunday 28th May 2023.
Many will remember the superb homily he preached last year, and the fascinating presentation he gave on the life of his parish, St Timothy's Winston-Salem, North Carolina. He will be visiting England again in May, among other things, to attend the National Pilgrimage at Walsingham. I was so pleased that he accepted my invitation to speak to us again.
Sunday 28th May will be our "Friends" Sunday, when we remember, celebrate and give thanks for the support of the Friends of All Saints'. It will be particularly good to have as our preacher a representative of our US Friends.
St James' School, Maryland
We are very pleased indeed that St James' School, Maryland, USA, will be singing Evensong at All Saints' this Saturday 18th March at 4pm as part of their school choir tour. All parishioners of All Saints' are invited and welcome to attend.
All Saints' Lent Lecture:
Fruits of the Spirit – Art from the Heart
We are very pleased that the Revd Dr Ayla Lepine, the curator of the National Gallery's virtual exhibition entitled, "Fruits of the Spirit – Art from the Heart," will give our Lent Lecture next week on the topic of this interesting project.
You "visit" the exhibition by clicking on the link here to enter a virtual gallery in the comfort of your own home wherever you are in the world.
The lecture will take place at All Saints' in person and online on Thursday 23rd March at 7.30 pm.
All Saints' Lent Appeal 2023
Given the recent disastrous earthquakes in Turkey and Syria and the need to continue supporting projects working with those most in need, money raised this year through the All Saints' Lent Appeal will be divided between:
DEC Turkey-Syria Earthquake Appeal through Christian Aid
This is a Disaster Emergency Committee made up of 15 charities including Christian Aid. DEC charities and their local partners are among the first responders providing urgent help following the disastrous earthquakes.  Many thousands of men, women and children have died or are injured in the aftermath of the earthquakes in Turkey and Syria.  Christian Aid has been working with local partners across the region for decades and responding to the Syria crisis since 2012.  Even before this devastating earthquake, there were over four million people in need of aid in Northwest Syria.
The American Church Soup Kitchen
This contributes towards the costs of the Mental Health Worker who works at the American Church on the Tottenham Court Road. The Soup Kitchen is a resource for the homeless, elderly, lonely and vulnerable in London. They provide free meals, clothing, toiletries and a sense of belonging to nearly 150 people each day and an on-site mental health drop-in centre to help address their guests' mental health needs.
The Bishop of London's Lent Appeal
The Diocese of London is partnering with MANNA (Mozambique Angola Anglican Association) to help the traumatised. This year's appeal aims to raise money to train leaders in Mozambique who can provide pastoral care and support for those with trauma. Since 2017, over a million people living in northern Mozambique have been displaced by a violent insurgency and 4,000 have been killed. This is a population which is now deeply traumatised. Many professionals have said that their need for trauma counselling and support is as great as their need for food, but agencies and organisations do not have funds for this.
You can make a donation to our Lent Appeal here.
Mark Bushby Scholarship Fund
Felicity Hayward is making a donation to the Mark Bushby Scholarship Fund from her fee for singing in the choir at Sunday morning's High Mass.
Mark sang at All Saints' between 2004 and 2015, and died suddenly in 2019. For more information about the Fund, and if you would like to make your own donation, please visit asms.uk/bushby.
Holy Week 2023
Please note that it is our custom during Holy Week to have only one celebration of the Mass each day on Holy Monday, Tuesday and Wednesday, at 6.30 pm with a homily.
Palm Sunday 2nd April 2023
11.00 am High Mass with sermon by the Bishop of Fulham.
N.B. Meet at 11.00 am in Oxford Market for the procession of palms.
Music: Pueri Hebraeorum, anon attrib. Palestrina; Mass in B-flat, Rachmaninov; God so loved the world, Stainer.
5.15 pm Mass
6.00 pm Evensong and Benediction
Music: Evensong and Benediction canticles, Rachmaninov; Christus factus est, Bruckner.
Holy Monday 3rd April 2023
5.30 pm Confessions
6.30 pm Low Mass with homily: the Bishop of Fulham
Holy Tuesday 4th April 2023
11.00 am Bishop of Fulham's Chrism Mass at St Andrew's, Holborn.
5.30 pm Confessions
6.30 pm Low Mass with homily: Fr Peter
Holy Wednesday 5th April 2023
5.30 pm Confessions
6.30 pm Low Mass with homily: the Bishop of Fulham
7.30 pm Tenebrae
Maundy Thursday 6th April 2023
6.30 pm High Mass with sermon by the Bishop of Fulham, followed by watch at altar of repose until midnight
Music: Missa Brevis, Buxtehude (Kyrie and, Gloria); Missa XVIII, Deus Genitor Alme (Sanctus, Agnus Dei); Ubi caritas, Duruflé; O sacrum convivium, Tallis; Ave verum, Byrd.
Good Friday 7th April 2023
3.00 pm Solemn Liturgy with sermon by the Bishop of Fulham
Music: Crux Fidelis & Reproaches, Palestrina; Ecce quomodo moritur justus, Handl.
7.30 pm Stations of the Cross (Maria Desolata)
Holy Saturday 8th April 2023
9.00 pm Easter Vigil with baptisms, confirmations and sermon by the Bishop of Fulham
Music: Messe Solenelle, Vierne.
Easter Day 9th April 2023
11.00 am High Mass with sermon by the Bishop of Fulham
Music: Krönungsmesse K317, Mozart; Easter Hymn, Mascagni.
5.15 pm Mass
6.00 pm Evensong, Te Deum, and Benediction
Music: Stanford in C; Blessed be the God and Father, Wesley; Te Deum, Sumsion in G.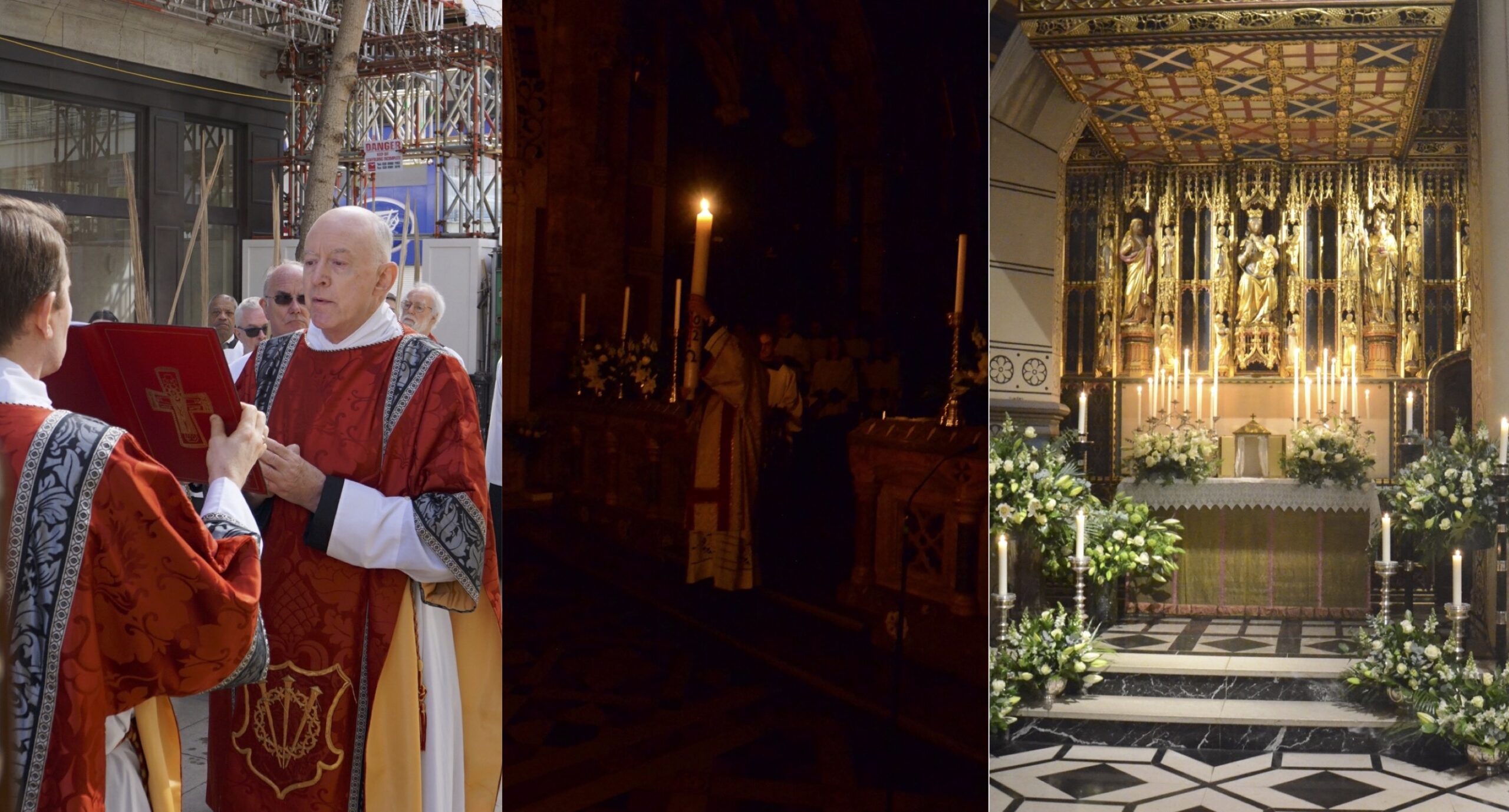 St Mary the Virgin, Times Square, NYC
Parishioners of All Saints' may be aware that our parish has had a link with the church of St Mary the Virgin, Times Square, New York for many years now.
This was originally an informal affair and had originated out of the fact that both our churches were historically amongst the earliest Anglo-Catholic parishes in both cities. However, as a more formal exchange and partnership link between the Diocese of London and the Episcopal Diocese of New York was established a few years ago, our parish was officially "twinned" with St Mary the Virgin within that scheme.
St Mary the Virgin, Times Square, was founded as a flagship Anglo-Catholic parish by an inspiring priest called Fr Thomas McKee Brown in the late 1860s. In just the same spirit that had inspired the construction of All Saints' nearly 20 years before, it was intended as a model church to express the fullness of Catholic theological and liturgical practice in the wake of the Oxford Movement.
The Bishop of New York approved the establishment of a new parish in the area then known as Longacre Square – eventually to become "Times" Square. By the 1890s the congregation had outgrown this first church on 45th Street, and a new site was chosen for an enormous new building which would span a block between 46th and 47th Street. The church which was constructed is one of the most magnificent Neo-Gothic creations in New York, in the soaring style of the French Gothic of the 13th and 14th Centuries.
Behind the altar is an enormous image of Our Lady, which is a remarkable piece of Anglo-Catholic theological propaganda. Our Lady is portrayed immaculately conceived and assumed into heaven. Below it, St John points St Thomas Aquinas to St Anselm, showing St Anselm's teaching on the Immaculate Conception of Mary to be truer than that of St Thomas Aquinas, (who denied  she was immaculately conceived). St Anselm is depicted holding his famous words concerning Our Lady's Immaculate Conception, much repeated by Duns Scotus, "potuit, decuit, ergo fecit" (it was possible, it was fitting, therefore it was accomplished).
Our Lady looks down in approval at the Archbishop of Canterbury St Anselm and in disapproving censure away from St Thomas Aquinas. The truest Marian doctrine is to be be found in the Anglican theological imagination, renewed by the Oxford Movement, the picture argues: rooted in early Medieval English reflection and fostered by the See of Canterbury…rather than the complex obfuscation of later continental scholasticism based in suspicious foreign universities!
In years past, this link between our two churches was made all the more concrete through Bishop Alan Shin, who served his curacy at St Mary the Virgin, and then worked at All Saints' as an assistant priest whilst undertaking academic research for a number of years.
Indeed I know and love St Mary the Virgin myself well, as I undertook a placement there in the summer of 2002 whilst I was a pastoral assistant, before going to theological college.
St Mary the Virgin is in interregnum at the moment and is in the middle of the discernment process to call a new Rector. However, I have been in touch with the Interim Rector, Fr Sammy Woods, who is leading the parish until an appointment is made and have been very pleased to get to know him better by Zoom. As a way of reviving this link with our sister parish in New York, I have been invited to preach at St Mary the Virgin whilst I'm on holiday there this summer. I very much look forward to this honour.
It is also the case that parishioners from All Saints' have made their way to St Mary the Virgin whilst in New York over the past few weeks. Our churchwarden Huw Pryce was in New York on business over Ash Wednesday and attended the Solemn Mass. Carlos Remotti-Breton was also in New York a week later as part of his work and went to the Mass there. We had a visitor here at All Saints' three weeks ago in the form of St Mary's Treasurer, Steven Heffner, who was in London on a conference. It is good to know that visits are being made back and forth between the two parishes.
It strikes me that one of the simplest ways of fostering this link further is for our parishes to pray for each other regularly. St Mary the Virgin Times Square will be added to our regular intercessions list and be remembered at our 12 noon Mass. I pray that by reviving this historic link between two very similar parishes, we may both support and help each other as we seek to grow in the love of Christ.
Attendance last Sunday

Flowers this week
The flowers for Mothering Sunday have been given by Shawn Welby-Cooke in thankfulness for his mother and for all mothers, especially those parted from their children.
We are looking for volunteers to help with the flowers in church and the Courtyard Garden. If you have a particular talent for flower arranging or gardening, or can even help with watering or sweeping the courtyard, please contact Shawn on 07988 287 663 or shawnwilbe@outlook.com.
Links for Sunday
The links for the livestream and service sheet for this Sunday's High Mass are at the end of this email.
Evensong and Benediction takes place at 6pm this Sunday. Music will include Sumsion's Evening Service in G and Howells's Like as the hart.
Prayer list
The sick
Fr. Harry Hodgetts, Amanda Barrett, Greg Loveday, Theresa Moses, Don McWhinney, Martin Berka, Pete Turner, James Rodger, Andrew Rodger, David Craig, Charles Thompson, Elizabeth Lyon, Keith Bevan, Pauline Hind, Carol Lyman-Pryce
The faithful departed
Frank Tracy Griswold Bp., Anna Matthews
Anniversaries of death
March 19th – Joan MacKintosh, Millie Cathcart
20th – Christine Tagoe
21st – Mary Steward, Hugh Wiley, Emily Pattisson, Margaret Baker
22nd – Charlotte Read, Olive Evans
23rd – Geoffrey Constable
24th – Constance Kirk
25th – Belle McCarthy, Beryl Williams, Ralph Ballard, Yvonne Burgess-Jones
26th – Mary Montgomery
The Friends of All Saints'
March 19th – Anne Merritt, Hazel Miller, Thomas Moller, Barry Moore, John Morrell, Fr. Stephen Morris
20th – Inger Mosbery, Christopher Naylor, Fr. Philip Need, Brian Newman, Graham Norman, Elaine Norman
21st – Richard North, Fr. James Nuzzo, Priscilla Oakeshott, Anna and Fr. Peter Oesterby-Joergensen, Ray Oram
22nd – Fr. Barry Orford, Samantha Parker, Malcolm Parr, Bhaven Patel, Alma Pearson, Pat Phillips
23rd – Colin Podmore, Nick and Cecilia Powell, Simon Pusey, Simon Rainey, Carlos Remotti-Breton, Steve Rice
24th – John Rick, Hilary Rodger, Fr. Jim Rosenthal, Mossman Roueche, Greg Round, Mary Sherred
25th – Fr. Peter Simpson, Ingrid Slaughter, Gwynedd Sooke, Richard and Louise Stallwood, Jason Stewart
26th – Ian & Veronica Summers, Ann Tacchi, Sebastian Taite-Ellis, Michael Taylor, Andrew Thompson, Pat Thompson
Service times this week
Saturday 18th March – St. Cyril of Jerusalem
12.00 noon Requiem Mass
6.30 pm Vigil Mass of Sunday
Sunday 19th March – The Fourth Sunday in Lent
11.00 am High Mass
5.15 pm Mass
6.00 Evensong and Benediction
Monday 20th March – St. Joseph
12.00 noon Mass
6.30 pm Mass
Tuesday 21st March – Feria
12.00 noon Mass
6.30 pm Mass
Wednesday 22nd March – Feria
12.00 noon Mass
6.30 pm Mass
Thursday 23rd March – Feria
12.00 noon Mass
6.30 pm Mass
Friday 24th March – Feria
12.00 noon Mass
6.30 pm Mass
7.00 pm Stations of the Cross
Saturday 25th March – The Annunciation of the BVM
12.00 noon High Mass
6.30 pm Vigil Mass of Sunday
Sunday 26th March – The Fifth Sunday in Lent (Passion Sunday)
11.00 am High Mass
5.15 pm Mass
6.00 Evensong and Benediction