Weekly Email – The Last Sunday after Trinity
Friday 27 October 2023
at 13:45
---
Documents
Dear friends,
I am pleased to announce the launch of our annual All Saints' Festival Appeal. This is a special fundraising project which takes place each year around All Saints' Day in order to focus our giving on external need. Through it, we recognise our obligation as Christians to reach out in love to those who need our help and support. The appeal will run through the whole of November.
The two focusses of this year's appeal will be the American Soup Kitchen on the Tottenham Court Road, and the Mark Bushby Scholarship Fund. All funds raised will be split equally between the two causes.
The Soup Kitchen at the American International Church on the Tottenham Court Road is well known to us and is a project we have supported for many years. Our donations will go towards the costs of their mental health worker.
The Soup Kitchen is a resource for the homeless, elderly, lonely and vulnerable in London. They provide free meals, clothing, toiletries and a sense of belonging to nearly 150 people each day and an on-site mental health drop-in centre to help address their guests' mental health needs. It is an excellent project and very worthy of your generosity.
The Mark Bushby Scholarship Fund was set up in his memory by his friends in 2021 to fund a scholarship with Brent Music Service. Each scholarship provides a promising young musician with four years of one-on-one instrumental tuition, and is administered by the London Music Fund (Registered Charity 1141216). Scholars come from families who would not otherwise be able to afford music lessons for their children.
Mark Bushby was a tenor in All Saints' Choir for more than ten years, from 2004 until 2015. Mark died in September 2019, aged 39. He is survived by his wife Julia and their two daughters. Each scholarship lasts for four years, and covers the sometimes difficult transition to secondary school. The cost of the scholarship is currently £4000 per year.
I hope that all our parishioners and friends will think about making a donation to our appeal over the All Saints' Festival period. It is a wonderful way of giving thanks to God for the blessings we have received, and putting our faith into action through the generous stewardship of the resources God has given us.
You can donate to the appeal online here. I commend this appeal to your prayers and pray that God will prompt a generous and heartfelt response.
Full details of all the events of our Festival Week are laid out below in this email. All the main liturgies will be live-streamed, and I urge you to make time to attend a many of those celebrations as you can – either in person or online – so that we can celebrate together both the life of our parish, and our living communion with all God's saints and holy ones.
With thanks and best wishes,
Fr Peter
Bring and Share Parish Lunch
Please let Kate Hodgetts know if you are able to contribute food to our Bring and Share Lunch on Sunday 5th November, to celebrate our All Saints' Festival Sunday. The more food the better, as we will have many mouths to feed!
Visit to the Fo Guang Shan Buddhist Temple
A group from All Saints' will visit the London Fo Guang Shan Temple on Margaret Street tomorrow (Sat 28th Oct) at 3.00 pm in order to learn more about our Buddhist neighbours' community of faith. After a tour of the temple, our group will invite our Buddhist neighbours back to the Vicarage for tea together.
In order to book a place in the next 24 hours, please let Fr Peter know directly. There is no charge for this event.
All Saints' Festival Week 2023
Tuesday 31st October – Eve of All Saints' Day
First Solemn Evensong and Benediction of the feast | 6.30 pm
Music: Wood, canticles in Eb no 2 & Byrd, Timete Dominum.
Followed by parish party in church
Wednesday 1st November 2023 – All Saints' Day
High Mass | 6.30 pm
Music: Haydn, Missa Sancti Nicolai & Byrd, O quam gloriosum – Benedictio et claritas.
Preacher: The Revd Richard Bastable,
Vicar, St Luke's Uxbridge Road, and St Matthew's, Kensington Olympia.
Tuesday 2nd November 2023 – All Souls' Day
High Mass of Requiem | 6.30 pm
Music: Fauré, Requiem.
Preacher: The Revd Dr Barry Orford.
Sunday 5th November – All Saints' Festival Sunday
High Mass followed by bring and share parish lunch | 11.00 am
Music: Caplin, Missa Omnium Sanctorum; Victoria, O quam gloriosum.
Preacher: The Revd Alan Rimmer
Solemn Evensong and Benediction | 6.00 pm
Music: Stanford, Canticles in C; Moore, O quam gloriosum, Sumsion, Te Deum; Henschel, Tantum Ergo.
Young Adults Group
The next walk for younger members of our congregation will take place on Saturday, November 11th, meeting around 9am at St Pancras International. Fr Alan hopes to lead a route from Rye to New Romney, via All Saints', Lydd ("the cathedral of the marsh") and Dungeness. Splendid churches, bracing winds and fish and chips guaranteed. Please be in touch with him to register your interest!
There will also be an Advent party at Fr Alan's home on St Ambrose's Day, Thursday December 7th, 7-9pm. Fr Alan warmly invites our younger people to No. 6 for seasonal drinks. Let him know if you plan to join us.
Ray Oram RIP
The funeral of Ray Oram will take place on Friday 10th November at 2:00 pm at Enfield Crematorium, Great Cambridge Road, Enfield EN1 4DS.
A High Mass of Requiem will be celebrated at St Magnus the Martyr, Lower Thames Street, at a later date.
There will also be a Low Mass of Requiem celebrated at All Saints' the night before Ray's funeral, on Thursday 9th November at 6.30 pm, followed by a drink in his honour for those present.
Virtual Coffee Hour – Sunday 19th November
Our next virtual coffee hour after the High Mass will take place on Sunday 19th November and will be hosted by Fr Alan. The Zoom link is here. (Meeting ID: 815 3380 0451; Passcode: Sybil)
The idea behind this is simple: if you are an online worshipper, grab a cup of coffee and join Fr Alan online via Zoom for a chat and catch-up directly after the end of the High Mass.
Next Zoom Theology Seminar
Our next Zoom Theology session will take place online on Tuesday, December 5th, 2023, at 7.00 pm. It will be entitled, "A small world in a great one: Eco-Theology and St Maximus the Confessor," and will be led by Fr Nathan Mulcock.
Fr Nathan is Chaplain of Mansfield College, Oxford, and is pursuing a doctorate in in the realm of Eco-Theology, with particular reference to the Patristic theologian St Maximus the Confessor.
He will introduce us to the parameters of this modern discipline and also give us an opportunity for the closer reading of some of the ancient texts that inform them. The Zoom link and further information can be found here.
Preaching at Pusey House, Oxford
I was invited to preach at Pusey House, Oxford, last Sunday. I can't begin to say what an encouragement my experience there was. The chapel was packed with students and families, and there was even a Sunday school. I was made to feel so welcome and there was a splendid community lunch after the High Mass. It was a wonderful advert for vibrant Catholic life. If you want to listen to the sermon I preached on the parable of the Wedding Banquet, you can do so here, and you can read it here.     Fr Peter
William Dodsworth biography
Fr Stephen Young, a former Assistant Priest of this parish, has recently published an excellent biography of William Dodsworth, Minister of the Margaret Chapel and a hugely influential individual in the early history of our parish. A book launch for the work took place at All Saints' a couple of weeks ago.
In order to order a copy, please be in touch directly with Michael Yelton, Secretary and Treasurer of the Anglo-Catholic History Society: michaelyelton@achs.org.uk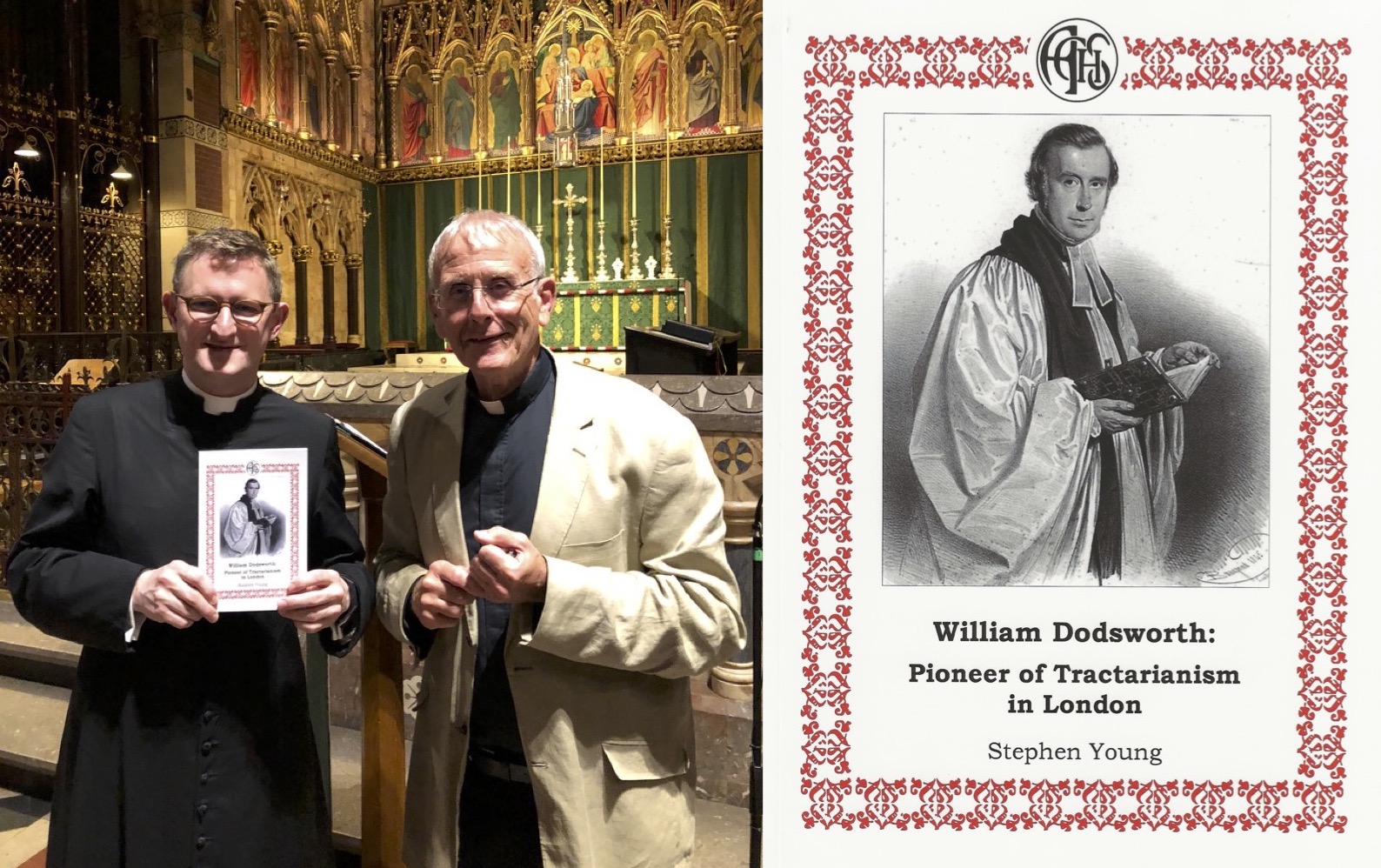 What is the All Souls' Day Catafalque?
You may have noticed the return of a piece of liturgical 'kit' called the catafalque at Solemn High Masses of Requiem over the past couple of years.  It is essentially an empty replica coffin, placed at the chancel steps, where the body of the deceased would lie during an actual funeral. Why do we do this and what does it represent?
The essence of this practice is rooted in the idea that we often pray best when we have a visual or physical focus for our prayer. This is even more the case on occasions when words don't come easily, or we are overwhelmed by sadness or emotion and can't find the language to express to God what we feel.
A good example of this in another context might be kissing the cross on Good Friday. On a day when it can be difficult to explain in words our emotions and thoughts, that kiss can express our thanks and praise more eloquently than a thousand words could. We know we are not kneeling at the foot of the actual cross Jesus died on, but God uses our imagination to take us there in spirit, as we use our physical posture of kneeling and kissing to express our devotion and thanks to Christ. Through that act, the mystery we celebrate on Good Friday somehow comes alive in a particular way and is made personal and real to the individual worshipper.
Christian worship is thoroughly sacramental. It uses physical objects to express and communicate God's presence. This is very evident in the 7 "official" Sacraments, but is also the case with many more rites and traditions of the church, which one might describe with a small 's' as "sacramentals". They share in the liturgical power of the sacraments and express the gospel, even if they aren't one of the Sacraments instituted by Christ, as guaranteed signs of his presence.
In a similar way, it became the practice of the church to erect an empty coffin at solemn requiems for all the departed so that the faithful could use this as a focus for prayer and devotion as they thought about their departed loved ones and friends. This has been an even more important dynamic during the recent pandemic, when many people have been unable to attend the funerals of the ones they love.
Many people have spoken about how moved they have been to see the catafalque's re-introduction as it allowed them to make liturgical sense of the trauma and desolation that so many of us experienced in not being able to mourn our dead over the period of the pandemic.
At a Solemn Requiem we can come into the presence of the catafalque which stands as a sign of our own human mortality, and feel that God personally loves each and every person who has died. As we reverence the catafalque with holy water and incense, we reverence the memory of all those whom we are praying for, and those who have nobody left on earth to remember them.
It is, in the truest sense, a truly inclusive sign of God's love for all and embodies in liturgical symbol the names and faces we all bring on our hearts to that Requiem. The catafalque helps make our general prayer for the dead to be personal as we think of individual friends and family whom we remember there. It takes our mind out from the hustle and bustle of every day life and acts as a memento mori – a reminder of the death that we will all face, and the fact that the only hope we have in the face of it is Christ.
Attendance last Sunday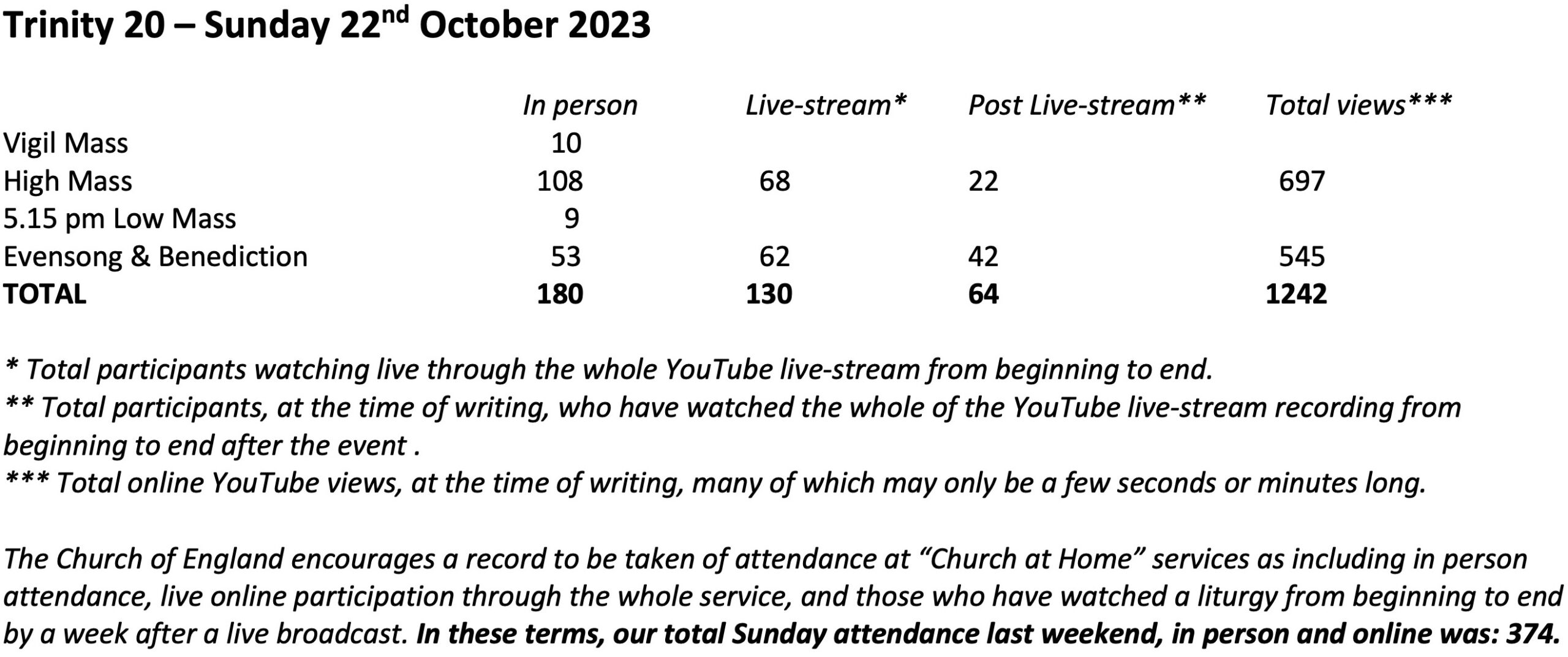 Prayer list
The Friends of All Saints':
October 29th – Cathy Young, Andrew Jervis, John McWhinney, Elaine Norman, Bhaven Patel, Colin Podmore
30th – Nick Powell, Cecilia Powell, Mossman Roueche, Greg Round, Jason Stewart, Charles Thompson, Matthew Whittaker
31st –  Dr Philip Wood, Mark Fleming, Kitty Thompson, Rebecca Hirst, Mary Attenborough, Dr William Benefield
1st November – Charlotte Black, David Blunden, Colin Bodkin, Eric Broglé, Maureen Cambrey,Kate Charles, David Cleggett, Mavis Cleggett
2nd – Graham Colville, Dr Patrick Cooke, Eliza Coomber, Dr Yvonne Craig,
3rd – Robert Davies, Pamela Edwards, Terrence Ellsworth, Sue Enoch, Sue Feakin
4th – Adrian Felaar, Janice Fielden, Anthony Fox, The Ven Thomas M. Greene
5th – Ginger Hall, Del Hall, Roger Hancock, Christopher Harrison, Eoghan Healy,Fr David Hobden, Canon Graham Holcombe
The sick:
Fr. Harry Hodgetts, Elizabeth Lyon, Frances O'Neil, Keith Bevan, Roger Dilks, Martin Berka, Roy Breare, Fr John O'Brien, James Roger
The recently departed:
Ray Oram, Alan Osbourne, John Chapman.
Anniversaries of death:
October 29th – Sister Dorothy Hilda
30th – Tharu Tharakan, John Todd
31st – Marian Ross, Frank Leeman, Dilys Thomas
Nov 1st – Bernard Dawson, Jane Pollard, Cecil Mead, Carol Searles, Janet Reid
2nd – Harold Wilson Pr
3rd – Gilbert Pickering
4th – Jack Fallon, Rosemary Crawley
5th – Helen St Aubyn, Curtis Berk, Daphne Gordon, Terence Duggan, Glyn Thomas, Rosemary Crome
Service times this week
Saturday 28th October – Ss. Simon and Jude
12.00 pm Mass
6.30 pm Vigil Mass of Sunday
Sunday 29th October – Last Sunday after Trinity
11.00 am High Mass
5.15 pm Mass
6.00 pm Evensong and Benediction
Monday 30th October – Feria
12.00 pm Mass
6.30 pm Mass
Tuesday 31st October – Feria
12.00 pm Mass
6.00 pm First Evensong and Benediction of All Saints
Wednesday 1st November – All Saints
12.00 pm Mass
6.30 pm High Mass
Thursday 2nd November – All Souls
12.00 pm Mass of Requiem
6.30 pm High Mass of Requiem
Friday 3rd November – Feria
12.00 pm Mass
6.30 pm Mass
Saturday 4th November – S. Charles Borromeo
12.00 pm Mass
6.30 pm Vigil Mass of Sunday
Sunday 5th November – All Saints' Festival Sunday
11.00 am High Mass
5.15 pm Mass
6.00 pm Evensong and Benediction with Te Deum