Weekly Email – The Transfiguration
Friday 4 August 2023
at 13:45
---
Documents
Dear friends,
I want to say a huge thank you to all the members of our PCC who gathered last Saturday for an away day to ponder the future of our parish and discern what God is calling us to plan and do in order to strengthen the mission of our parish over the next few years.
The first thing we reviewed was the last Mission Action Plan which our PCC agreed two years ago. We were pleased that we had accomplished so many of the goals we had set ourselves: the restoration post-COVID of a full cycle of worship; the re-opening of the church with welcomers to staff it each afternoon; renewal of the Friends of All Saints' and the Parish Paper; the acquisition of new and permanent cameras for live-streaming the liturgy; the renewal of lay leadership within our parish, including aiming to have younger people on our PCC, and electing new church wardens.
The only task we have not quite managed to complete is treplacing our church sound system, which may take a few more months to sort out, but which I hope to be finished by early next year.
We then looked ahead, and as we shared our dreams and ideas for what All Saints' could be in the future, it became clear there were three main areas that God was prompting people to think about.
The first was examining honestly what we as a parish do to make the world a better place through charitable action. Putting our Christian faith into practice by helping those in need was something everyone felt we could do substantially better – indeed that it was something that we perhaps neglect too often.
Many shared the concern that whilst All Saints' is well known for excellence of its liturgy and music, we offer little in the way of mission and outreach that contributes to social justice and showing God's love for the most vulnerable and marginalised, and our need to care for creation. There was a strong consensus that we need to think about ways this vocation within our parish's life could be strengthened and renewed.
A second area that God seemed to be prompting people to think about was congregational growth. Many PCC members spoke about how encouraging it was that new people were increasingly worshipping with us at All Saints' and joining our congregation. We discussed how we can continue that process, and what we can provide for groups of people who are less well represented in our congregation such as young couples and families with children.
There was an eagerness to help new people seeking faith to grow in their knowledge and understanding of the basics of the Gospel. A number of exciting ideas to do with renewing and rejuvenating how we welcome people, how we communicate with the world especially online, and how we help people grow in faith were proposed.
A third topic which was the focus of our attention was the question of how we can ensure the long term financial sustainability of our parish. Our parish finances are in good order at the moment, but as the years go on we need to think more about how we can exploit our buildings more creatively to provide income, how we might fundraise so the PCC can continue to fund things like our splendid music programme, and how we make it easier for people to give to All Saints' electronically.
Whilst we were satisfied that our finances are sound for the next few years, if we want to fund new projects, expand, grow, renew our buildings or spend in ways that are different from our present paradigm, we are going to have to think more imaginatively and realistically about how we fundraise.
The next step in this process of discernment and renewal is for a series of concrete proposals to be drawn up as a Mission Action Plan for the next five years of our parish's life. This can then be refined and worked on further by our PCC when it next meets and that final document can then be shared with everyone in a few months' time as a plan for future action.
I am very excited by the many ideas that came out of Saturday's away day, and by the imagination and creativity shown by our PCC. I ask you all to keep our Parish Council in your prayers and to ask God to bless and inspire us as we seek to hear his call and respond to his promptings.
Fr Peter
Assumption procession stewards
We need volunteers who are able to act as stewards for our procession of Our Lady on Sunday 13th August at 6.00 pm. The role involves wearing a hi-vis vest and making sure the outdoor procession is safe and happy for all those involved. Full training in provided for all involved. Please be in touch with Chris Swift or the parish office.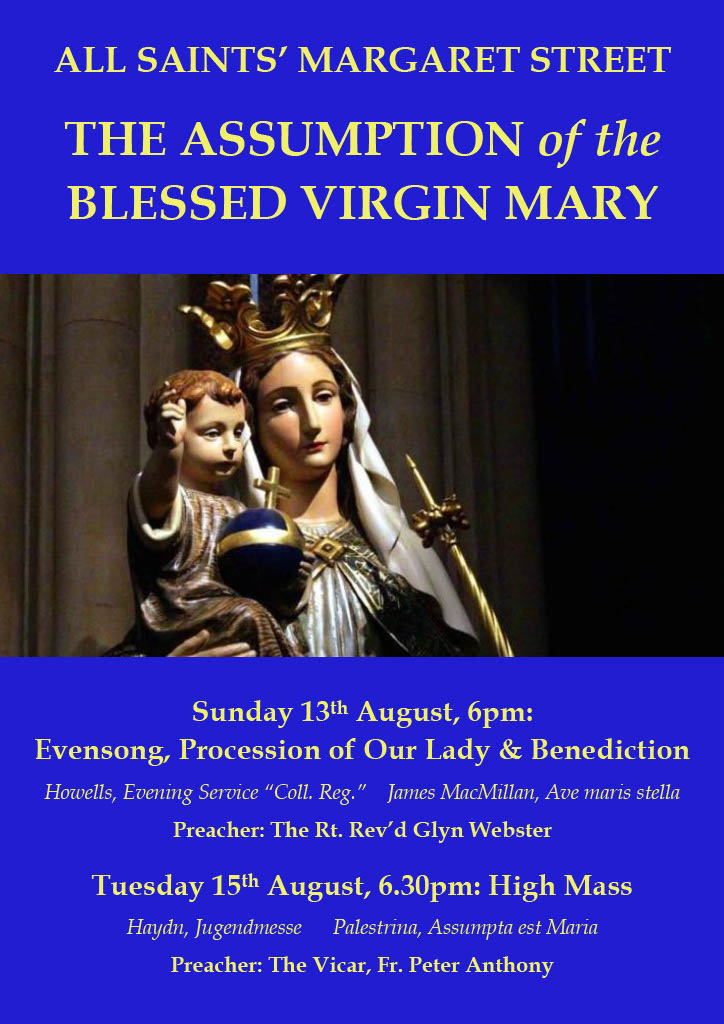 Organ Recital
Hamish Wagstaff, our organ scholar, will give an organ recital on Sunday 13th August 2023 at 3.30 pm.
The programme will include: Bach – Toccata and Fugue in F, BWV 540; Vaughan Williams – Prelude on Rhosymedre; Howells – Rhapsody No 3 in C sharp minor.
A retiring collection will be taken, proceeds from which go to the music and choir budget.
Parish barbecue: Sunday 27th August
On Sunday 27th August, all parishioners are invited by John McWhinney and Paul Weston to share a barbecue in Wapping where their boat is moored at Hermitage Moorings (16 Wapping High Street, E1W 1NG). The barbecue will cost £15 per head (to be paid in cash on the day) and participants are asked to bring a bottle.
Weekend pilgrimage to Walsingham 2024
Friday 19th July to Sunday 21st July 2024
Cost:  £190 Friday pm to Sunday evening – including full board plus mini-coach from Kings Lynn – pilgrims need to book their own train ticket to Kings Lynn.
A weekend pilgrimage away involving: Pilgrimage Mass at the Shrine Church; evening processions; sacraments of healing; sprinkling at the holy well and finishing with procession of the Blessed Sacrament and Benediction.
There is also an option for pilgrims who wish to stay on until the Monday and return on 22nd July – this costs £280.
To book your place, please be in touch with our parish office.
Mystagogy Course
Our mystagogy course is an opportunity for newer Christians – and those seeking to re-new their engagement with the Faith – to come together over some classic Christian texts, varying in subject and register.
There will be five sessions through the autumn of 2023, involving discussion over a simple supper at Number 6, Margaret Street, after the 6.30pm Mass. We will wrap up by 9pm. The topics for discussion will include: Augustine's Confessions; Sarah Coakley's "The New Asceticism"; the Catholic Revival in the Church of England; Evelyn Underhill; and Dom Gregory Dix's great work, "The Shape of the Liturgy."
The expectation is that those who sign up commit to attendance at all the sessions – we'd like this to involve a sense of momentum and growing together as we study different areas of Christian life, mindful too of our identity as Anglo-Catholics within the Church. Full details of dates and topics can be found  here.
Young Adults Group
Fr Alan is organising two events for our younger parishioners over the coming weeks.
On Saturday 19th August there will be a hiking trip to Lewes and the South Downs. The walking trip will leave London around 10 am and last most of the day, returning in the early evening. Please be in touch with Fr Alan if you are interested in going.
On Thursday 7th September Fr Alan will host a dinner for our younger parishioners at his home from 7.00 pm. Please email him if you would like to attend.
Virtual Coffee Hour
There will be three Sunday morning "Virtual Coffee Hours" through the autumn at 12.30 pm on the following Sundays: Sunday 3rd September (Zoom link here); Sunday 8th October (Zoom link here); Sunday 19th November (Zoom link here).
The idea behind this is simple: if you are an online worshipper, grab a cup of coffee and join us online via Zoom for a chat and catch-up directly after the end of the High Mass.
Parish Outings: Autumn 2023
A range of parish outings are planned for the autumn: a visit to the London Cartoon Museum on Thursday 5th October at 7.00 pm; a parish cinema trip to see the film "The Miracle Club" on Saturday 7th October; and a visit to the London Fo Guang Shan Temple on Saturday 28th October at 3.00 pm.
Full details can be found here. Please be in touch with our parish office to book your place.
North American Zoom Cocktail Hour
There will be an opportunity for our American and Canadian online worshippers and Friends to connect and catch up on Sunday 20th August at a time that takes account of the time difference between England and North America. This will be at 10.00 pm GMT, which should be 5.00 pm Eastern Time, and 2.00 pm Pacific Time.
If you are an online worshipper or a North American Friend of All Saints', simply join us online where one of our clergy will be present for chat and to hear news from anyone who wishes to share it. The slightly later hour prompted us to think it wouldn't be too early to come to the computer screen with a cocktail, but please feel free to drink whatever you want! The Zoom link is here.
Join us as we seek to get to know each other better and nurture the links we have with one another across continents.
Attendance last Sunday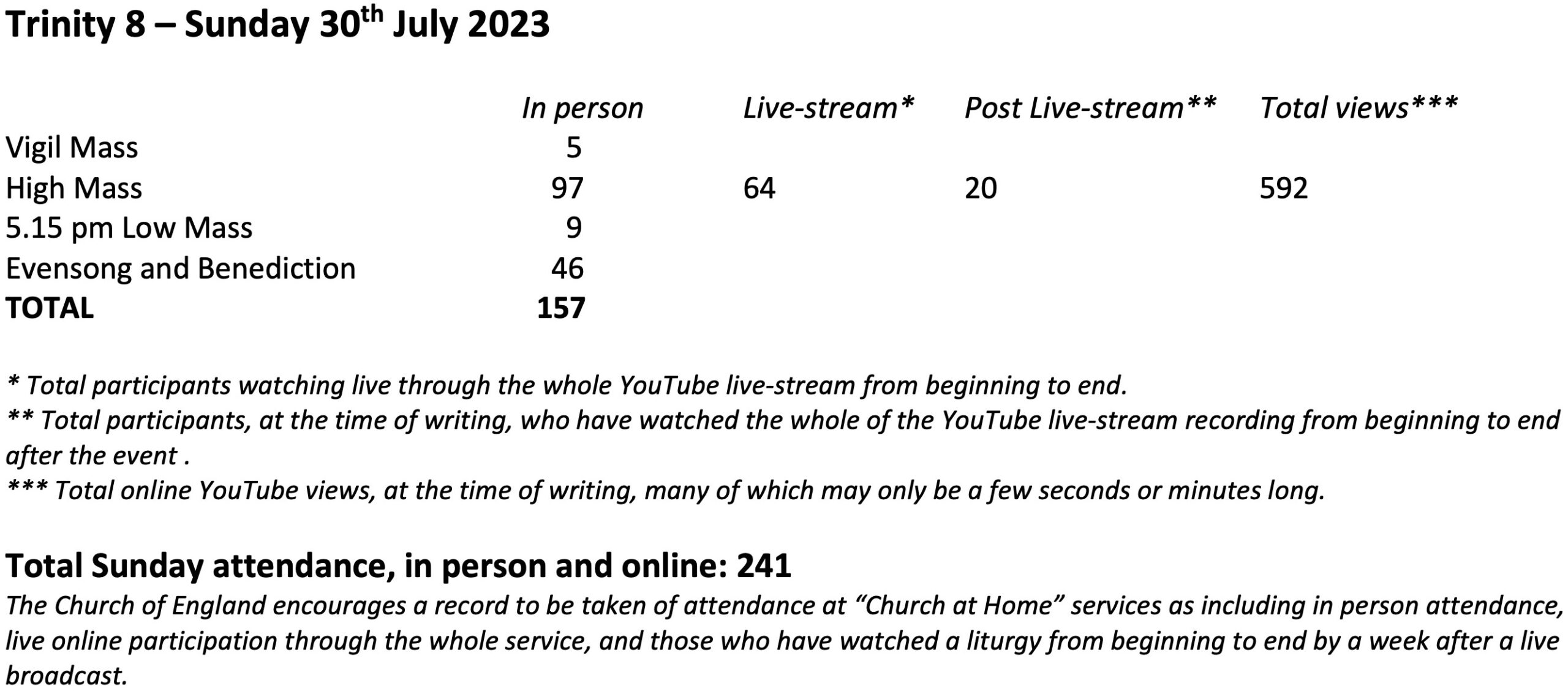 Links for Sunday
The links for the livestream and service sheet for this Sunday's High Mass are at the end of this email.
Evensong and Benediction takes place at 6pm this Sunday. Music will include Weelkes's Sixth Service and Tallis's O nata lux.
Flowers
The flowers are given by Roger Clark, in memory of his father, Jack Clark, whose anniversary falls at this time. If you would like to make a donation for flowers or the courtyard garden, please contact Shawn via the office.
Prayer list
The sick
Fr. Harry Hodgetts, Amanda Barrett, Martin Berka, James Rodger, Elizabeth Lyon, Ray Oram, Roy Breare, Michael Ng
The faithful departed
Valentina Kaidalova, Priscilla Oakeshott, Fr. Barry Hall, Jean Devenport
Anniversaries of death
August 6th – Jessie Graves, David Archer
7th – George Albert Young
8th – Harriet Gray, Derek Mathews
9th – Michael Goldin
10th – Sidney Browne, Gay Cardew, Leslie York, Andrew Heley, David Johnstone, Charles Oram, Marie-Olivier Mercy, David Welch, Lenore Kimbrough
11th – Marie O'Connor, Barbara Davis
12th – Beatrice Taylor, Joan Pulham, Philip Merritt, Valerie Hargreaves-Smith
The Friends of All Saints'
August 6th – Eliza Coomber, Karolyn Cooper, William Cooper Bailey, Peter Coulson, Steven Cox, Yvonne Craig, Genevieve Gomi
7th – Julie Cridland, Kirill Dashkovskiy, Christopher Davies, Robert Davies, Jack de Gruiter, Peter Dennis
8th – Laura Denton, Suzanna Eaton, Linda Edwards, Pamela Edwards, John Eldridge, Terrence Ellsworth
9th – Sue Enoch, Carolyn Farrar, Sue Feakin, Adrian Felaar, Daniel Fielden, Janice Fielden, Julia Fielden
10th – Nigel Fisher, Mark Fleming, Stuart Fletcher, Christopher Forman, Anthony Fox, Charlotte Gauthier
11th – Margaret Goddard, Paul Golding, John Goldsmith, The Ven. Thomas Greene, Canon Michael Gudgeon
12th – Sheelagh Gudgeon, Ginger and Del Hall, Roger Hancock, Canon Richard Handford, Jill Hargreaves, Christopher Harrison
Service times this week
Saturday 5th August – Feria
12.00 pm Mass
6.30 pm Vigil Mass of Sunday
Sunday 6th August – The Transfiguration
11.00 am High Mass
5.15 pm Mass
6.00 pm Evensong and Benediction
Monday 7th August – Feria
12.00 pm Mass
6.30 pm Mass
Tuesday 8th August – St. Dominic
12.00 pm Mass
6.30 pm Mass
Wednesday 9th August – St. Teresa Benedicta of the Cross
12.00 pm Mass
6.30 pm Mass
Thursday 10th August – St. Laurence
12.00 pm Mass
6.30 pm Mass
Friday 11th August – St. Clare
12.00 pm Mass
6.30 pm Mass
Saturday 12th August – Feria
11.30 am Rosary
12.00 pm Mass of Our Lady of Walsingham
6.30 pm Vigil Mass of Sunday
Sunday 13th August – Trinity 10
11.00 am High Mass
5.15 pm Mass
6.00 pm Assumptiontide Evensong, Procession of Our Lady and Benediction