Weekly Email – Trinity 10
Friday 11 August 2023
at 13:45
---
Documents
Fr Alan Rimmer writes:
Dear friends,
Our online theology seminar by Zoom resumes this autumn, giving those from further afield the opportunity to join in the discussion of a text or subject. These Zoom seminars always take place on Tuesdays at 7.00pm and last for no more than an hour. For the Zoom link, and updates closer to the time, please go to the "Online Zoom Theology" section on the parish website here.
Tuesday, October 10th, 2023
Sitting on top of chaos: Dr Megan Dent on the religious life and times of Benjamin Disraeli
Historians have long assumed that the Victorian prime minister was indifferent to the various religious and moral changes of his time as he pursued political advancement. Yet in his novels Disraeli expressed a range of ideas about Judaism, Catholicism, and the Church of England. Sybil, or The Two Nations in particular explores the value of orthodoxy within contexts of economic inequality. In this session, we'll discuss the novel's treatment of various religious ideas and how Disraeli drew on Scripture and historical tradition to posit a way forward for a struggling nation. Sybil is available in the Oxford World's Classics line.
Tuesday, December 5th, 2023
A small world in a great one: Eco-Theology and St Maximus the Confessor
The Rev'd Nathan Mulcock is Chaplain of Mansfield College, Oxford, and is pursuing his doctorate in Eco-Theology, with particular reference to the Patristic theologian St Maximus the Confessor. He will introduce us to the parameters of this modern discipline and also give us an opportunity for the closer reading of some of the ancient texts that inform them.
Tuesday, January 16th, 2024
Creeds, Controversies and Councils: a refresher on the Early Church
Many of us will know the Creeds by heart, but the intellectual and historical complexities behind the emergence of orthodoxy can prove more elusive to our understanding. Responding to calls from our community for some more Patristic study, we thought a narrative introduction to the period between St Paul and the Council of Chalcedon would be useful context. In this session we'll be led by the Rev'd Dr Robin Ward, Principal of St Stephen's House in Oxford.
Tuesday, March 12th, 2024
Holy Murder
In a (sort of!) lighter session, Fr Alan will lead us in comparing detective novels with a religious context. We'll focus particularly on P.D. James' classic Death in Holy Orders, and The Rev'd Richard Coles' Murder before Evensong.
Tuesday, May 14th, 2024
The Scapegoat: James Alison, René Girard and Scapegoating
Thomas Miles will lead us in a study of Fr James Alison, a Catholic priest and theologian influenced by the ideas of René Girard (1923-2015). Details will follow nearer the time, but we'll be thinking about how Jesus' death calls into judgement the human tendency to create social cohesion through scapegoating, and how, conversely, the resurrection invites Christians to courageously seek truth in unity.
We hope this extensive range of topics and texts will prove a fruitful source of discussion and debate, and that it will offer our wider All Saints' family the opportunity to grow in faith, and in knowledge of the Lord.
Fr Alan
5.15 pm Mass this Sunday
Please note that, contrary to previously advertised information, there WILL be a 5.15 pm celebration of the Mass this Sunday before the Evensong, Procession and Benediction for the Assumption.
Organ Recital
Hamish Wagstaff, our organ scholar, will give an organ recital this Sunday 13th August 2023 at 3.30 pm.
The programme will include: Bach – Toccata and Fugue in F, BWV 540; Vaughan Williams – Prelude on Rhosymedre; Howells – Rhapsody No 3 in C sharp minor.
A retiring collection will be taken, proceeds from which go to the music and choir budget.
Virtual Coffee Hour
There will be three Sunday morning "Virtual Coffee Hours" through the autumn at 12.30 pm on the following Sundays: Sunday 3rd September (Zoom link here); Sunday 8th October (Zoom link here); Sunday 19th November (Zoom link here).
The idea behind this is simple: if you are an online worshipper, grab a cup of coffee and join us online via Zoom for a chat and catch-up directly after the end of the High Mass.
News from New York City
It was announced last week at our sister parish in New York, St Mary the Virgin, Times, Square, that the present Interim Rector, Fr Sammy Woods, is to be made the Priest-in-Charge of the parish for a period of three years. We congratulate Fr Sammy on his appointment and assure him of our prayers.
St Mary's is in interregnum at the moment. Rather than seeking to appoint a new rector at this juncture, the parish, in consultation with the Diocese of New York, has decided that more work needs doing on mapping out a road of financial sustainability for the future. Fr Sammy has been appointed for a period of three years to oversee this complex task and to focus on strengthening and improving the parish's finances and congregational life so that a full Rector can be appointed in due course.
We will continue to hold St Mary's in our prayers and pray for the gift of God's Holy Spirit for our brothers and sisters in Times Square as they discern God's will for their parish, and grow in his love.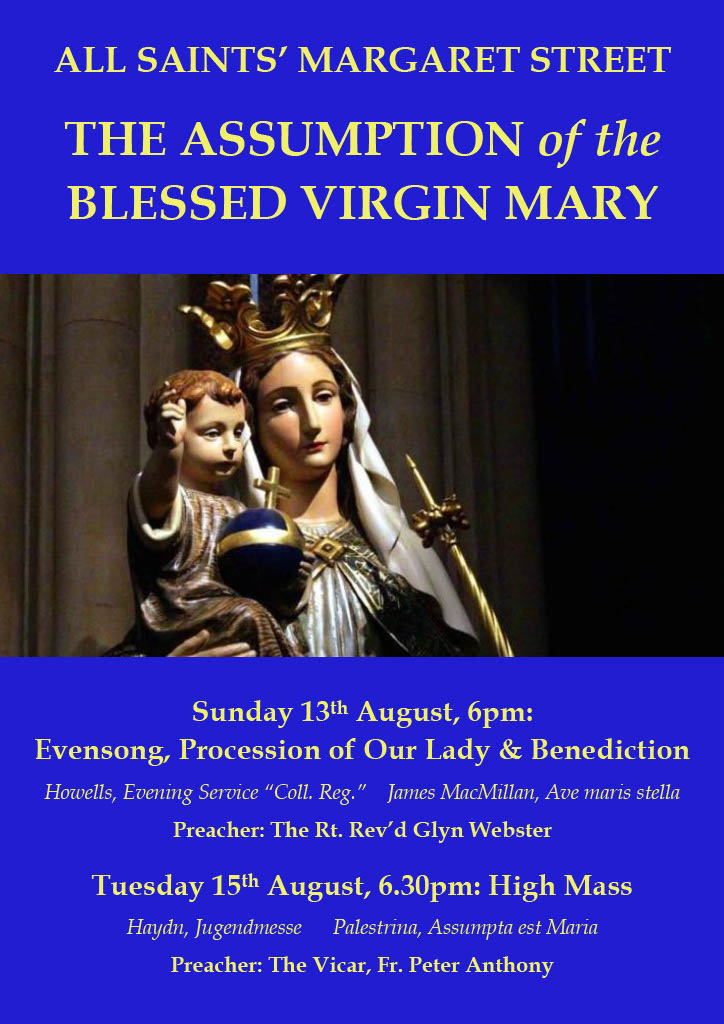 Parish barbecue: Sunday 27th August
On Sunday 27th August, all parishioners are invited by John McWhinney and Paul Weston to share a barbecue in Wapping where their boat is moored at Hermitage Moorings (16 Wapping High Street, E1W 1NG). The barbecue will cost £15 per head (to be paid in cash on the day) and participants are asked to bring a bottle.
Parish Outings: Autumn 2023
A range of parish outings are planned for the autumn: a visit to the London Cartoon Museum on Thursday 5th October at 7.00 pm; a parish cinema trip to see the film "The Miracle Club" on Saturday 7th October; and a visit to the London Fo Guang Shan Temple on Saturday 28th October at 3.00 pm.
Full details can be found here. Please be in touch with our parish office to book your place.
Mystagogy Course
Our mystagogy course is an opportunity for newer Christians – and those seeking to re-new their engagement with the Faith – to come together over some classic Christian texts, varying in subject and register.
There will be five sessions through the autumn of 2023, involving discussion over a simple supper at Number 6, Margaret Street, after the 6.30pm Mass. We will wrap up by 9pm. The topics for discussion will include: Augustine's Confessions; Sarah Coakley's "The New Asceticism"; the Catholic Revival in the Church of England; Evelyn Underhill; and Dom Gregory Dix's great work, "The Shape of the Liturgy."
The expectation is that those who sign up commit to attendance at all the sessions – we'd like this to involve a sense of momentum and growing together as we study different areas of Christian life, mindful too of our identity as Anglo-Catholics within the Church. Full details of dates and topics can be found  here.
Young Adults Group
Fr Alan is organising two events for our younger parishioners over the coming weeks.
On Saturday 19th August there will be a hiking trip to Lewes and the South Downs. The walking trip will leave London around 10 am and last most of the day, returning in the early evening. Please be in touch with Fr Alan if you are interested in going.
On Thursday 7th September Fr Alan will host a dinner for our younger parishioners at his home from 7.00 pm. Please email him if you would like to attend.
Weekend pilgrimage to Walsingham 2024
Friday 19th July to Sunday 21st July 2024
Cost:  £190 Friday pm to Sunday evening – including full board plus mini-coach from Kings Lynn – pilgrims need to book their own train ticket to Kings Lynn.
A weekend pilgrimage away involving: Pilgrimage Mass at the Shrine Church; evening processions; sacraments of healing; sprinkling at the holy well and finishing with procession of the Blessed Sacrament and Benediction.
There is also an option for pilgrims who wish to stay on until the Monday and return on 22nd July – this costs £280.
To book your place, please be in touch with our parish office.
North American Zoom Cocktail Hour
There will be an opportunity for our American and Canadian online worshippers and Friends to connect and catch up on Sunday 20th August at a time that takes account of the time difference between England and North America. This will be at 10.00 pm GMT, which should be 5.00 pm Eastern Time, and 2.00 pm Pacific Time.
If you are an online worshipper or a North American Friend of All Saints', simply join us online where one of our clergy will be present for chat and to hear news from anyone who wishes to share it. The slightly later hour prompted us to think it wouldn't be too early to come to the computer screen with a cocktail, but please feel free to drink whatever you want! The Zoom link is here.
Join us as we seek to get to know each other better and nurture the links we have with one another across continents.
Attendance Last Sunday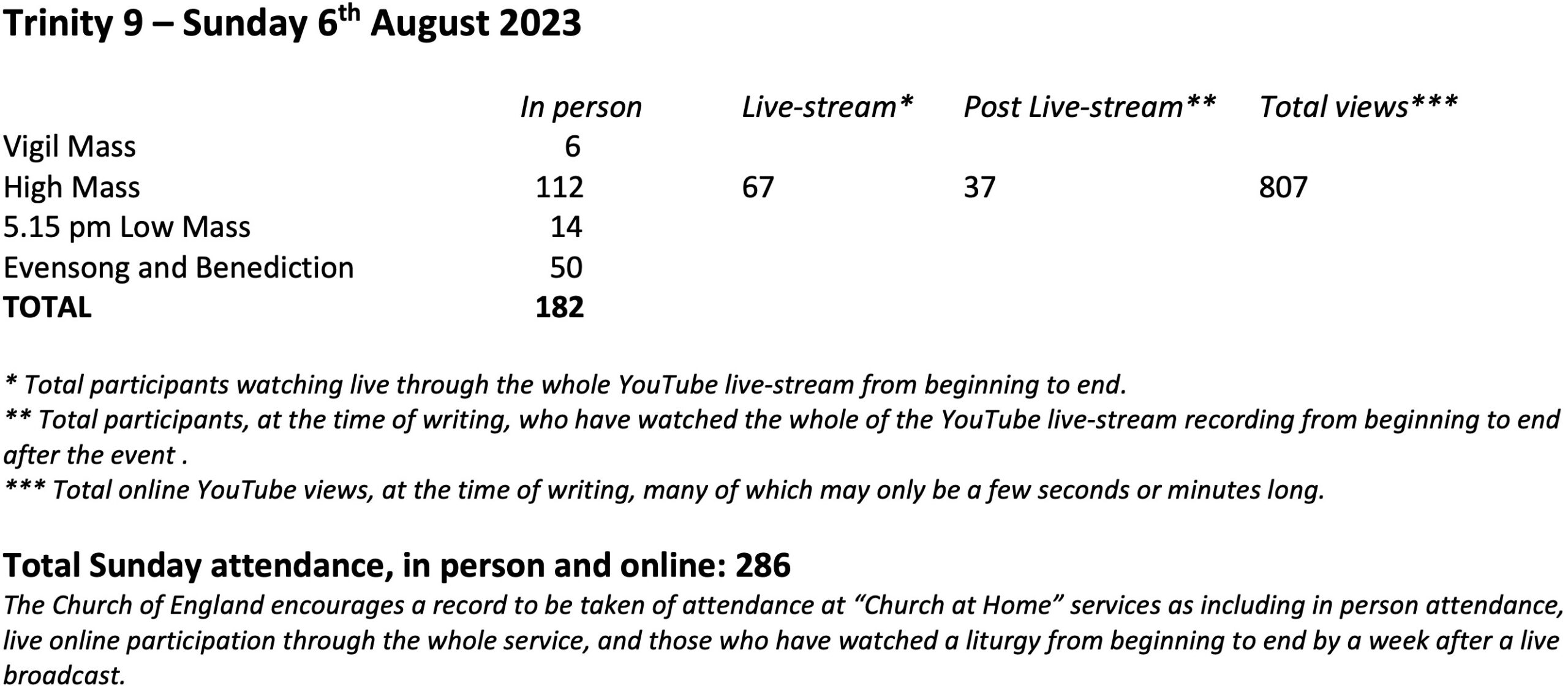 Raphael's Transfiguration
Last Sunday, Fr Peter's sermon made mention of Raphael's famous painting of the Transfiguration.
It was commissioned by Giulio De Medici (later Pope Clement VII) around 1517. Giulio possessed several episcopal sees (one of which was Worcester!). Amongst these many episcopal sinecures, was the Archbishopric of Narbonne. The original idea was that the Transfiguration image was to have been part of a magnificent altarpiece in Narbonne.
The painting itself ended up part of a furious rivalry between Raphael and Michaelangelo. Giulio Medici commissioned Raphael to paint the Transfiguration, and Michaelangelo to paint the raising of Lazarus with Sebastiano del Piombo. Piombo finished his painting first, which left Raphael to produce a work which would outdo it in grandeur and beauty.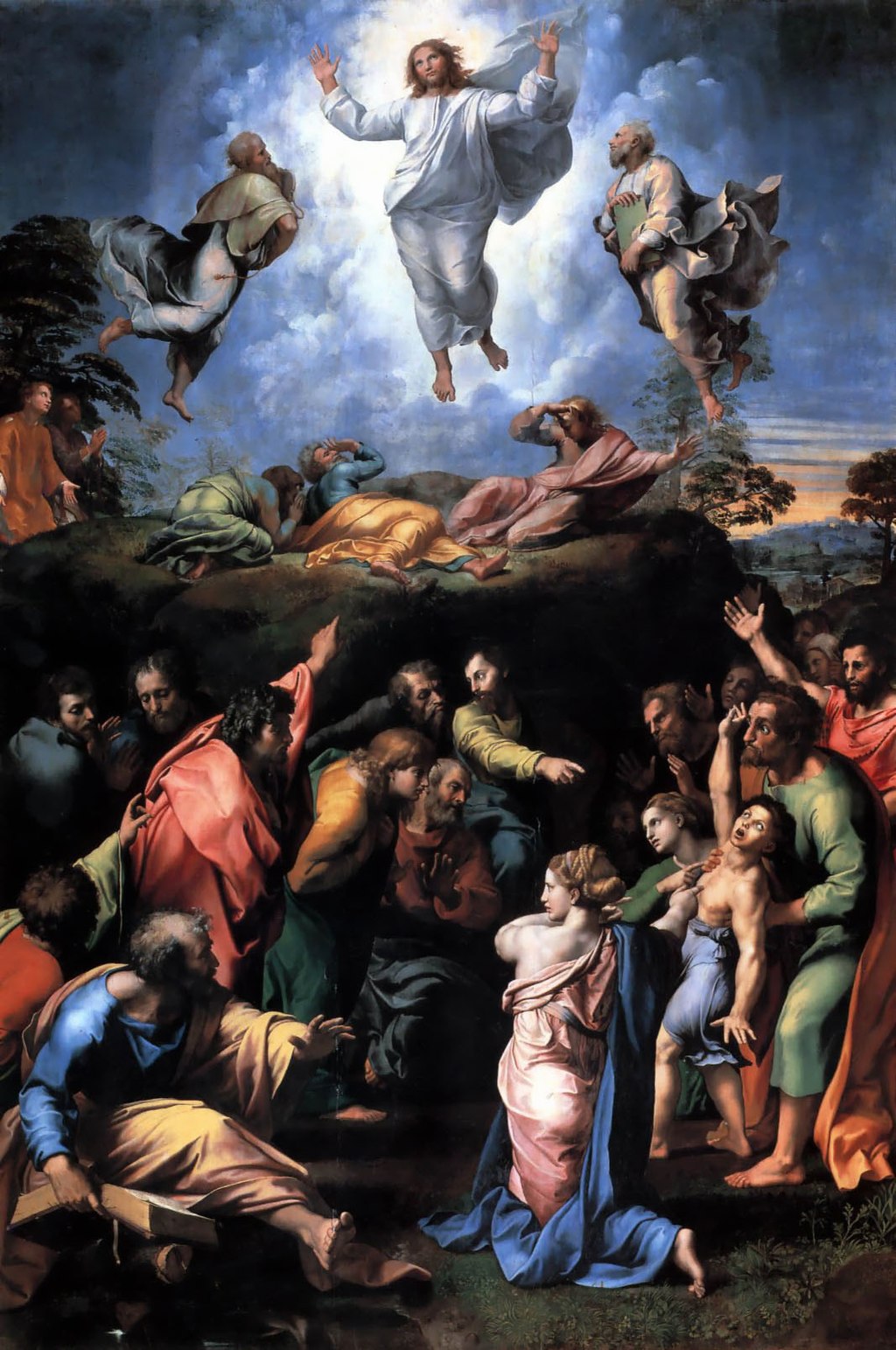 Raphael's Transfiguration was the last painting he ever completed. Indeed a pious rumour arose at the time that it was the exhaustion and artistic satisfaction of finishing this masterpiece that killed him.
Vasari, writing 30 years later in 1550, suggests Raphael actually died of exhaustion as a result of an enormous sex binge. He recounts that Raphael had an unwise bloodletting days before his death prescribed for a fever brought about by too much sexual congress. Raphael eventually died on his 37th birthday, which was Good Friday 1520.
Whatever the real cause of Raphael's death, the completion of this masterpiece so close to his demise has anchored it in many people's minds as the pinnacle and triumph of his career and burnished it with an alluring and complex mystique.
Two or three intriguing things characterise Raphael's image. The first is the curious way in which Christ, Moses and Elijah seem to float above the mountain. No mention whatsoever of this is made in the New Testament accounts. This gradually becomes a common place in many Renaissance images of the Transfiguration.
One theory is that it allows much more imaginative compositional re-arrangement of the figures and is therefore purely an artistic development.
Another explanation, however, is that this depiction seeks to draw links with the Resurrection and Ascension. It is intriguing that Luke uses the phrase, "Behold two men," to introduce Elijah and Moses. He will only use this phrase on two other occasions – at the Resurrection and the Ascension to refer to the angelic being present on both those occasions. Perhaps the artist, too, wants to present the Transfiguration as a glorious experience of the life of heaven similar to that seen at the Ascension and Resurrection.
A further intriguing character of the painting is the way in which the incident concerning the healing of the moonstruck boy is depicted below the Transfiguration. This is an incident described by the synoptic gospel writers as taking place after the Transfiguration.
Some think this juxtaposition may reveal the influence of the writings of a strange C15th visionary Friar called Amadeo Menes da Silva. He was an influential confessor and spiritual guide. Upon his death, his rather curious and esoteric writings were collected as a volume called, "Apocalypsis Nova". It is in that work that the Transfiguration and the healing of the epileptic boy are treated together. It is intriguing that Raphael's picture ended up for many years in the church of San Pietro in Montorio, which was run by Amadeo's order of friars.
It was in the Treaty of Tolentino, agreed in 1799, that Napoleon forced upon the Pope a clause confiscating 100 artworks. The foremost amongst these was the Transfiguration by Raphael. By 1810, it can clearly be seen in the Grande Galerie of the Louvre in images of Napoleon's wedding to Marie-Louise of Austria. Its presence in the Louvre for 16 years only meant its fame increased as it was able to be seen by many more artists than when it had been in Rome.
The Treaty of Paris, which finally concluded the Napoleonic wars, contained a clause that insisted on the return of all works of art stolen by Napoleon.  Many paintings at the Louvre couldn't be identified and original ownership established. Indeed the costs of returning the art was prohibitive for many powers.
Pius VII had to be loaned 200,000 Lire by the British government just to get his art back to Rome. About a third of the Vatican library and archives which had also been stolen by Napoleon were never brought back to Rome because of the costs of transport and was simply dispersed. It is said that right up until the early years of the C20th, you could still buy fragments of the archives and works of theology from the Vatican Library which were still circulating from the time of the Treaty of Paris in the second hand book shops and bouquinistes' stalls of Paris.
Links for Sunday
The links for the livestream and service sheet for this Sunday's High Mass are at the end of this email.
This year's Assumptiontide Evensong, Procession of Our Lady and Benediction will take place at 6pm. The service will be livestreamed here and the service sheet is available at the end of this email.
Flowers
The flowers for the Assumption are given by Aiden and Ashley Hargreaves-Smith in ever-grateful memory of their beloved mother Valerie and grandmother Irene, whose anniversaries fall at this time.
Prayer list
The sick
Fr. Harry Hodgetts, Amanda Barrett, Martin Berka, James Rodger, Elizabeth Lyon, Ray Oram, Roy Breare, Michael Ng, Eddie Burns
The faithful departed
Priscilla Oakeshott, Fr. Barry Hall, Jean Devenport
Anniversaries of death
August 13th – Thomas Straker, Winifred Golelee, Richard Fitzgerald, John Edmonds, Ivy Oram
14th – William Rivington, Mildred Terry, Adriana Grosinski
15th – David Tweed
16th – Veronica Lee, Alexander Lee
17th – Dorothy Lane
19th – David Russell
The Friends of All Saints'
August 13th – Patrick Hartley, Canon Jeremy Haselock, Eoghan Healy, Rebecca Hirst, Fr. David Hobden, Canon Graham Holcombe, James and Gwendoline Holdcroft
14th – Edwin Holmes, Bp. David Hope, Richard Hoskinson, Fr. David Hutt, Andrew Jervis, Arthur Johnson, Malcolm Kemp
15th – Alan Kimbrough, Brenda Koupis, The Very Rev'd Harry Krauss, Deirdre Laing, Graham Last, Christopher Laws
16th – Cornelius Logue, Nigel Lynn, Henry Macey, Bp. Michael Marshall, Robert Mason, Judith Mather
17th – Fr. Stephen McClatchie, Fr. Peter McGeary, Nigel McNeill, John McWhinney, Colin Menzies, Anne Merritt, Thomas Moller
18th – Barry Moore, John Morrell, Fr. Stephen Morris, Inger Mosbery, Carol Mundell, Christopher Naylor
19th –Brian Newman, Graham Norman, Elaine Norman, Richard North, Fr. Paul Ockford, Anna and Fr. Peter Oesterby-Joergensen
Service times this week
Saturday 12th August – Feria
11.30 am Rosary
12.00 pm Mass of Our Lady of Walsingham
6.30 pm Vigil Mass of Sunday
Sunday 13th August – Trinity 10
11.00 am High Mass
5.15 pm Mass
6.00 pm Assumptiontide Evensong, Procession of Our Lady and Benediction
Monday 14th August – St. Maximilian Kolbe
12.00 pm Mass
6.30 pm Mass
Tuesday 15th August – The Assumption of the BVM
12.00 pm Mass
6.30 pm High Mass
Wednesday 16th August – Feria
12.00 pm Mass
6.30 pm Mass
Thursday 17th August – Feria
12.00 pm Mass
6.30 pm Mass
Friday 18th August – Feria
12.00 pm Mass
6.30 pm Mass
Saturday 19th August – Feria
12.00 pm Requiem Mass
6.30 pm Vigil Mass of Sunday
Sunday 20th August – Trinity 11
11.00 am High Mass
5.15 pm Mass
6.00 pm Evensong and Benediction