Weekly Email – Trinity 18
Friday 6 October 2023
at 13:45
---
Documents
Dear friends,
As summer gradually gives way to autumn and we enter October, our minds increasingly look forward to the keeping of our patronal festival in early November.
Our All Saints' Festival week will be a rich celebration of our our communion with all God's saints through music, liturgy, and the opportunity to share fellowship one with another.
Our keeping of the feast will begin with First Evensong and Benediction of All Saints on Tuesday 31st October at 6.30 pm. The music will include Wood's canticles in Eb no 2 and Byrd's Timete Dominum. This will be followed by a parish drinks party in church.
On All Saints' Day itself, Wednesday 1st November, we welcome Fr Richard Bastable, the Vicar of St Luke's Uxbridge Road, and St Matthew's, Kensington Olympia, as our preacher at the High Mass which will take place at 6.30 pm. The Mass setting will be the Missa Sancti Nicolai by Haydn and the Offertory Motet will be O quam gloriosum – Benedictio et claritas  by Byrd.
The next day, All Souls' Day will be kept with our usual solemnity. The preacher at the High Mass of Requiem will be Fr Barry Orford.
The keeping of our patronal feast concludes on 5th November with our Festival Sunday. The preacher at the High Mass will be Fr Alan Rimmer, and there will be a bring and share parish lunch following the Mass. If you are able to bring food to that, it would be hugely appreciated. I will certainly be contributing a trifle for the occasion!
In the evening of All Saints' Sunday, Solemn Evensong and Benediction will include a Te Deum in thanksgiving for our parish's life and for all God's gifts to us.
All the liturgies of the Festival week will be broadcast, and from Sunday 5th November onwards, Evensong will be regularly live-streamed each week on Sunday evenings via our Youtube channel.
We will be mounting various advertising campaigns over the next few weeks online, and it would be wonderful if parishioners and friends of All Saints' could "like," "share," and "retweet" the material we publish in order to raise awareness of our parish's life and to invite others to join us for our celebrations.
This All Saints-tide week of patronal liturgies and parish functions is such a wonderful opportunity to celebrate our participation in the communion of the saints, to thank God for his blessings over the past twelve months, and to commit ourselves to his keeping during the year ahead. I urge you to make room in your diary for as many of the liturgies and events as you can, and to make time to celebrate the life of our parish together.
Fr Peter
RIP Ray Oram
It is with great sadness that we heard the news that Ray Oram died early this morning, having been fortified by the rites of Holy Church. He had been increasingly infirm and housebound in his latter years, but remained a spirited supporter and incredibly loyal parishioner of All Saints'.
Please pray for the repose of his soul, and keep his family in your prayers over the coming days. Funeral and Requiem arrangements will be communicated once we know more.
Rest eternal grant to him, O Lord; and let light perpetual shine upon him.
Next Virtual Coffee Hour – this Sunday
Our next virtual coffee hour after the High Mass will take place this Sunday (8th October). The Zoom link is here.
The idea behind this is simple: if you are an online worshipper, grab a cup of coffee and join us online via Zoom for a chat and catch-up directly after the end of the High Mass.
Bring and Share Lunch – Sunday 5th Nov
Please let Kate Hodgetts know if you are able to contribute food to our Bring and Share Lunch on Sunday 5ht November, to celebrate our All Saints' Festival Sunday. The more food the better, as we will have many mouths to feed!
New Parish Paper out
Our All Saints-tide Parish Paper is out and hot off the press! The Parish Paper is the journal of the Friends of All Saints', Margaret Street. To receive a copy, enrol yourself as a Friend of All Saints' through the online link here: https://asms.uk/support/friends/
Cinema trip – postponed
Our parish trip to see the new film "Miracle Club" has had to be postponed because of alterations in the release date. It is now clear the film won't be on at the cinemas until after 13th October. We will now try to organise another date and will communicate this in due course. We apologise for this mix-up.
Next Zoom Theology Seminar
Our next Zoom Theology Seminar will take place on Tuesday, October 10th, 2023. It will be entitled, "Sitting on top of chaos: Dr Megan Dent on the religious life and times of Benjamin Disraeli."
Historians have long assumed that the Victorian prime minister was indifferent to the various religious and moral changes of his time as he pursued political advancement. Yet in his novels Disraeli expressed a range of ideas about Judaism, Catholicism, and the Church of England. Sybil, or The Two Nations in particular explores the value of orthodoxy within contexts of economic inequality.
In this session, our discussion will be led by Dr Megan Dent, a published historian of this period, who will explore the novel's treatment of various religious ideas, and how Disraeli drew on Scripture and historical tradition to posit a way forward for a struggling nation.
The Zoom link can be found here. Meeting ID: 494 305 4834 Passcode: Sybil
Saturday night Vigil Mass
Don't forget that our keeping of the Lord's Day begins with a Saturday evening Vigil Mass at 6.30 pm each week.
If you are going to find it difficult to get to church and have to work or travel on Sunday, you can fulfil your obligation to be at Mass with us on Saturday night.
Visit to the Fo Guang Shan Buddhist Temple
On Saturday 28th October at 3.00 pm a group from All Saints' will visit the London Fo Guang Shan Temple on Margaret Street in order to learn more about our Buddhist neighbours' community of faith. After our tour of the temple, our group will invite our Buddhist neighbours back to the Vicarage for tea together.
The Buddhist community moved into the building at 84 Margaret Street in 1992. Before then, it had been our parish school, and latterly in the 70s the Institute of Christian Studies run by our parish. The building is the work of William Butterfield, dating from 1868-70, about a decade or so after the consecration of All Saints' church.
In order to book a place on the Buddhist Temple visit, please simply email our parish office. There is no charge for this event.
Attendance last Sunday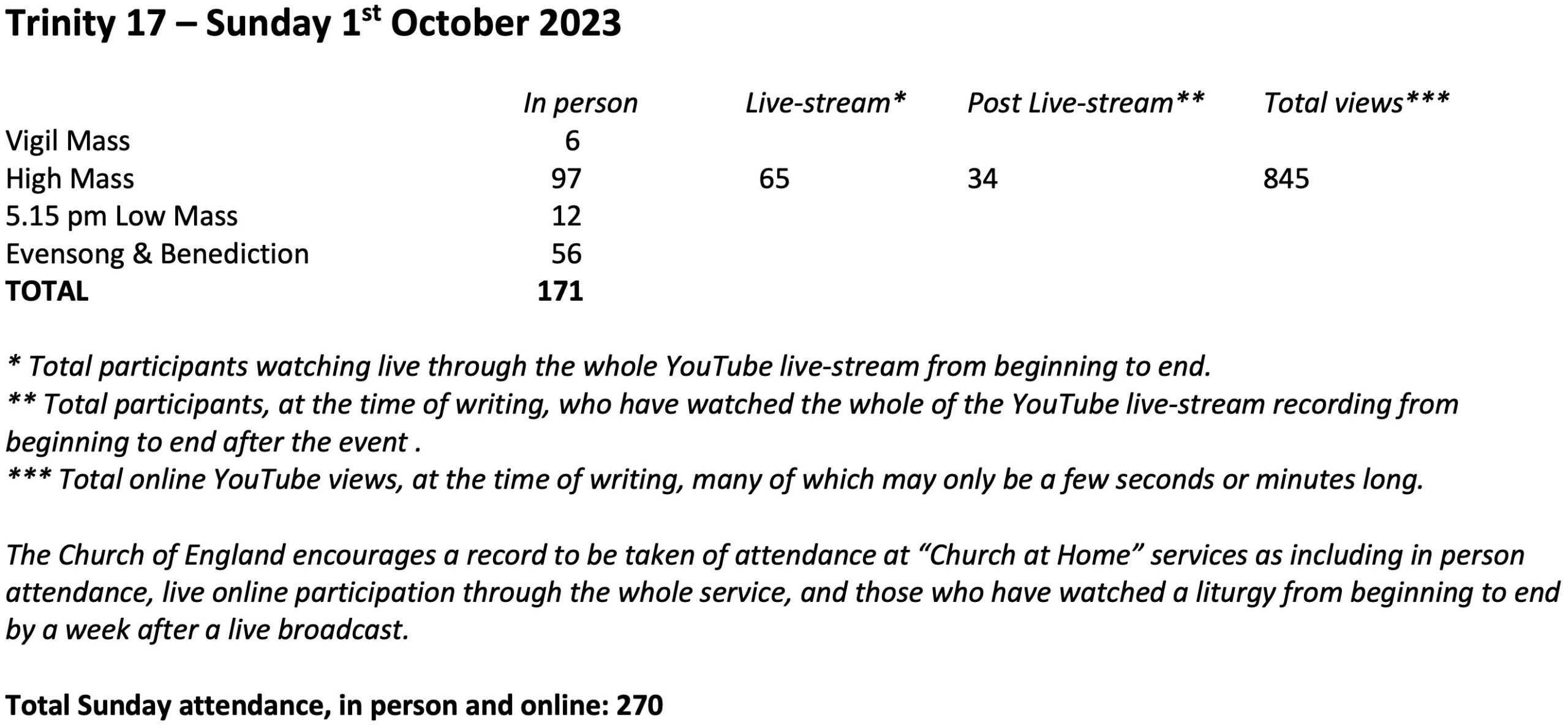 Links for Sunday
The links for the livestream and service sheet for this Sunday's High Mass are at the end of this mail.
Evensong and Benediction will take place at 6pm. Music will include: Watson, Evening Service in E; and Wood, Expectans espectavi.
Prayer list
The sick
Fr. Harry Hodgetts, Amanda Barrett, Martin Berka, James Rodger, Elizabeth Lyon, Ray Oram, Felicity Felton, Gareth Vaughan, Eddie Burns, Philip Eschback, Lena Sheridan, Mary Rowe, Frances O'Neil, John O'Brian, John Martell, Keith Bevan.
The faithful departed
Josh Kruger, James Moxness, Gareth Chester-Jones, Ray Oram.
Anniversaries of death
7th – Sarah Venn, Mabel Moore, Pauline Rolph
8th – Eric Kay, Grace Miller, Emma Titley
9th – Ann Armstrong, Fred Edwards, Gwendolen Clementson, Philip Oakeshott
10th – Suzette Shores
11th – Mark Carpenter-Garnier Bp, Barbara Schiefer
12th – Guest Blofeld Pr, Lilian Ditcham
13th – David Heffer, Elizabeth Hoare
14th – Vera Dyer
The Friends of All Saints'
7th – William Cooper Bailey, Tony Coote, Peter Coulson, Steven Cox, Yvonne Craig, Kirill Dashkovskiy
8th – Christopher Davies, Robert Davies, Francis Davis, Jack de Gruiter, Laura Denton, Suzanna Eaton, Linda Edwards
9th – Pamela Edwards, John Eldridge, Terrence Ellsworth, Sue Enoch, Carolyn Farrar, Sue Feakin
10th – Adrian Felaar, Julia Fielden, Janice Fielden, Nigel Fisher, Gloria Fleming, Stuart Fletcher
11th – Christopher Forman, Anthony Fox, Charlotte Gauthier, Margaret Goddard, Paul Golding, John Goldsmith
12th – Genevieve Gomi, Fr. Thomas Greene, Fr. Michael Gudgeon, Sheelagh Gudgeon, Ginger and Del Hall, Monica Joan Hall
13th – Roger Hancock, Jill Hargreaves, Christopher Harrison, Patrick Hartley, Canon Jeremy Haselock, Eoghan Healy, Fr. David Hobden
14th – Canon Graham Holcombe, James and Gwendoline Holdcroft, Fr. Andrew Hollins, Edwin Holmes, Bp. David Hope
Service times this week
Saturday 7th October – Our Lady of the Holy Rosary
12.00 pm Mass
6.30 pm Vigil Mass of Sunday
Sunday 8th October – Trinity 18
11.00 am High Mass
5.15 pm Mass
6.00 pm Evensong and Benediction
Monday 9th October – S. Denys
12.00 pm Mass
6.30 pm Mass
Tuesday 10th October – S. Paulinus
12.00 pm Mass
6.30 pm Mass
Wednesday 11th October – S. Ethelburga
12.00 pm Mass
6.30 pm Mass
Thursday 12th October – S. Wilfred
12.00 pm Mass
6.30 pm Mass
Friday 13th October – S. Edward the Confessor
12.00 pm Mass
6.30 pm Mass
Saturday 14th October – Feria
11.30 am Rosary
12.00 pm Mass of BVM
6.30 pm Vigil Mass of Sunday
Sunday 15th October – Trinity 19
11.00 am High Mass
5.15 pm Mass
6.00 pm Evensong and Benediction