Weekly Email – Trinity 2
Friday 24 June 2022
at 13:45
---
Documents
Dear friends,
I have just returned from a very worth-while theological conference in Berlin organised under the auspices of our diocesan link with the Church of Berlin-Brandenburg. Many All Saints' parishioners will remember with pride the splendid visit of the Bishop of Berlin-Brandenburg to our church several months ago. Many in Berlin remembered the evening and asked me to pass on their assurance of best wishes and prayers to you all.
Every other year a conference takes place in person either in Berlin or London in which we seek to reflect together and learn more about a given topic. The theme for this year's conference was the diaconal character of the Church as it seeks to serve the world.
One of the big differences between our two churches is the way in which we go about a number of works of service which in England would come under the umbrella of what many would call "social work." In England, much of this is  undertaken by the NHS, but in Germany the church plays a huge role in providing these services.
The church in Berlin benefits from a system of "church tax" by which all members of the church contribute 9% of their income tax to the church. This funds, in addition to the payment of the clergy, a wide range of services such as hospitals, care homes, kindergartens and schools.
This extensive work is often referred to by our German brothers and sisters as "Diakonie." This enormous charitable sector is a crucial part of how they conceive of their church's impact and service in the world.
The group representing the Diocese of London saw a wide range of social and educational work undertaken by the Church of Berlin-Brandenburg.
We visited, for example, a new charity shop set up by the church in a town called Falkensee, which operates as a wonderful community hub.
We also heard about the Berlin Church's extensive work with Ukrainian refugees who have poured into the city over the past few months. Indeed the main refugee welcome centre at the Central Railway Station is organised by the church.
On the last day, we visited a foundation called the Johannesstift. This is an extraordinary complex of institutions set in the beautiful Brandenburg countryside envisioned by a remarkable nineteenth century reformer called Johann Wichern: a range of hospitals; care homes; training establishments; hospices; and schools all located in one place serving human need in its many forms and modelling an inclusive and caring view of human community. It was very impressive.
The social workers who undertake much of the church's social work are referred to as "deacons" and are trained at the Johannesstift. Our German friends don't understand these "deacons" as a sacramental order in the sense that it is in the Anglican Tradition. They aren't considered part of the "clergy" in the way our deacons are, and they have no liturgical role. However, they are trained to exceptionally high standards both in their chosen area of practical expertise, but also in theology. I came away quite struck by how shabby and shallow much Anglican training for many forms of ministry is by comparison with the high standards expected in Berlin.
We were invited to spend the Sunday in parishes around Berlin. I was very pleased to visit a good friend of mine, Jens Jacobi, who is the pastor of Wannsee. We had a bi-lingual liturgy on Sunday morning and it was a privilege to be invited to preach. I have to confess, the parish of Wannsee has the tallest pulpit I have ever spoken from!
I return convinced that there is much value in our diocesan link with Berlin-Brandenburg. We are very different churches, but visiting each other offers such opportunity to reflect on things we take for granted in our context. Exploring another Christian community's life reveals different ways of embodying Christian ministry that prompt us to think differently about our own context.
I felt challenged by the importance given by the Berlin Church to making a concrete difference in the world through practical works of service. A question we at All Saints' could possibly ask ourselves more often is how we are trying to reveal the love of God through charitable action.
We look forward to welcoming our German brothers and sisters back to London for the next conference in 2024 and I hope All Saints' can play a significant role in welcoming them and showing them some of the riches of our theological and pastoral tradition.
Fr Peter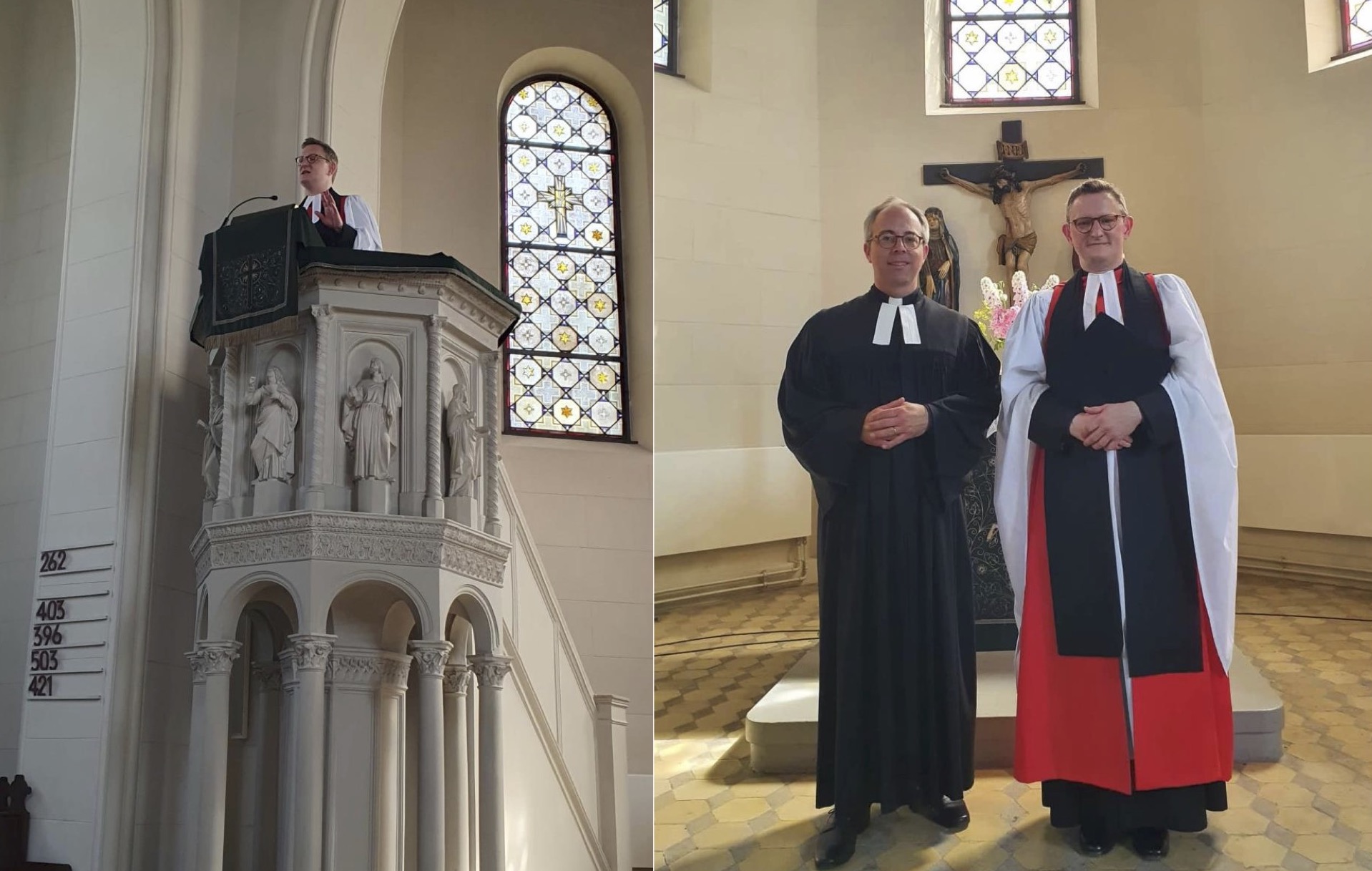 Fr Peter preached on Sunday morning at the parish church in Wannsee, Berlin, from their vertiginous pulpit, at the kind invitation of their pastor, Jens Jacobi.
Continued Internet problems
I can only apologise once again for the continued internet problems which we have been experiencing at All Saints' over the past three weeks. As I write, we still have no internet: the parish office is paralysed; the vicarage has no WI-Fi; we have no church phone line; and we are unable to livestream the liturgy.
These problems have been caused by our internet provider G.Network, which has been unable to pinpoint for a long period why half of Margaret Street has been without access to the internet for nearly three weeks now. Engineers have been at work every day this week, but seem incapable of resolving the problem.
G.Network has displayed breathtaking levels of incompetence at every point of this saga, and a complete insouciance to the anxiety and chaos they are causing.
During our period without internet access, we have managing to upload after-the-event videos of our principal sung services to Youtube. Our Masses for Corpus Christi and last Sunday (Trinity 1) are now online on our Youtube channel. We realise this isn't the same experience as joining in worship live, but hope it was better than nothing.
We are taking action to ensure that these problems do not happen again by installing a 5G aerial to compensate for periods when our internet access is patchy. We are also in the process of making a formal complaint both to G.Network and to the ombudsman which regulates internet provision.
This has been a period of great frustration and I can only imagine what a disappointment it has been to so many of our online worshippers not to have been able to join with us in offering our regular round of praise and thanksgiving to God. I apologise for the disruption, confusion and disquiet this will have caused.
Fr Peter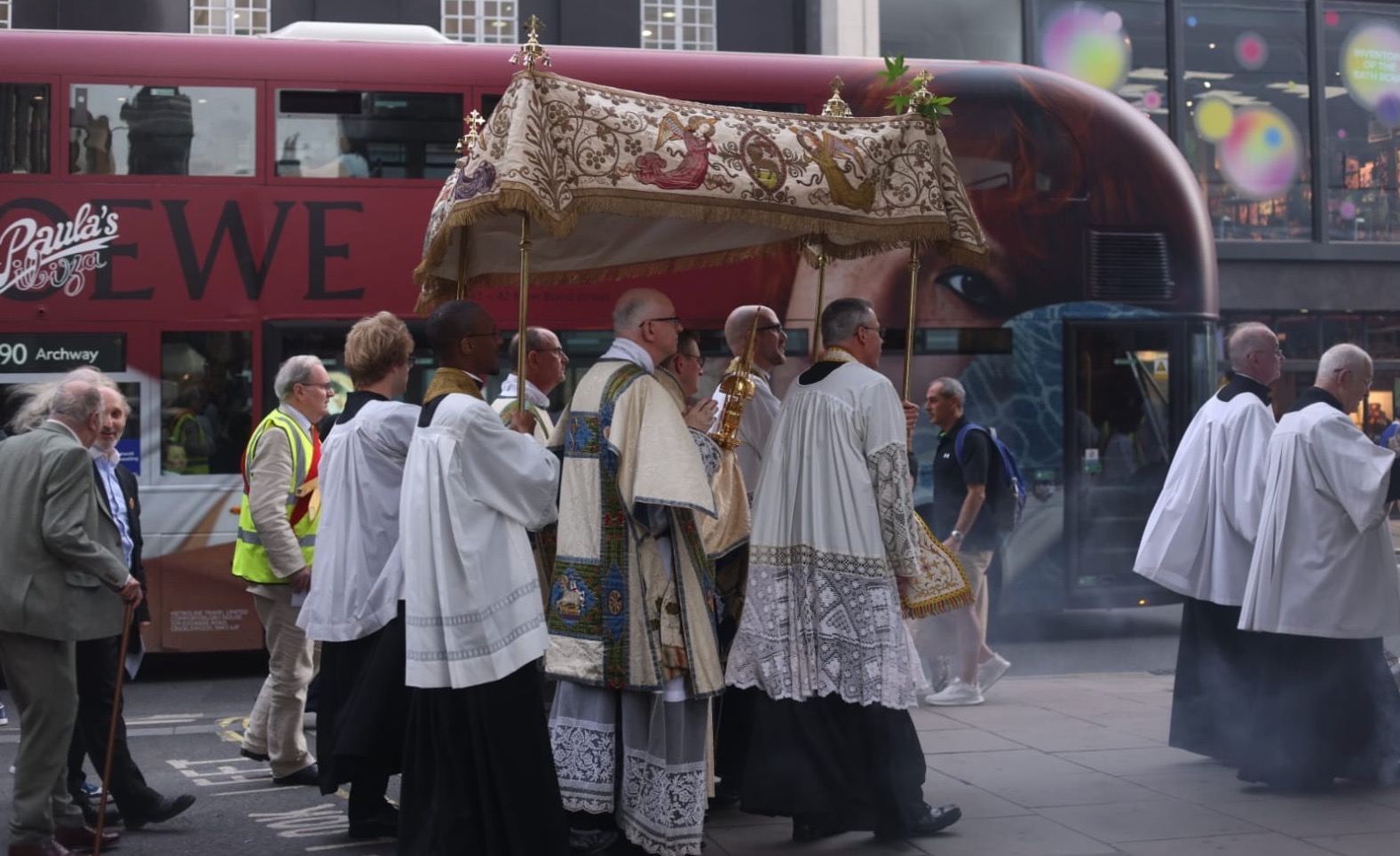 A huge thank you to all who helped make our Corpus Christi Procession such a success. We were able to proclaim our faith in Jesus Christ at the heart of London on one of the busiest streets in Europe. A video of the whole liturgy, including the procession has now been uploaded to our Youtube page and can be found here.
Parish visit to the Raphael exhibition at the National Gallery – ONLY ONE WEEK TO GO!
There are still tickets left for our parish visit to this summer's extraordinary Raphael exhibition at the National Gallery, followed by dinner at Le Beaujolais restaurant, next Friday 1st July.
We have booked 30 tickets for a visit to the exhibition at 5.30 pm, and dinner at Le Beaujolais will follow at 7.30 pm (also maximum capacity 30). The cost of a standard adult ticket for the exhibition is £26, and dinner at Le Beaujolais (including service charge but not wine) is £45.
To book, please email Jonathan, our new administrator, via the parish office (office@ASMS.uk) to signal how many tickets you want to reserve and whether you want to come to the dinner. Please also say if you have a reduction or membership card for the National Gallery.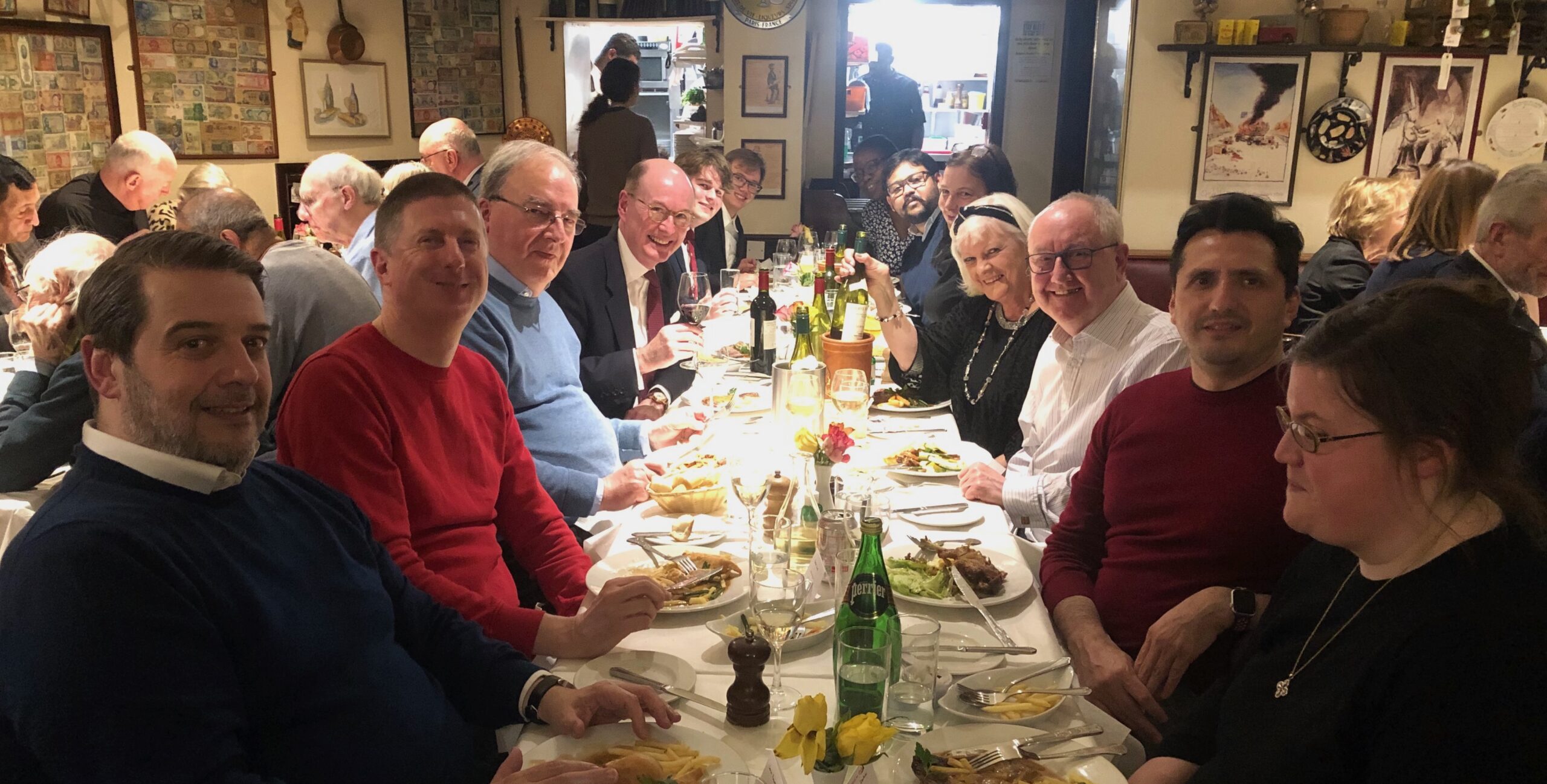 New orders of service and weekly notices
After a recent review of working practices and efficiency within our parish office, we are going to experiment with producing our orders of service for Sundays in a slightly different format over the next few weeks.
The intention will be to achieve a substantial reduction in the amount of paper being consumed by our parish. Not only are our photocopying costs spiralling, but the quantity of paper our parish is consuming is reaching eye-watering levels. It is very difficult to claim the amounts of paper we are getting through week by week are justifiable from an ecological point of view.
We will also be reintroducing an A5 weekly notices sheet which will be slipped into the order of service. This will mean that visitors and those who do not receive the weekly email can be kept abreast of parish news.
This weekly news sheet will also from now on be the principal place where Mass times, liturgical calendar, and the prayer list are to be found. These things will no longer be published separately each month but will simply be found on the weekly notices sheet.
We hope this represents a logical simplification which makes information currently reduplicated and kept in various different places easier to find. There will, as a consequence, no longer be a monthly calendar published separately.
We hope these changes make our communication of information better, reduce costs, and bring our paper consumption to within environmentally justifiable limits.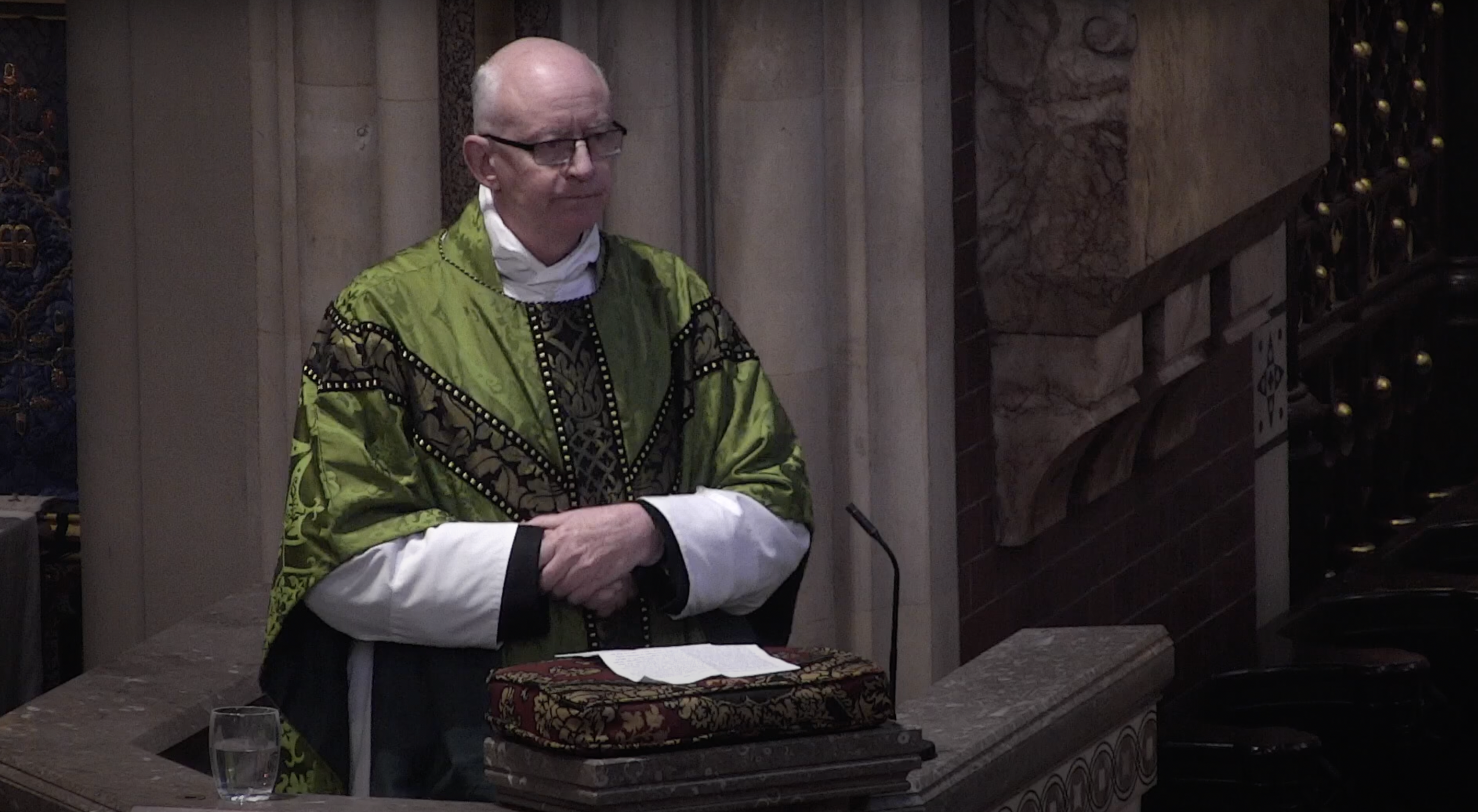 Fr Julian preached on the story of the Gerasene Demoniac on Sunday at the 11.00 am High Mass. You can read the homily here and watch it again here.
Requiem Mass for Fr Gerald Reddington
A High Mass of Requiem will take place for Fr Gerald Reddington on Saturday 25th June at 12 noon.
Because Saturday is highly likely to be affected by rail strikes, we hope it will be possible for the the liturgy to be live streamed so that those unable to attend can participate in the Mass. This will, however, depend on whether our internet connection has been restored by then.
Online Zoom Theology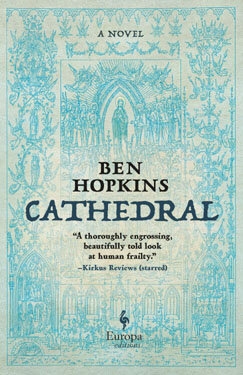 Once every two months, we organise a theology seminar by Zoom to discuss a particular idea, theme or text. We aim to make discussion as approachable as possible, and to give people the space they need to express their thoughts and questions.
Our next online Zoom Theology session will take place on Tuesday 12th July 2022 at 7.00 pm. We will look at the recently published novel, Cathedral, by Ben Hopkins
This theology session will be led by Fr Peter Anthony and will explore novels about the building of cathedrals. We will compare Hopkins' Cathedral with other similar works such as Golding's The Spire, Huysmans' La Cathédrale, and Ken Follet's The Pillars of the Earth.
What is it about great buildings that seem to speak beyond themselves about the divine and the power of human creativity? How do churches operate as sacraments of God's presence and why do they feel so necessary for the offering of Christian worship?
It is suggested that participants read at least part of Hopkins' Cathedral before the seminar.
Zoom link here.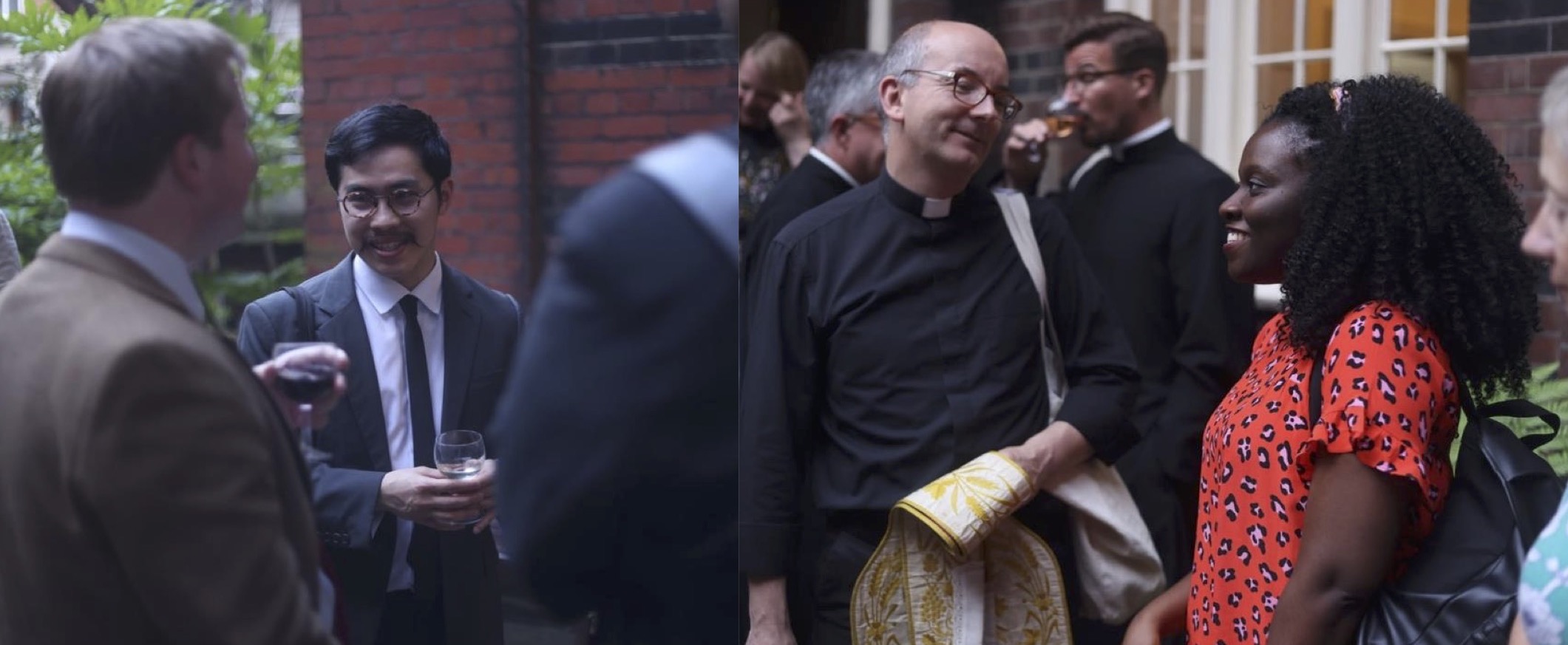 Thank you to all who prepared and served refreshments for the parish party after our Corpus Christi procession. It was wonderful to be able to offer hospitality to so many friends and visitors.
Sunday 3rd July: Bishop of Fulham
Bishop Jonathan will celebrate and preach at the 11.00 am High Mass next Sunday. He will also swear in our new church wardens and bless a new green High Mass set commissioned by the PCC.
Church Union Anglo-Catholic Theology Lecture 2022
Fr Peter will give the annual Church Union Anglo-Catholic Theology Lecture on Thursday 14th July 2022  at Holy Redeemer, Clerkenwell. Evensong and Benediction take place at 6.30 pm and the lecture follows Evensong. The lecture will be entitled, "Real Presence: on online worship from the Catholic Tradition."
If you cannot make it in person, it will be possible to watch the lecture online via the Church Union's Facebook page.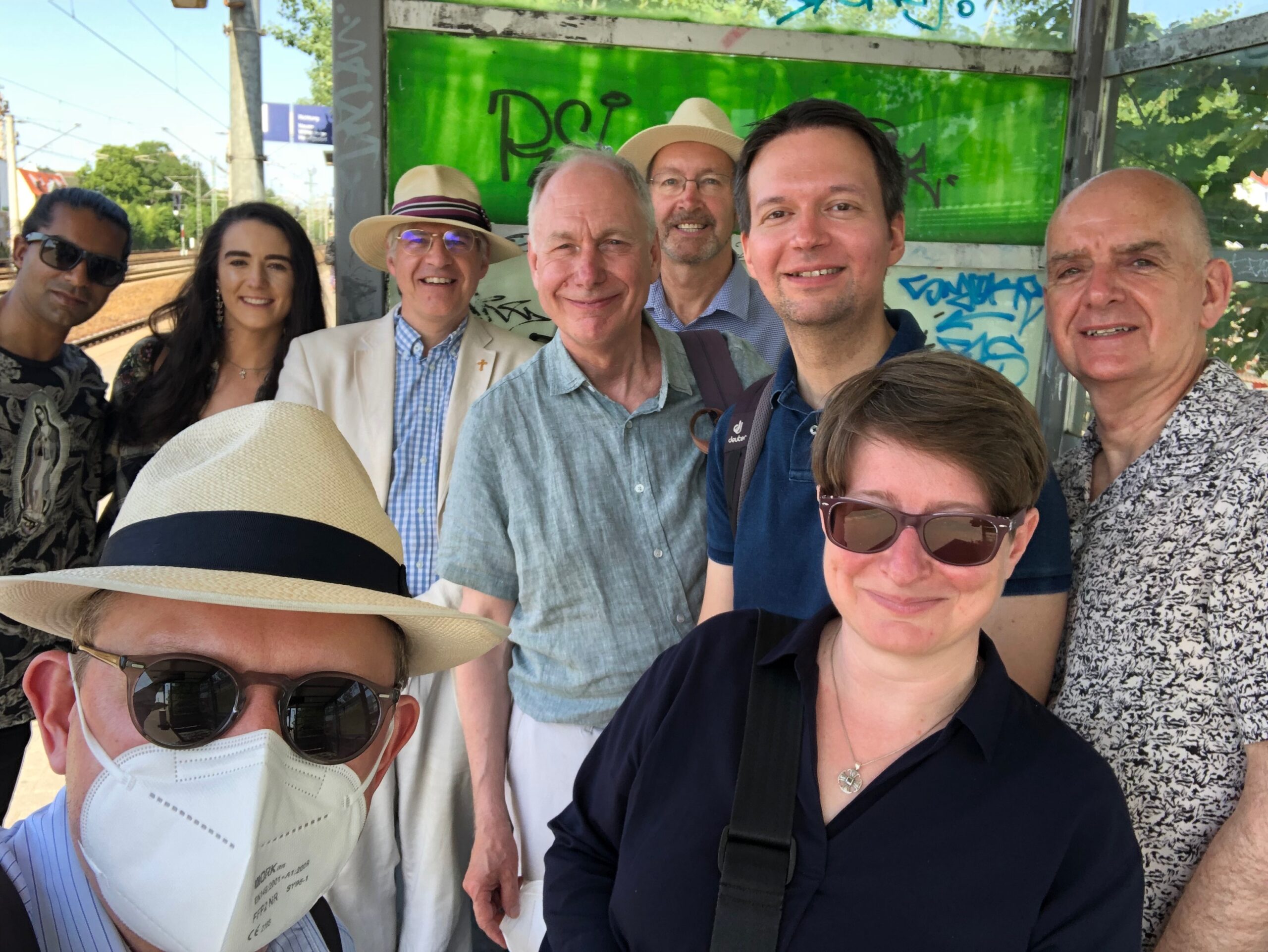 The Diocese of London delegation to the recent Berlin partnership conference arrives at Falkensee S-Bahn Station. With 35 degree heat, we were a bit sweaty but undeterred!
Parish theatre trip: The Southbury Child
A parish trip to the Bridge Theatre to see The Southbury Child starring Alex Jennings has been organised for Thursday 11th August at 7.30 pm. Find out more about the production here.
We have bought 15 tickets at £39.50 each. To reserve a place, please email Jonathan, our new administrator, via the parish office (office@ASMS.uk).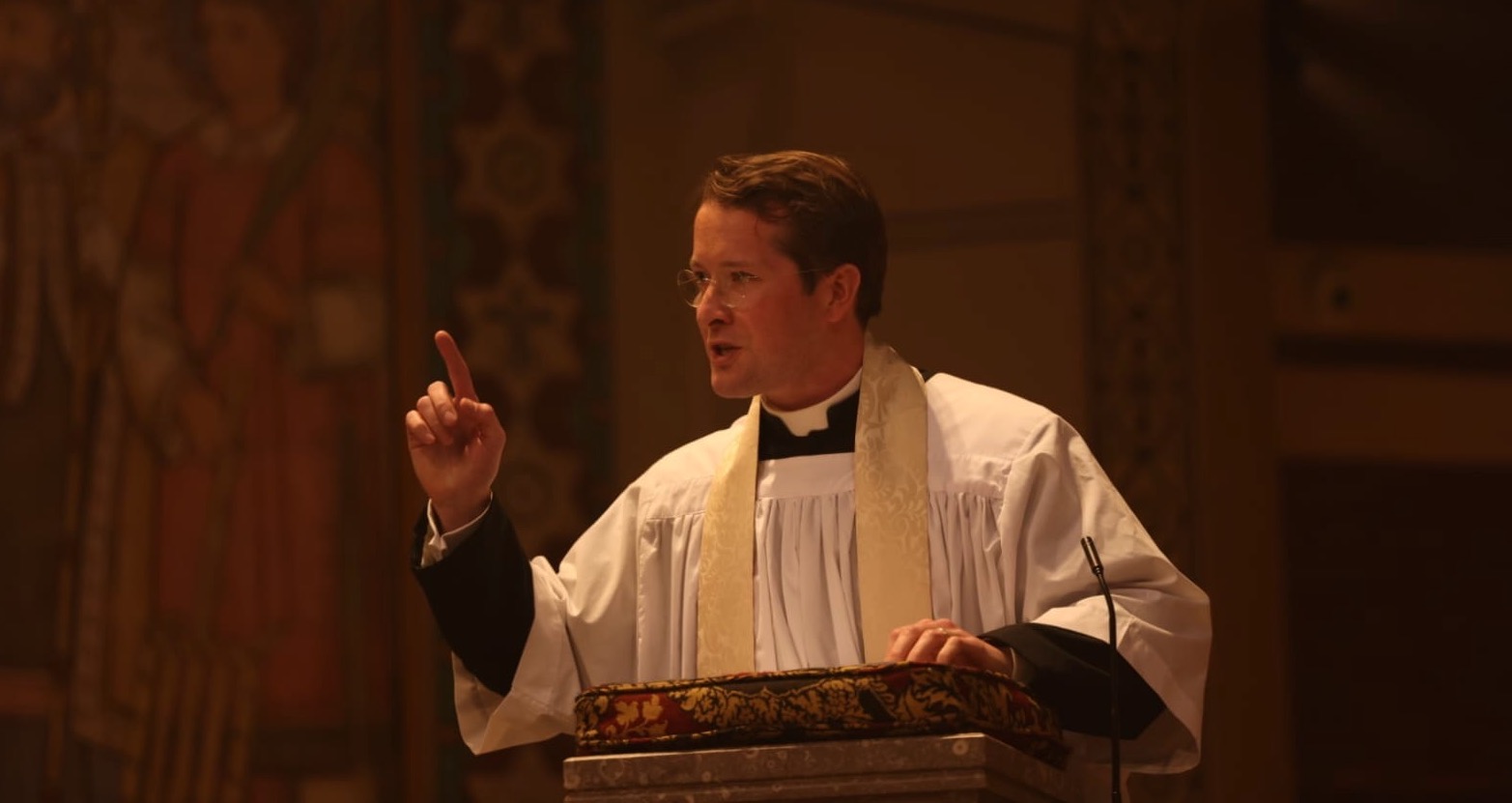 We were so pleased to have as our guest preacher for Corpus Christi the Chaplain of Queens' College, Cambridge, Fr Max Bayliss. He reflected on the worth and virtue of Eucharistic worship in the light of our historic Anglican formularies and the liturgy of the Prayer Book. You can watch his excellent sermon again here.
Links for Sunday
The link for the service booklet for Trinity 2 is at the end of this email. Click here for the YouTube live stream.
Evensong and Benediction on Sunday is at 6pm. The music includes Ayleward short service, Byrd Teach me, O Lord, and Fischer O salutaris and Palestrina Tantum ergo.
Prayer list
The Friends of All Saints Margaret Street
June 26th – Mary Sherred, Fr Peter Simpson, Ingrid Slaughter, Gwynedd Sooke, Richard & Louise Stallwood
27th – Jason Stewart, Ian & Veronica Summers, Andrew Thompson, Pat Thompson, Charles Thomson
28th – Jeremy Thorp, Daniel Turner, Sam Walsh, Christopher Waterhouse, Philip Wayne
29th – Fr Benjamin Weitzmann, Michael Westcott, Matthew Whittaker, Tim Widdowfield, David Wilcox
30th – Ian A Wilson, Juliet Windham, Martin Woods, David Wright, Christine Vaughn Lillie
July 1st – Martin Amherst-Lock, Bryan Anderson, Mary Attenborough, Stephen Attenborough, Richard Ayling
2nd – James Babington Smith, Ruth Baker, Stephen Barber, Fr Roger Beck
The sick
Fr Harry Hodgetts, Elizabeth Lyon, James Shrimpton, David Robin, Gloria Fleming, Jim Strickland, Amanda Barrett, Tim Marland, Sebastian Taite-Ellie, Michael Lamprill, David Craig, Martin Berka
Recently departed
Leslie Routledge, Philip Sanders, Margaret Graham Whidden, Walter Rainey, Sarah Yeager, Jane Pounds, Violet Mary Sanders
Anniversaries of death
June 26th – Dorothy Jordan, Leslie Moses, Margaret Jervis, Sandra Allan, Hugo Gralka
27th – John Slater Pr, Barbara Thrift
29th – Edith Taylor, Freida Bailey, Edward Roberts Bp, John Hughes Pr, Peggy Leeman
30th – Harry Lye, William Roberts, Andrew Barker, Gladys Dare
July 1st – Richard Price Pr, Barbara Treadway, Philip Cranmer, Valerie Southcott
2nd – Mary Lightfoot
Service times this week
Saturday 25th June – Immaculate Heart of Mary
12.00 noon High Mass of Requiem for Fr Gerald Reddington
6.15 pm Vigil Mass of Sunday
Sunday 26th June – TRINITY 2
11.00 am High Mass
5.15 pm Mass
6.00 pm Evensong and Benediction
Monday 27th June – S. Cyril of Alexandria
12.00 noon Mass
6.15 pm Mass
Tuesday 28th June – S. Irenaeus
12.00 noon Mass
6.15 pm Mass
Wednesday 29th June – Ss. Peter and Paul
12.00 noon Mass
6.15 pm Mass
Thursday 30th June – Protomartyrs of the Church of Rome
12.00 noon Mass
6.15 pm Mass
Friday 1st July – Feria
12.00 noon Mass
6.15 pm Mass
Saturday 2nd July – Feria: of BVM
12.00 noon Mass
6.15 pm Vigil Mass of Sunday
Sunday 3rd July – S. THOMAS THE APOSTLE
11.00 am Pontifical High Mass
5.15 pm Mass
6.00 pm Evensong and Benediction