Weekly Email – Trinity 2
Friday 16 June 2023
at 13:45
---
Documents
Dear friends,
One of the most important and fruitful spiritual practices to emerge from the Oxford Movement is the revival of pilgrimage in the Church of England. Our parish played a pioneering part in that process and for many years now, All Saints' has frequently organised pilgrimages and retreats as part of its life.
The notion of pilgrimage, and of the journeying of the people of God, is a theme we find time and time again in the scriptures. The pilgrimage journey par excellence in the Old Testament is that of the Children of Israel as they escape slavery in Egypt and make their way to the Promised Land. On that journey, Israel frequently falls away from God, yet he calls them back to his loving heart until that day when they finally enter the land which he promised to give them. This journeying together is a process of discovery and renewal as the Children of Israel mature, develop, and grow in their understanding of God and his covenantal love for them.
In the New Testament, the Christian life is presented to us in the Epistle to the Hebrews as a kind of pilgrimage, a journeying to our final destination in God. Speaking of the patriarchs, the Letter says, "They confessed that they were strangers and foreigners on the earth, for people who speak in this way make it clear that they are seeking a homeland…they desire a better country, a heavenly one." A pilgrimage reminds us that we are in some sense strangers and refugees in this life, never completely at home in the world, making our way by faith to the Kingdom of God.
From the very earliest Christian times, the practice of making a holy journey to a place particularly associated with the life of Jesus or a specific saint emerges as a practice crucial to Christian faith. This tradition begins in the Holy Land, but spreads to other locations associated with visions, miracles, and the lives of the apostles and martyrs.
At the heart of this theological instinct lies that truth revealed in the Incarnation that the material world is not incidental to how God chooses to touch, move and form us. Rather, the whole physical creation is a sacrament of God's presence, and a part of how God communicates his presence to us through particular places, and particular moments, and particular objects.
By the time of the Reformation, England was renowned as an "island of saints" with many holy places of pilgrimage, such as the shrine of Our Lady of Walsingham, St Edward the Confessor at Westminster Abbey, and St Thomas Becket at Canterbury Cathedral.
When Fr Alfred Hope Patten was made vicar of St Mary's Walsingham, in the 1920s, he was gripped by a burning desire to see the shrine at Walsingham restored.  It had been suppressed and left in ruins in the orgy of senseless destruction which accompanied the Protestant Reformation. Fr Hope Patten wanted to see Our Lady's role in the history of salvation honoured once again, and for pilgrimage to return to being part of the English devotional imagination. His heroic work now means the Shrine of Our Lady of Walsingham welcomes thousands of pilgrims each year who come seeking peace, healing and renewal.
I am looking forward to our annual weekend pilgrimage to Walsingham in around a month's time, over the weekend of 21st-23rd July. We currently have eight places spare, and I would encourage anyone who has never been, or has let the practice of pilgrimage lapse in their life to think about joining us.
The cost is as follows: £270 Friday pm to Monday; or £190 Friday pm to Sunday evening (including full board plus mini-coach from Kings Lynn – pilgrims need to book their own train ticket to Kings Lynn).
Our weekend pilgrimage away involves a range of activities and liturgies spread over a Saturday and Sunday: a Pilgrimage Mass at the Shrine Church; evening processions; sacraments of healing; sprinkling at the holy well and finishing with procession of the Blessed Sacrament and Benediction.
We are aware that including Monday in the time we are away might not be convenient for those who work. We have decided, therefore, to offer two deals: one for those who wish to come home on Sunday night and one for those who want to come back on Monday. Please be in touch with me or the parish office if you want to discuss this further.
I pray that our weekend pilgrimage to Walsingham may be a time of renewal and restoration, and that through travelling together, taking time out of our busy schedules for God, and through asking our Lady's prayers, we may be more and more conformed to the image of Christ, and drawn to the Father's loving heart.
Fr Peter
PCC Meeting
Please note that there will be a meeting of the PCC on Thursday 22nd June at 7.00 pm. There will also be a special away day for all members of PCC on Saturday 29th July. This will offer us the opportunity to think ahead and make plans for our parish over the coming years.
RIP Frank Williams
A Low Mass of Requiem will be celebrated at 12 noon on Monday 26th June 2023 by Fr Peter McGeary on the occasion of the year's mind of Frank Williams. He was for many years a faithful parishioner and friend of All Saints', and died on that day last year. Rest eternal grant to him, O Lord, and let light perpetual shine upon him.
Sacred Heart of Jesus
Today is the feast of the Sacred Heart of Jesus. Parishioners of All Saints' have been invited by Fr Graeme Rowlands to a special High Mass for the feast day celebrated according to the Tridentine Rite at St. Silas', Kentish Town, at 7.30 pm. The music will include Dvorak's Mass in D.
Sick List
We will be renewing the sick list next week, as we do every few months. From next week onwards, all names presently on it will be removed.
If you wish a name to remain on our regular intercession list, please email the parish office, and we will be more than happy to add it. Our usual practice is that a name is removed after a fortnight, unless that name has been specifically renewed by the individual who has suggested it.
A small number of people suffering from chronic sickness are allowed to remain on the list in perpetuity, but this is only by specific agreement with the clergy. Any enquiries about our ministry to the sick, including intercession for them, should be directed to Fr Alan.
Anglo-Catholic Derby weekend!
The famous London Anglo-Catholic Derby weekend is fast approaching. This is the concatenation over three days of several splendid feasts and festivals at S. Silas', Kentish Town, and Holy Redeemer, Clerkenwell. All parishioners of All Saints' have been warmly invited to both churches for their celebrations.
S. Silas', Kentish Town, will be celebrating their patronal festival with First Vespers on the evening of Friday 14th July at 7.30 pm. Vespers is followed by a party in S. Silas' Presbytery. On S. Silas' Day itself, Saturday 15th July, there will be a Solemn Mass at 3.00 pm. The Bishop of Fulham will be the preacher. The celebrations this year have a special significance as this will be Fr Rowlands' last S. Silas' Day as vicar of the parish.
Holy Redeemer, Clerkenwell, will also celebrate their feast of title on Friday 14th July, with a High Mass and procession of the Blessed Sacrament down Exmouth Market at 7.00 pm. The preacher will be Fr Steven Brookes, Chaplain of the Royal Hospital, Chelsea, and Priest-in-Ordinary to His Majesty the King. He is well known to us from the excellent sermon for the feast of the Ascension for us at All Saints'.
The night before the High Mass and procession, on Thursday 13th July, the annual Anglo-Catholic Theology Lecture will take place at Holy Redeemer after First Evensong song of the feast, which begins at 6.30 pm. This year's lecturer will be Fr Christopher Smith, Vicar of St Alban's, Holborn, and the lecture will be entitled, "O wonder of wonders: E.L Mascall and the unfolding of Orthodoxy." If you are unable to attend the lecture in person, it will be live-streamed via the Church Union's Facebook page.
Feast of the Assumption 2023
Please put in your diaries that we will be keeping the feast of the Assumption this year with two important liturgies over several days.
There will be  celebration of Evensong and Benediction with an Assumptiontide procession of Our Lady down Oxford Street on Sunday 13th August at 6.00 pm. The preacher at Evensong will be the Rt Revd Glyn Webster.
On the feast day itself, Tuesday 15th August 2023, there will be a High Mass at 6.30 pm. The preacher will be the Vicar.
Forthcoming visiting preachers
Sunday 13th August 2023 – Assumptiontide Procession
Evensong, Procession of Our Lady and Benediction | 6.00 pm
The Rt Revd Glyn Webster.
Sunday 10th September – 14th Sunday after Trinity
High Mass | 11.00 am
The Revd Dr Michael Bowie,
Vicar, St Peter's, Eastern Hill, Melbourne, Australia.
Sunday 1st October – 17th Sunday after Trinity
High Mass | 11.00 am
The Revd Katy Hacker Hughes,
Priest Pastor, St Marylebone Parish Church.
Wednesday 1st November 2023 – All Saints' Day
High Mass | 6.30 pm
The Revd Richard Bastable,
Vicar, St Luke's Uxbridge Road, and St Matthew's, Kensington Olympia.
Tuesday 2nd November 2023 – All Souls' Day
High Mass of Requiem | 6.30 pm
The Revd Dr Barry Orford.
Book launches
I am very pleased to announce that book launches will take place at All Saints' this autumn for two works whose subjects have a close connection with the history of our parish'.
The first is entitled, "Anglo-Catholic church planting: can it work?" by John Wallace.  He looks, in part, at the history of Anglo-Catholic parish planting in the 19th Century, and at the role All Saints' played in the founding of new parishes in London. He then assesses a number of contemporary experiments in church planting within the Catholic tradition. This book launch will take place on Tuesday 19th September at 7.30 pm.
The second is a monograph published by the Anglo-Catholic History Society by Fr Stephen Young on William Dodsworth, who was the Minister of the Margaret Street Chapel from 1829-1837. It is under Dodsworth that the Chapel became an early London centre of Tractarianism, which laid the foundation for Frederick Oakley and then William Upton Richards to plan and found the new parish of All Saints, and construct our present church a generation later. This book launch will take place on Thursday 28th September at 7.30 pm.
Attendance last week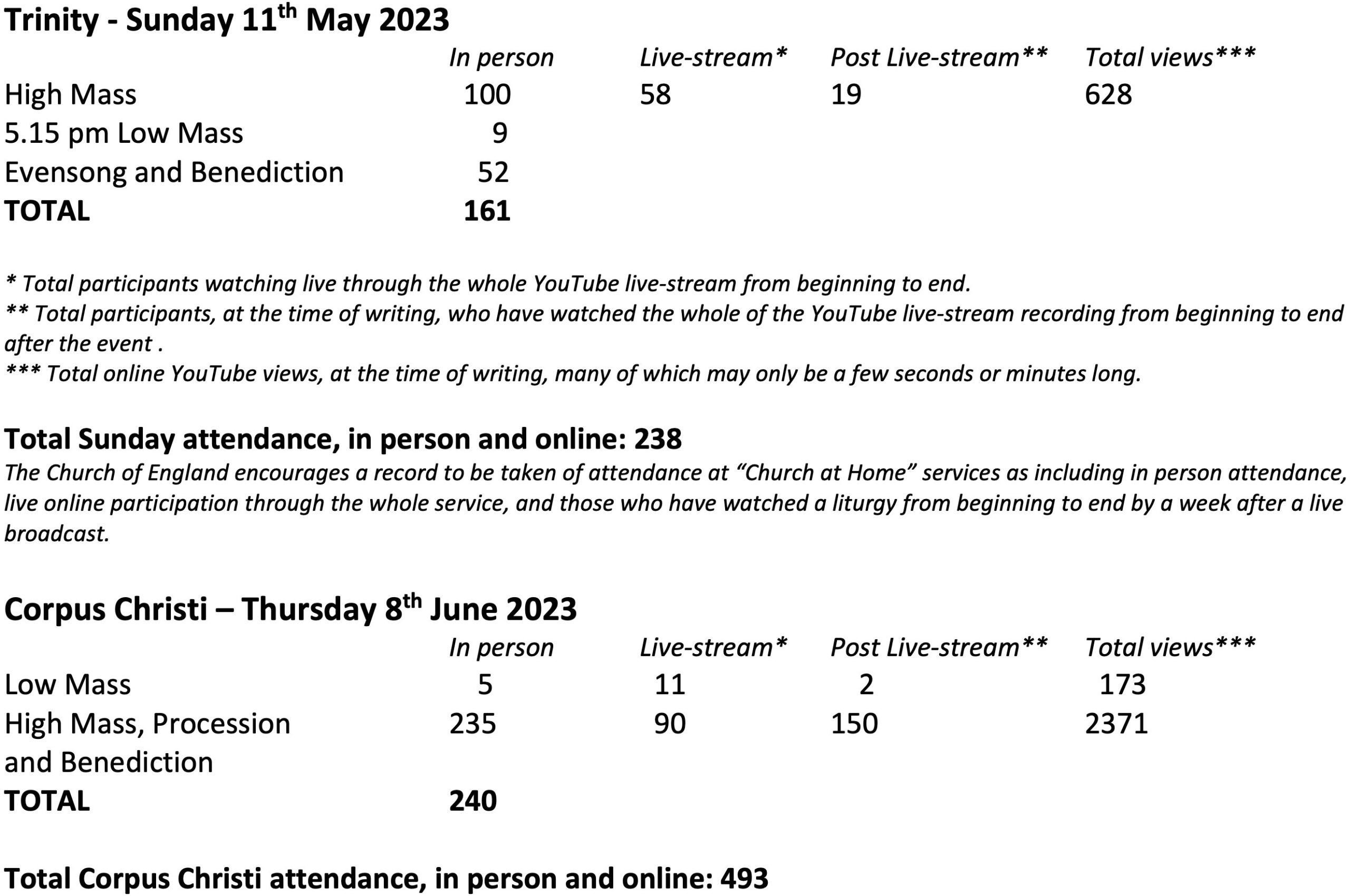 Links for Sunday
The links for the livestream and service sheet for this Sunday's High Mass are at the end of this email.
Evensong and Benediction takes place at 6pm this Sunday. Music will include Sumsion's Evening Service in A and Wood's O, thou sweetest source.
Prayer list
The sick
Fr. Harry Hodgetts, Amanda Barrett, Greg Loveday, Don McWhinney, Martin Berka, Pete Turner, James Rodger, Andrew Rodger, David Craig, Elizabeth Lyon, Ray Oram, Mary Fourlong, Fr. Tim Peskett, Fr. Peter Strange, Réal Guérin, Bp. Michael Curry, Carol Lyman-Pryce, Mary Rowe, Eddie Burns
The faithful departed
Gloria Fleming
Anniversaries of death
June 18th – Susanne Coles, Eric Griffin, Jim Peschek
19th – Gwendolen Coldham, Patricia Cudmore
20th – Dom Michael Warner, Michael Pearson Pr.
21st – Hugh Douglas-Hamilton, Beverley Brentnall, Philip Bennett, Roderick Bowie Pr.
22nd – Francis Swanton, Stanley Harland, Percy Mortimer-Smith, Mary Tilley
23rd – Alfred Webb Pr., Henry Ewer, Arthur Golightly Pr., Andrew O'Connor Dn.
24th – John Allcock, Jean-Paul Myers, Friedemann Golka
The Friends of All Saints'
June 18th – Barry Moore, John Morrell, Fr. Stephen Morris, Inger Mosbery, Carol Mundell, Christopher Naylor
19th – Brian Newman, Graham Norman, Elaine Norman, Richard North, Fr. Paul Ockford, Anna and Fr. Peter Oesterby-Joergensen
20th – Fr. Barry Orford, Samantha Parker, Malcolm Parr, Bhaven Patel, Alma Pearson, Pat Phillips, Pamela Phillips
21st – Colin Podmore, Nick and Cecilia Powell, Simon Pusey, Simon Rainey, Gordon Reid, Carlos Remotti-Breton
22nd – Steve Rice, John Rick, Fr. Peter Roberts, Hilary Rodger, Fr. Jim Rosenthal, Mossman Roueche
23rd – Greg Round, Jamie Rundle, Mary Sherred, James Shrimpton, Gabriel Simerson, Fr. Peter Simpson
24th – Brad Singer, Ingrid Slaughter, Naomi Slippe, Gwynedd Sooke, Richard and Louise Stallwood, Jason Stewart, Iain Stewart
Service times this week
Friday 16th June – Sacred Heart of Jesus
12.00 pm Mass
6.30 pm Mass
Saturday 17th June – Feria
12.00 pm Mass of Requiem
6.30 pm Vigil Mass of Sunday
Sunday 18th June – Trinity 2
11.00 am High Mass
5.15 pm Mass
6.00 pm Evensong and Benediction
Monday 19th June – Feria
12.00 pm Mass
6.30 pm Mass
Tuesday 20th June – Feria
12.00 pm Mass
6.30 pm Mass
Wednesday 21st June – St. Aloysius Gonzaga
12.00 pm Mass
6.30 pm Mass
Thursday 22nd June – St. Alban
12.00 pm Mass
6.30 pm Mass
Friday 23rd June – St. Etheldreda
12.00 pm Mass
6.30 pm Vigil Mass of the Nativity of St. John the Baptist
Saturday 24th June – The Nativity of St. John the Baptist
12.00 pm Mass
6.30 pm Vigil Mass of Sunday
Sunday 25th June – Trinity 3
11.00 am High Mass
5.15 pm Mass
6.00 pm Evensong and Benediction