Weekly Email – Trinity 20
Friday 20 October 2023
at 13:45
---
Documents
Fr Alan Rimmer writes:
Dear all,
Seint Fretheswyde, that holy mayde, was of Englonde;
Atte Oxenford heo was ybore, as ich understonde.
Hir fader hete Kyng Dydan, and Sefreth hete the quene –
This were hire eldren, that hure gotten hem bytwene.
Fretheswyd, hure yonge doughter, to lettre hii setten in youthe;
So wel heo spedde in six monnthes that heo hure Sauter couthe.
Swythe wel heo was byloved, of hey and of lowe;
Alle hii hadde joie of hure that couthen hure knowe.
        [From a 14th century South English Legendary]
I write this on October 19th, the feast of St Frideswide, the 8th century Saxon Princess who, set to learning from her youth, knew the Psalter by heart within six months. Her colourful legend has long sanctified the water meadows and beech woods encircling Oxford, and around her little shrine the first university on our islands emerged. Its motto Dominus illuminatio mea – the Lord is my light – the incipit of Psalm 27 – would have been familiar – as a statement of truth, and as an aspiration – to Frideswide.
Her life's combination of humility, service and learning is an inspiring example to us all as Christians as we seek to grow closer to and know more fully the God who made us out of love, and apart from whom our minds and hearts are restless.
We've looked, then, to the unfailing help of her intercession as we began our 'mystagogy' course this Autumn. Opinion is divided about the title (at least it has provoked some thought and conversation!) but the objective was, loosely, to offer an opportunity for intellectual and practical initiation (or re-initiation!) into the truths and practices of our Faith.
It's been an engaging journey so far, and I've been heartened and impressed by contributions from our small but committed group. We started with Augustine's Confessions, encountering both the highly wrought philosophical thinking of the later books, and the startling psychological insights that inform it; as well as the touching instances of friendship and filial relationship and the fascinating window on Late Antique life offered in preceding chapters.
Conversation dwelt on the challenges in Augustine's demanding sense of the Christian call to conversion of life, and the next title, Sarah Coakley's The New Asceticism, was a helpful successor. There was considerable disagreement on how successfully Professor Coakley presents her conclusions, but a strong sense that the book was a welcome endeavour – and an important area to have the opportunity to discuss and think about together.
She partly seeks to redefine asceticism for our times, partly to reconnect us with patristic thinking on the Christian moral life, in an attempt to avoid the twin ills or 'false alternatives' of 'repression' and 'libertinism'. I was so grateful for the openness and prayerful generosity of participants during our time together – in a world – and in a church – in so many instances divided against itself. It was a real encouragement.
We move next to a lighter text – Fr Colin Stephenson's Merrily on High – perhaps the essential Anglo-Catholic memoir. I'm hoping there will be laughter, but also that it will be a spur beyond complacency to examine ourselves and our own place within the Church, with frank conversation about our strengths and weaknesses as a movement.
From then we move on to Dom Gregory Dix's great work The Shape of the Liturgy – which I included to help us think around and strengthen that crucial connection between our practice in church, and what that practice embodies and points toward.
We finish toward the end of November by introducing the vast field of prayer and spirituality, with an evening looking at Evelyn Underhill with that great friend of All Saints', Fr Barry Orford. Sarah Coakley's text (in perhaps her most difficult but rewarding chapters Living into the Mystery of the Holy Trinity and Deepening Practices) gave us a sense of the theological background to prayer, and I hope Practical Mysticism will be a spur to living some of that out.
Please keep us, and all our attempts at Christian formation, in your prayers. And please do be in touch with ideas about how we might improve these opportunities.
with love,
Fr Alan
Our mystagogy group met to discuss Colin Stephenson's "Merrily on High" last night.
Young Adults Group
The next walk for younger members of our congregation will take place on Saturday, November 11th, meeting around 9am at St Pancras International. Fr Alan hopes to lead a route from Rye to New Romney, via All Saints', Lydd ("the cathedral of the marsh") and Dungeness. Splendid churches, bracing winds and fish and chips guaranteed. Please be in touch with him to register your interest!
There will also be an Advent party at Fr Alan's home on St Ambrose's Day, Thursday December 7th, 7-9pm. Fr Alan warmly invites our younger people to No. 6 for seasonal drinks. Let him know if you plan to join us.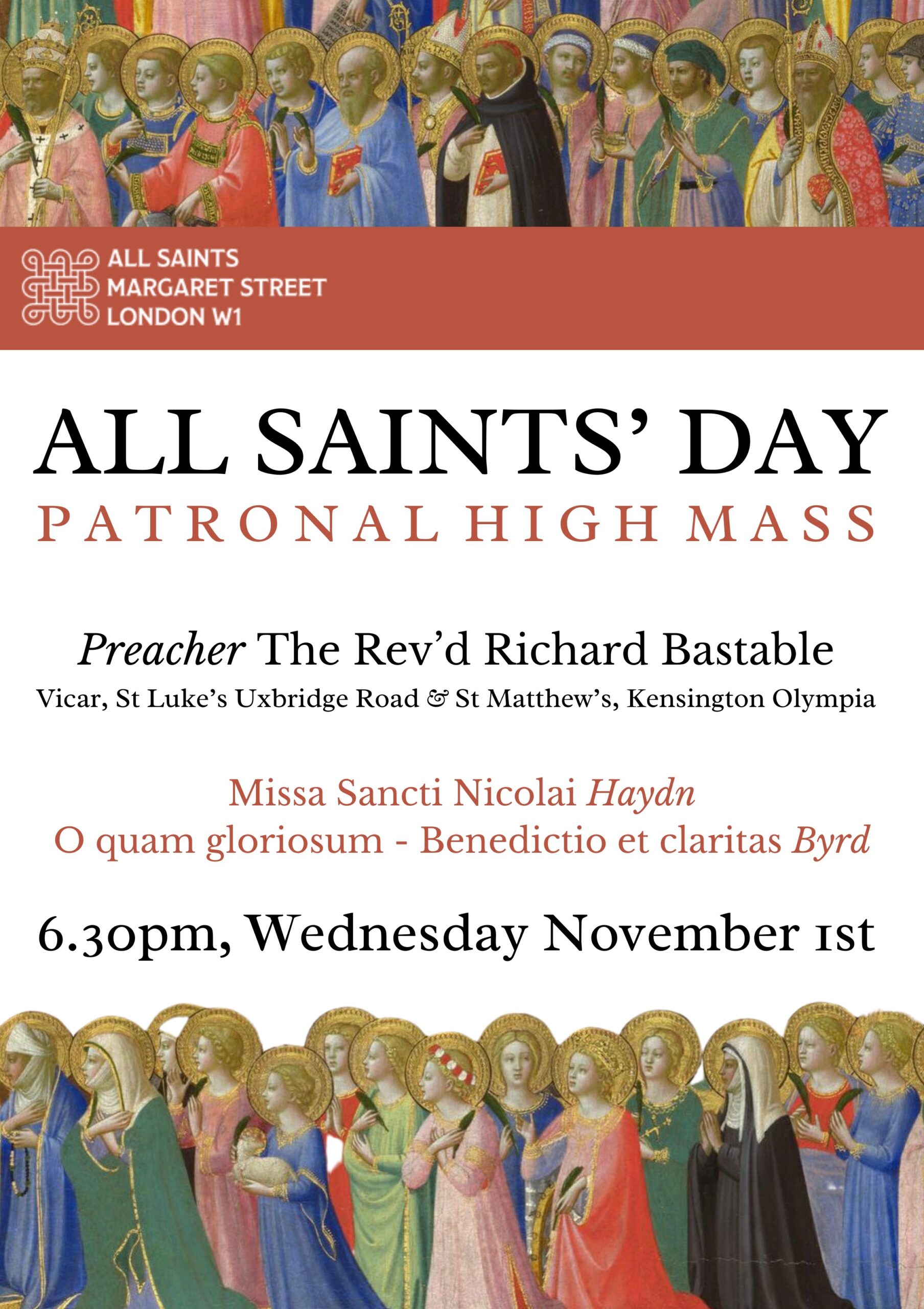 Evensong live-streamed this Sunday
The music at Evensong and Benediction this Sunday (22nd October) will include Sumsion's Evening Service in A and Parry's Never weather-beaten sail.
The liturgy will be offered in memory of Benedict Alois Loidl, and will be live-streamed via our YouTube Channel, so his extended family can participate in Austria.
Please note that Evensong and Benediction will be live-streamed via our parish YouTube channel (here) every week from Sunday 5th November onwards.
Ray Oram RIP
The funeral of Ray Oram will take place on Friday 10th November at 2:00 pm at Enfield Crematorium, Great Cambridge Road, Enfield EN1 4DS.
A High Mass of Requiem will be celebrated at St Magnus the Martyr, Lower Thames Street, at a later date.
There will also be a Low Mass of Requiem celebrated at All Saints' the night before Ray's funeral, on Thursday 9th November at 6.30 pm, followed by a drink in his honour for those present.
Bring and Share Parish Lunch
Please let Kate Hodgetts know if you are able to contribute food to our Bring and Share Lunch on Sunday 5th November, to celebrate our All Saints' Festival Sunday. The more food the better, as we will have many mouths to feed!
Saturday night Vigil Mass
Don't forget that our keeping of the Lord's Day begins with a Saturday evening Vigil Mass at 6.30 pm each week.
If you are going to find it difficult to get to church and have to work or travel on Sunday, you can fulfil your obligation to be at Mass with us on Saturday night.
Visit to the Fo Guang Shan Buddhist Temple
On Saturday 28th October at 3.00 pm a group from All Saints' will visit the London Fo Guang Shan Temple on Margaret Street in order to learn more about our Buddhist neighbours' community of faith. After our tour of the temple, our group will invite our Buddhist neighbours back to the Vicarage for tea together.
The Buddhist community moved into the building at 84 Margaret Street in 1992. Before then, it had been our parish school, and latterly in the 70s the Institute of Christian Studies run by our parish. The building is the work of William Butterfield, dating from 1868-70, about a decade or so after the consecration of All Saints' church.
In order to book a place on the Buddhist Temple visit, please simply email our parish office. There is no charge for this event.
All Saints' Festival Week 2023
Tuesday 31st October – Eve of All Saints' Day
First Solemn Evensong and Benediction of the feast | 6.30 pm
Music: Wood, canticles in Eb no 2 & Byrd, Timete Dominum.
Followed by parish party in church
Wednesday 1st November 2023 – All Saints' Day
High Mass | 6.30 pm
Music: Haydn, Missa Sancti Nicolai & Byrd, O quam gloriosum – Benedictio et claritas.
Preacher: The Revd Richard Bastable,
Vicar, St Luke's Uxbridge Road, and St Matthew's, Kensington Olympia.
Tuesday 2nd November 2023 – All Souls' Day
High Mass of Requiem | 6.30 pm
Music: Fauré, Requiem.
Preacher: The Revd Dr Barry Orford.
Sunday 5th November – All Saints' Festival Sunday
High Mass followed by bring and share parish lunch | 11.00 am
Music: Caplin, Missa Omnium Sanctorum; Victoria, O quam gloriosum.
Preacher: The Revd Alan Rimmer
Solemn Evensong and Benediction | 6.00 pm
Music: Stanford, Canticles in C; Moore, O quam gloriosum, Sumsion, Te Deum; Henschel, Tantum Ergo.
When the English spoke French…
Whilst in Paris for a few days' holiday last week, I had the joy of visiting the Hotel de la Marine, the new home of the Al Thani Collection, for the first time.  It is also the location of a small but impressive exhibition of English Medieval art on loan from the V&A entitled, "Trésors médiévaux du Victoria and Albert Museum: quand les Anglais parlaient français."
Why bother travelling all the way to Paris to see stuff that's routinely on display in London, you might ask?
The exhibition reveals a number of fascinating cultural dynamics at work in the way in which English Medieval culture is perceived outside our isles, and particularly how stubbornly resistant to fact and reason a number of French historiographical prejudices about English culture remain.
The exhibition has been organised by the V&A in order to dispel the commonly held French idea that Medieval England was an unsophisticated, barbarous backwater by comparison with France, the scintillating  and unrivalled centre of gothic culture, architecture and art.
Some of the reasons for this outlook are, of course, ideological. They stem, in part, from the French post-Napoleonic national self-understanding which emerged in the 19th Century at precisely the same time as France was rediscovering the Gothic and exploring its Medieval past.
However, one of the reasons for this prevailing view in France is that so many of the artistic glories of Medieval England were destroyed during the Reformation and later Civil War. There is quite simply much less material available to bear witness to the artistic creativity of Medieval England than there is in French museums and on the French landscape. Our cousins across the Channel relate to their Medieval past and gothic visual culture in a way very different to that which prevails in this country.
The V&A has leant an impressive array of around 70 objects which reveal just how sophisticated English craftsmanship was in the Middle Ages – especially in the two areas for which Medieval England was most famous artistically, namely embroidery and alabaster carving.
However, the only reason most of these objects survive is that they left England before the Reformation and were preserved on the Continent. The Reformation is rightly revealed as a period of cruel destruction and national self-injury that cuts England off from the mainstreams of Christian artistic creativity and, in many ways, increases English cultural insularity.
The famous Clare Chasuble is on display, along with the Syon Cope, both masterpieces of what became known as "Opus Anglicanum" – English embroidery sought and commissioned all over Europe because of its unparalleled quality.
Other outstanding objects include the Gloucester Candlestick – probably one of the finest examples of early Medieval English metal work, which ended up in the safe keeping of the Cathedral of Le Mans.
Further dissemination of British craftsmanship and interest in things English accompanied the dispersal of relics of Thomas Becket throughout Europe in beautifully made caskets, often given to abbeys in France, and decorated with enamel from or inspired by that produced in Limoges.
I was left wondering whether much of the exhibition is, in fact, an only thinly disguised proxy discussion about present day questions to do with tensions brought about by Brexit, the neurotic French relationship to contemporary Anglo-Saxon culture, and the fraught disappearance of a common European Christian culture.
As for the exhibition's title, for as unquestionably widespread as French culture and language was among English ruling Medieval elites, there has never been a period in which one can say uncomplicatedly that the "English spoke French." The title reveals more about how the French want to think about English history than it does about historical fact.
That said, the exhibition rightly draws visitors' attention time and again to the way in which England and France were intimately connected through the whole Medieval age by deep ties of patronage, family, trade, scholarship, monastic life, ruling elites, and a shared Catholic culture; not to mention the fact that enormous chunks of France were ruled by the English Crown for extensive periods – a frequent subject of French amnesia. The large panel in the exhibition gently breaking this unsettling news to unsuspecting Parisians made me chuckle.
To examine Medieval French and English artistic achievements is less to observe two distinct national cultures in which one is superior to the other, than it is to witness an extensive interconnected patchwork of shared cultural traditions, cross fertilisation, dynamic exchange, and a common philosophical and theological outlook informing great creativity, economic vitality and outstanding artistic skill.
Fr Peter
Attendance last Sunday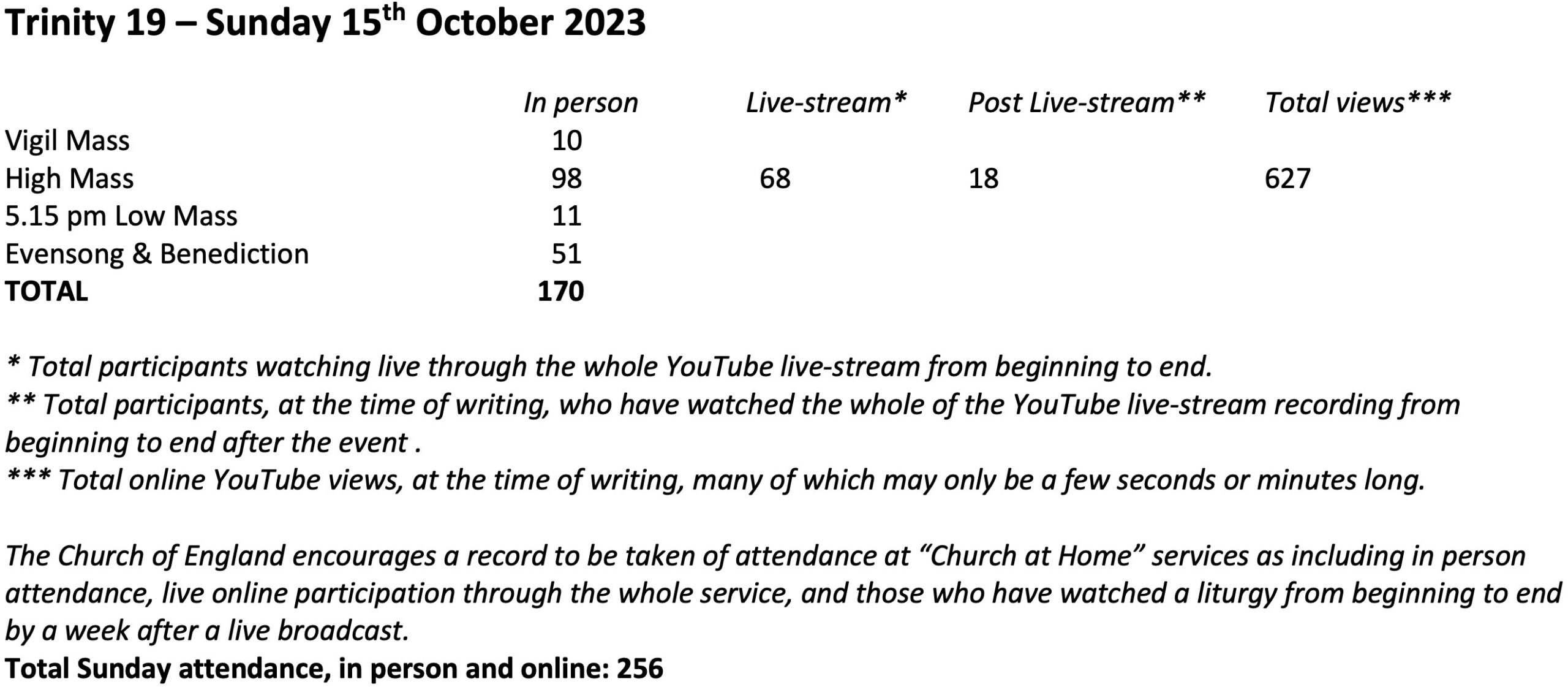 Prayer list
The sick
Fr. Harry Hodgetts, Elizabeth Lyon, Frances O'Neil, Keith Bevan, Roger Dilks.
The faithful departed
Ray Oram, Alan Osbourne, Diane Holley.
Anniversaries of death
22nd – Martin Lawrence Pr
23rd – Roy Prince
24th – Eva Dean, Ron Keating, Peter Laister Pr
25th – Reginald Thompson
26th – Gwendoline Freeman, Joseph Harding
27th –
28th – Dorothy Gartside, William Lloyd Webber, Phyllis Richards, John Gaskell Pr, David Trendell
29th – Sister Dorothy Hilda
The Friends of All Saints'
October 22nd – Simon Rainey, Carlos Remotti-Breton, Mary Sherred, Ingrid Slaughter, Ian and Veronica Summers, Sebastian Taite-Ellis
23rd – Dr James Thompson, Jeremy Thorp, Dr Christine Vaughn-Lillie, Philip Wayne, Fr Benjamin Weitzmann, Michael Westcott, Tim Widdowfield
24th – David Wilcox, Ian A. Wilson, Fr Adrian Berry, Naomi Slippe, Julie Cridland, Fr Peter Roberts
25th – Michael Young, Canon Richard Hanford, Joshua Dolphin, James Shrimpton, Caroll Mundell, Iain Stewart
26th – Fr Paul Ockford, Nigel Lynn, Daniel Fielden, Mark Allan, Stephen Barber, Graeme Bloom
27th – Fr Michael Bowie, Robert Chote, Catherine Clarke, Kirill Dashkovskiy, Suzanna Eaton, Linda Edwards
28th – Carolyn Farrar, Stuart Fletcher, Charlotte Gauthier, Margaret Goddard
29th – Genevieve Gomi, Sheelagh Gudgeon, Canon Jeremy Haselock, Edwin Holmes
Saturday 21st October – Feria
12.00 pm Mass of Requiem
6.30 pm Vigil Mass of Sunday
Sunday 22nd October – Trinity 20
11.00 am High Mass
5.15 pm Mass
6.00 pm Evensong and Benediction
Monday 23rd October – Feria
12.00 pm Mass
6.30 pm Mass
Tuesday 24th October – Feria
12.00 pm Mass
6.30 pm Mass
Wednesday 25th October – Feria
12.00 pm Mass
6.30 pm Mass
Thursday 26th October – Feria
12.00 pm Mass
6.30 pm Mass
Friday 27th October – Feria
12.00 pm Mass
6.30 pm Mass
Saturday 28th October – Ss. Simon and Jude
12.00 pm Mass
6.30 pm Vigil Mass of Sunday
Sunday 29th October – Last After Trinity
11.00 am High Mass
5.15 pm Mass
6.00 pm Evensong and Benediction