Weekly Email – Trinity 5
Friday 2 July 2021
at 13:45
---
Documents
Dear friends,
What does it mean to be a prophet?
In our gospel reading this Sunday, Jesus' ministry is presented as that of a prophet. Jesus is frustrated by the fact that it is in his home town that he receives the most resistance to his ministry and message. 'Prophets are not without honour except in their home town, and among their own kin, and in their own house,' he tells us.
This appears to be a sort of universal axiom in the ancient world that was experienced and repeated by many different teachers and writers. Plutarch, for example, writes, 'You would find that the wisest and most sensible people are little cared for in their hometowns.'
We all know that one of the experiences of growing up is the tension between how our families remember and imagine us, and the person we want to become. Jesus similarly attracts a series of reactions both positive and negative: people are astounded at his wisdom; yet some are also clearly resentful and jealous.
Perhaps part of the issue resides in what it means to be a prophet. We think all too often of prophets as not much more than people who spookily predict the future. A prophet, however, is someone bringing a message from God that requires a response. When prophets of any sort are dismissed it is usually because of the response their message demands rather than the message itself.
The concerns of Jesus' home townsfolk are a bit of a smoke screen. It does not matter really where Jesus' wisdom comes from or who his family is. By worrying about that, they are able to ignore the greater challenge his presence as a prophet brings – the breaking in of God's Kingdom and a call to repentance and transformation of life.
Let us use this Sunday as an opportunity to think about Jesus' prophetic character as something which demands a response from us. Prophecy isn't prediction of the future but rather a challenge for the present. How do we live in such a way that God's Kingdom is seen in our thoughts, actions, and words?
Fr Peter
Online Zoom Theology
I am very pleased to announce a significant addition to the theological teaching and formation on offer at All Saints' in the form of a series of online theology teaching sessions which will begin in September.
One of the discoveries of the past eighteen months has been the immensely creative use of online means of teaching and discussion. Platforms such as Zoom enable people spread across a large geographic area to meet virtually in a way that many have increasingly found helpful.
It strikes me that the dispersed character of our gathered congregation at All Saints' means this is particularly useful for members of our parish community who might sometimes find online interaction more useful and convenient than travelling into town.
Our parish has also experienced extensive interaction with friends of All Saints who live abroad through YouTube broadcasting of our worship. A series of online theology sessions means that our teaching ministry will be available to supporters of All Saints who live in other countries as well.
We are launching, therefore, an online theological teaching session which will take place live once every two months on a Tuesday evening at 7.00 pm. I envisage each session could be recorded so it could be watched after the event by a larger audience. Each seminar will have a particular theme or topic, and will often have a text, film or book as its focus so people can prepare for it.
I want this Zoom theology project to have a strong culture of inclusivity so that all can contribute no matter what their perspective, background, or theological experience. I also want the ideas we discuss to be of real help in people's Christian discipleship rather than just being an exercise in abstract theological confection.
My aim is that with a range of teaching through the year, we can cater for the needs of the large number of people who might want to connect with us and deepen their understanding of the Christian faith as part of our parish community. I urge you to put these dates, outlined below, in your diary and I look forward to meeting you online and hearing your thoughts and ideas and we grow in faith together.
Forgetting and Remembering: does memory make us human?
Tuesday 14th September 2021 – 7.00-8.00 pm
Participants will be asked to watch two recently released films, The Father and Supernova, in preparation for this session. Both films, which will form the focus of our discussion, explore questions to do with dementia and human relationships. How does the Christian tradition respond to the idea of dementia?  How does memory define who we are? How can contribute to debate on this topic in a way that values human life?
Ravenna by Judith Herrin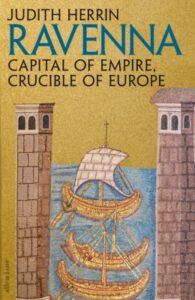 Tuesday 16th November 2021 7.00-8.00 pm
This theology session will be led by Fr Peter Anthony and will discuss Judith Herrin's recently published history of Ravenna.
It will follow on from the study day we will be holding on the history of Ravenna which will have taken place on Friday 29th October, at which Judith will be speaking.
This online session will offer an opportunity for people to discuss Prof Herrin's book in greater detail and depth, and to mull over what we learned from the study day. The history of this extraordinary city teaches us so much about the history of Europe and the role the Christian faith has had in moulding its culture and politics.
'Damned by our Knowledge': English religious anxiety in Graham Greene.
Tuesday 18th January 2022 – 7.00-8.00 pm
'The trouble is, he thought, we know the answers – we Catholics are damned by our knowledge.'  (The Heart of the Matter) A presentation by Fr Michael Bowie on the work of Graham Greene, drawing particularly on material from the novels, The Power and the Glory, The Heart of the Matter and The End of the Affair.
Looking East in Winter by Rowan Williams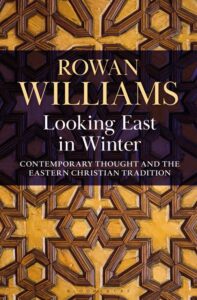 Tuesday 15th March 2022, – 7.00-8.00 pm
This session will discuss our Holy Week preacher, Rowan Williams' new work on Russian and Eastern theology.
Described as, 'an original and illuminating vision of a Christian world still none too familiar to Western believers and even to students of theology,' we will explore how 'the deep-rooted themes of Eastern Christian thought can prompt new perspectives on our contemporary crises of imagination and hope.'
Archbishop Rowan begins with sources such as the great spiritual anthology, the Philokalia, explores some of the great Russian thinkers of the nineteenth and twentieth centuries, along with the challenging theologies of modern Greek thinkers like John Zizioulas and Christos Yannaras.
Cathedral by Ben Hopkins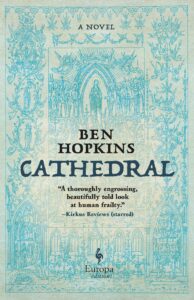 Tuesday 17th May 2022, – 7.00-8.00 pm
This theology session will explore novels about the building of cathedrals. We will focus on Ben Hopkins' new historical novel, Cathedral.
We will compare this with other similar works such as Golding's The Spire, Huysmans' La Cathédrale, and Ken Follet's The Pillars of the Earth.
What is it about great buildings that seem to speak beyond themselves about the divine and the power of human creativity? How do churches operate as sacraments of God's presence and why do they feel so necessary for the offering of Christian worship?
Mass in German at All Saints
I announced plans last week for a new venture at All Saints focussed on establishing a new worshiping community for German speakers. It would be good to know if there are any German speakers amongst the All Saints congregation who might like to support this project, and anyone with ideas for how this might proceed. There will be a meeting on Thursday 8th July at 7.00 pm by Zoom (https://us02web.zoom.us/j/83589325149) to discuss this idea. If you can't make that date, do just drop me an email and let me know of your interest or any thoughts that you might have.
Fr Peter
Links for Sunday
The link for the Propers for Trinity 5 is at the top of this email.
And click here for the YouTube live stream.
Evensong and Benediction is at 6pm. The music includes Bairstow in G, Rheinberger Abendlied, Rachmaninov O salutaris and Tantum ergo. The service is not live-streamed.
Flowers
If you would like to make a donation for flowers, please contact Shawn on 07988 287 663 or shawnwilbe@outlook.com or speak to Chris Self.
Walsingham Devotion
Tomorrow week our monthly Walsingham Devotion, in the form of the Rosary with intercessions, will be offered at 1130 before the noon Mass.
Prayer list
Prisoners and captives
Nazanin Zhagari-Ratcliffe, Ismaeil Maghrebinejad, Nasrin Sotoudeh
Maira Shabhaz
Rohingya Christians in Pakistan and Karen Christians in Burma
The sick
David Fettke, Joan Cooper, Vallery Tchukov, Sara Vice, Katherine Lee, Lorna Smith, Beth Klausing, Hilary Porter, Bruce Ross-Smith, Benjamin Woolf, James Shrimpton, Tony Rodger, Rachel Pereira, Fr Michael Gudgeon, Chris and Carole Radley, Fr Harry Hodgetts, Rosemary Orr, Andrew Roger, Martin Berka, Barbara Schiefer, Joan Anna SLG, Phil Gibbs, Poppy Harris, Sheila Wood, Jennifer Spreckley, Sue Yesnick, Elizabeth Lyon, Rosina Sargon Eskrya, Fr Charles Cloughen, Malcolm Brown, Fr Pip Bevan, Tim Knight, Hillary Rodger, Geoff Vardy, Fr John O'Brien, Michael Adam
Those known to us recently departed
Joan Halley, David Laing, Jim Peschek, Theresa Bahemuka, Tessa SLG, Rob Scott-Mitchell
Anniversaries of death
3rd – Kenneth O'Ferral Pr, Barbara Brentnall, John Pearce
4th – Emily Davis, Marie Padley
5th –
6th – Philip Smith, Molly Mather
7th – Lucy Wentworth-Reeve, Wilfred Burling
8th – Tom Sanders
9th – Doreen Davis, Grace Harrison, Pat Hunt
Supporting All Saints
Parish Giving Scheme
You can set up a regular donation to All Saints here.
We use the Parish Giving Scheme, which allows contributions to be anonymous and deals with Gift Aid, saving our office a lot of time. You can read about how the scheme works here.
Donations for general church purposes
To give by BACS please use the following details, advising the Administrator to collect Gift Aid:
PCC All Saints (Charity no. 1132895)
Sort Code 60-09-15
A/C 04559452
Parish Legacy Policy
We are always delighted to hear from anyone who wants to support us with a donation. Our PCC Legacy Policy encourages people to leave bequests specifically to one of our two related charities to be used for purposes of lasting value (rather than day to day costs):
All Saints Choir & Music Trust (Charity # 802994)
or The All Saints Foundation (Charity # 273390).