Weekly Email – Trinity 8
Friday 28 July 2023
at 13:45
---
Documents
Dear friends,
A group from All Saints' has just returned from a pilgrimage at the Shrine of Our Lady of Walsingham last weekend. We had a wonderful time of renewal and reflection, prayer and worship, fellowship and fun together. It has been a hugely encouraging weekend and I would encourage anyone who has never been to Walsingham before to consider joining us next year.
A pilgrimage is an opportunity to take time away from the regular patterns and business of every day life in order to make a journey to a holy place. The intention of that joinery is to find God and to draw closer to him. In that way, a pilgrimage echoes and encapsulates the human journey through life to God, the source and end point of our existence.
The purpose of the Shrine of Our Lady of Walsingham is to proclaim the truth of the incarnation – the fact that of became man in the womb of the Virgin Mary. The story that accompanies the Shrine's foundation revolves around the local lady of the manor, Richeldis de Faverche, having a vision of Our Lady in 1061. Our Lady showed her the Holy House in which she lived with Jesus and Joseph and encouraged Richeldis to built a replica, so pilgrims in England could reverence it.
The original shrine was destroyed at the Reformation, but in the 1920s, devotion to Our Lady of Walsingham was revived by the local vicar of Walsingham, Fr Alfred Hope Patten, and a new shrine was eventually built by him.
A pilgrimage weekend consists of activities which we do together as a parish group such as Stations of the Cross, and bringing our intercessions and pilgrimage intentions to God in the Holy House.
Other activities take place with all the other pilgrims who are present, such as the Saturday evening Pilgrimage Mass, or the Procession of  Our Lady on Saturday night and of the Blessed Sacrament on Sunday afternoon.
There is also time for rest and relaxation. A number from our group went off on the Saturday afternoon on a lovely tramp through the Norfolk countryside, visiting medieval churches, whilst others simply had a nice afternoon pottering around the village or relaxing in the shrine gardens.
Our parish weekend pilgrimage next year will take place over the weekend of 19th-21st July. We will set off in the afternoon of Friday 19th July in order to arrive in Walsingham in time for dinner, and return to London on Sunday evening. (There will remain an option for remaining until Monday for those wish to).  The cost for Friday to Sunday next year is £200 (£280 for Friday to Monday). Please be in touch with our parish office to book your place as soon as possible.
I pray next year's pilgrimage will be as joyful a time of renewal and rejuvenation as this year's was, and I encourage anyone who has never been to Walsingham to think about joining us!
Fr Peter
Parish barbecue: Sunday 27th August
On Sunday 27th August, all parishioners are invited by John McWhinney and Paul Weston to share a barbecue in Wapping where their boat is moored at Hermitage Moorings (16 Wapping High Street, E1W 1NG). The barbecue will cost £15 per head (to be paid in cash on the day) and participants are asked to bring a bottle.
Mystagogy Course
Our mystagogy course is an opportunity for newer Christians – and those seeking to re-new their engagement with the Faith – to come together over some classic Christian texts, varying in subject and register.
There will be five sessions through the autumn of 2023, involving discussion over a simple supper at Number 6, Margaret Street, after the 6.30pm Mass. We will wrap up by 9pm. The topics for discussion will include: Augustine's Confessions; Sarah Coakley's "The New Asceticism"; the Catholic Revival in the Church of England; Evelyn Underhill; and Dom Gregory Dix's great work, "The Shape of the Liturgy."
The expectation is that those who sign up commit to attendance at all the sessions – we'd like this to involve a sense of momentum and growing together as we study different areas of Christian life, mindful too of our identity as Anglo-Catholics within the Church. Full details of dates and topics can be found  here.
Young Adults Group
Fr Alan is organising two events for our younger parishioners over the coming weeks.
On Saturday 19th August there will be a hiking trip to Lewes and the South Downs. The walking trip will leave London around 10 am and last most of the day, returning in the early evening. Please be in touch with Fr Alan if you are interested in going.
On Thursday 7th September Fr Alan will host a dinner for our younger parishioners at his home from 7.00 pm. Please email him if you would like to attend.
Virtual Coffee Hour
There will be three Sunday morning "Virtual Coffee Hours" through the autumn at 12.30 pm on the following Sundays: Sunday 3rd September (Zoom link here); Sunday 8th October (Zoom link here); Sunday 19th November (Zoom link here).
The idea behind this is simple: if you are an online worshipper, grab a cup of coffee and join us online via Zoom for a chat and catch-up directly after the end of the High Mass.
Parish Outings: Autumn 2023
A range of parish outings are planned for the autumn: a visit to the London Cartoon Museum on Thursday 5th October at 7.00 pm; a parish cinema trip to see the film "The Miracle Club" on Saturday 7th October; and a visit to the London Fo Guang Shan Temple on Saturday 28th October at 3.00 pm.
Full details can be found here. Please be in touch with our parish office to book your place.
My pilgrimage to Walsingham
Thomas Moller, who came on pilgrimage for the first time this weekend, reflects on his experience of Walsingham: 
A hearty group of us set off from London's Kings Cross destined for the deepest darkest depths of Norfolk, in pursuit of England's Nazareth, to go on pilgrimage to the shrine of our Lady of Walsingham. After a very smooth journey, we arrived in the heart of England's pilgrimage scene and after settling into our rooms, we were treated to a beautiful Requiem Mass by Fr Michael Gudgeon in the Guild of All Souls chapel.
This set the tone for the remaining three days at the Shrine with a mixture of: Masses, processions, sprinkling and Benediction to name but a few lead by: Fr Peter, Fr Alan and the fellow Shrine Priests.
It was wonderful that these services took place all across Walsingham in various places: chapels, the Holy House, the Parish church and the shrine church itself. This allowed a really good opportunity to experience the full wealth of the spiritual dynamic within this holy part of the world (and helped to allow a first-timer to tick many locations off the bucket list!)
As well as being in Walsingham, it was a real delight to be able to explore the surrounding area. Fr Alan lead us on an excellent 6 mile circular walk from Walsingham to Hindringham and we were also able to visit the Catholic National Shrine & Basilica of Our Lady of Walsingham.
The shrine, village and surrounding areas have so much to explore and see that really one visit isn't enough. This does, however, give an excellent excuse to return (although I'm assured by Fr Alan that even after 20 visits there is still a clear need and longing to return to Walsingham time and time again).
As one of the Friends of All Saints, it was wonderful to be able to travel with such a warm welcome from everyone at Margaret Street and to be able to pray for the Parish of All Saints' as well as my home parish, St Peter's, Filton (a town 5 miles north of Bristol).
I write this reflection on the train back to London with Fr Peter sat in front of me fast asleep filled with the Holy Spirit after a very spiritually fulfilling weekend!
The date for the pilgrimage next year is already in my diary and I already look forward to returning in 2024 to be renewed once more by Walsingham's incredible holiness. I would encourage anyone who has never made their pilgrimage to Walsingham, those who haven't visited in several years, or those who are unsure if pilgrimage is really necessary to take the plunge and put the date for the 2024 pilgrimage in your diaries (I can assure you won't be disappointed)!
Thomas Moller
Assumption procession stewards
We need volunteers who are able to act as stewards for our procession of Our Lady on Sunday 13th August at 6.00 pm. The role involves wearing a hi-vis vest and making sure the outdoor procession is safe and happy for all those involved. Full training in provided for all involved. Please be in touch with Chris Swift or the parish office.
North American Zoom Cocktail Hour
There will be an opportunity for our American and Canadian online worshippers and Friends to connect and catch up on Sunday 20th August at a time that takes account of the time difference between England and North America. This will be at 10.00 pm GMT, which should be 5.00 pm Eastern Time, and 2.00 pm Pacific Time.
If you are an online worshipper or a North American Friend of All Saints', simply join us online where one of our clergy will be present for chat and to hear news from anyone who wishes to share it. The slightly later hour prompted us to think it wouldn't be too early to come to the computer screen with a cocktail, but please feel free to drink whatever you want! The Zoom link is here.
Join us as we seek to get to know each other better and nurture the links we have with one another across continents.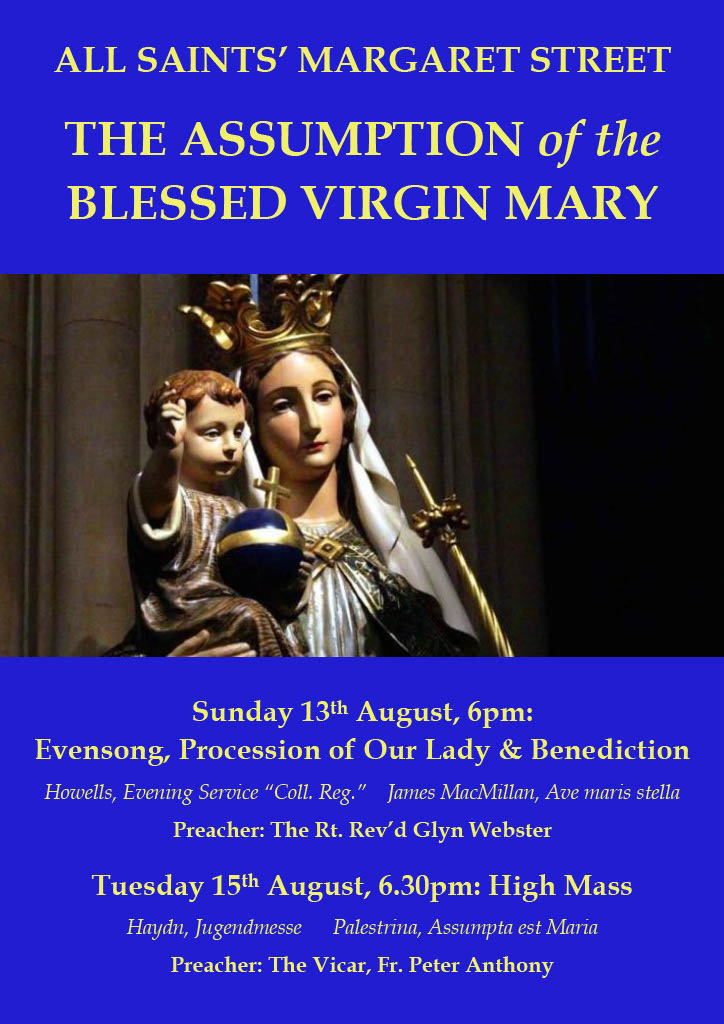 My faith journey
We complete a series of articles which began in Eastertide, in which our candidates for baptism and confirmation share their journey of faith. We hear this week from Josh Uren, who was baptised and confirmed at the Easter Vigil: 
I grew up in a non-practising, but culturally Christian family and I was extremely lucky to have attended an Anglican school which offered a deeply immersive experience of Christian life. It was not so much taught as lived out in the culture and ethos of the school each day.
However, my experience of secondary education was, I suspect, far more typical of most young people today. Religious faith, if discussed at all, was to be approached in an almost clinical manner, largely separated from us by distance or time. Therefore, I entered adulthood with a keen interest in the church as piece of English history but a general disregard for anyone who actually professed its faith.
Despite this, over the following years I felt a continuous desire to learn about and explore the Christian faith. In the final year of my undergraduate studies in London, I began to move beyond reading, lectures, or contemplation towards prayer and practice.
After exploring a number of churches in London over the following year I happened upon All Saints'. I knew from the reverence and richness of its liturgical practice and its respect for the traditions of the faith that it was the place for me. This belief has only been enhanced by the warm and welcoming community which supported me in my journey to baptism and confirmation.
I'm so grateful to everyone at All Saints' and I look forward to engaging further with parish life in the coming months and years.
Attendance last Sunday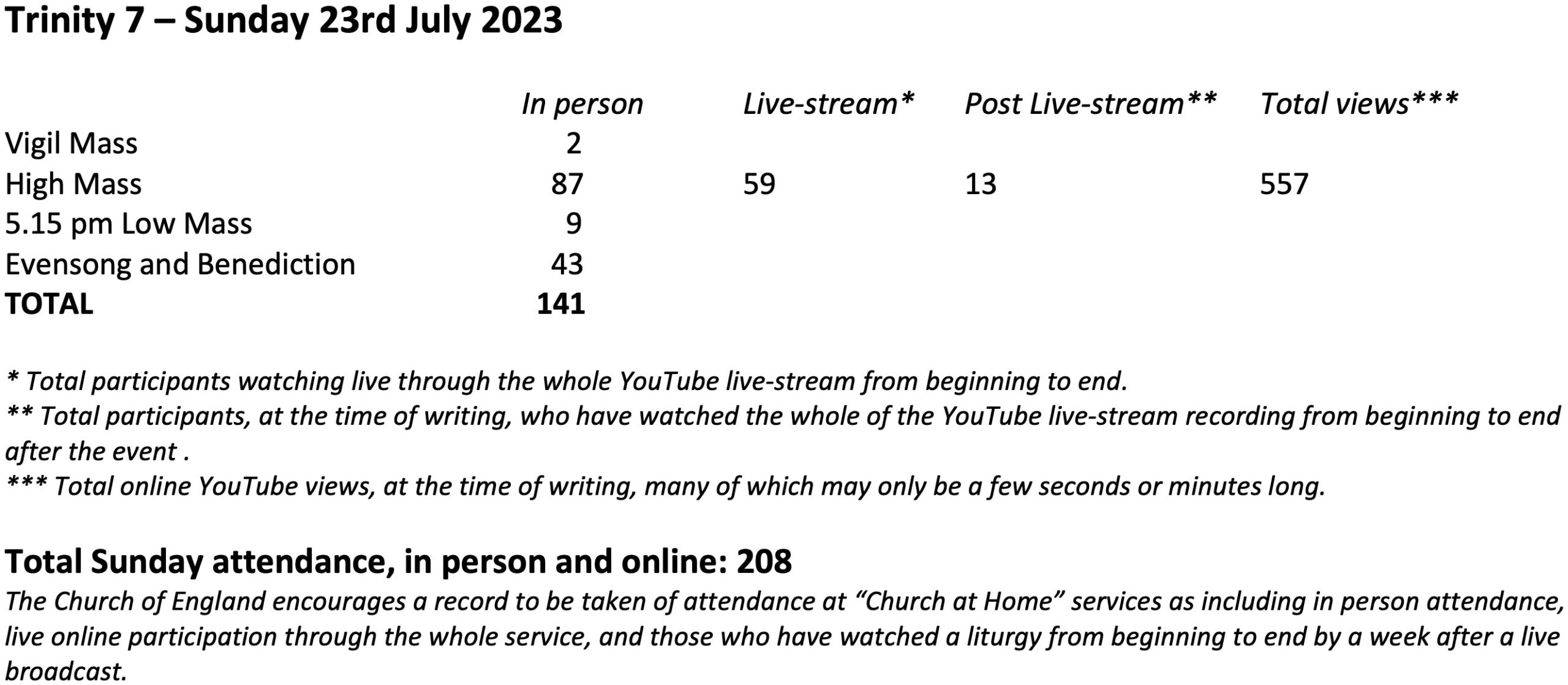 Links for Sunday
The links for the livestream and service sheet for this Sunday's High Mass are at the end of this email.
Evensong and Benediction takes place at 6pm this Sunday. Music will include Gabriel Jackson's Truro Service and Parry's My soul, there is a country.
Prayer list
The sick
Fr. Harry Hodgetts, Amanda Barrett, Martin Berka, James Rodger, Elizabeth Lyon, Ray Oram, Roy Breare, Priscilla Oakeshott
The faithful departed
Betty Whitaker, Pauline Hind, Valentina Kaidalova
Anniversaries of death
July 30th – George Maryon-Wilson
31st – John Gardner, Francis Woodlock, Margery Duce
August 1st – Winifred Cratherne
2nd – Patrick Watmore, Sara Stevens, Eva Spencer
3rd – Harriet Brownlow (Mother Foundress)
4th – Donald Scott, Mona Morgan
5th – Julian Davies
The Friends of All Saints'
July 30th – The Sisters of All Saints' Margaret Street
31st – Friends in special need
August 1st – Mark Allan, Martin Amherst-Lock, Mary and Stephen Attenborough, Richard Ayling, James Babington Smith, Ruth Baker
2nd – Stephen Barber, Dr. William Benefield, Fr. Adrian Berry, Charlotte Black, Graeme Bloom, David Blunden, Colin Bodkin
3rd – Fr. Michael Bowie, John Bristow, Eric Broglé, Fr. Julian Browning, Kate Burling, Graham Burns
4th – Maureen Cambrey, Adrian Carlton-Oatley, Kate Charles, Stuart Chillingworth, Robert Chote Sandy Christian
5th – Roger Clark, Catharine Clarke, David and Mavis Cleggett, Graham Colville, Alan Cook, Patrick Cook
Service times this week
Saturday 29th July – Ss. Martha, Mary and Lazarus
12.00 pm Mass
6.30 pm Vigil Mass of Sunday
Sunday 30th July – Trinity 8
11.00 am High Mass
5.15 pm Mass
6.00 pm Evensong and Benediction
Monday 31st July – St. Ignatius
12.00 pm Mass
6.30 pm Mass
Tuesday 1st August – St. Alfonso Maria de' Liguori
12.00 pm Mass
6.30 pm Mass
Wednesday 2nd August – St. Julian Eymard
12.00 pm Mass
6.30 pm Mass
Thursday 3rd August – Feria
12.00 pm Mass
6.30 pm Mass
Friday 4th August – St. John Vianney
12.00 pm Mass
6.30 pm Mass
Saturday 5th August – Feria
12.00 pm Mass
6.30 pm Vigil Mass of Sunday
Sunday 6th August – The Transfiguration
11.00 am High Mass
5.15 pm Mass
6.00 pm Evensong and Benediction