Weekly Email – Trinity Sunday
Friday 2 June 2023
at 13:45
---
Documents
Dear friends,
In the days after Pentecost a number of beautiful feasts and commemorations draw us ever more deeply into the mystery of the Godhead and the joy of the Gospel.
This Sunday, we celebrate the feast of the Holy Trinity. As the Paschal Cycle of the Christian year comes to its conclusion, the church rejoices that our keeping of Easter shows God has revealed to humanity the very character of his being. We know him as our loving Father, who gave his Son for our salvation, both of whom send the Holy Spirit to live in our hearts and renew creation.
The Trinity is not a complicated, impenetrable puzzle, but rather a beautiful mystery that we are drawn ever more deeply into in this life, in the hope of sharing in the divine life of the Trinity face to face in eternity after our earthly life is over. We rejoice in the theological paradox that God is one – a perfect, undivided unity; and yet at the same time a community of three persons, sharing the same substance, indwelling each other, and united in love.
Our celebration of Trinity Sunday will include Josef Rheinberger's Mass in E-flat "Cantus Missæ" at the 11.00 am High Mass, along with Tchaikovsky's Hymn to the Trinity as the Offertory Motet. For Evensong and Benediction, the office will be sung to Byrd's Second Service, with Sheppard's Libera nos, salva nos as the anthem.
On the Thursday after Trinity Sunday (i.e. Thursday 8th June ), we keep the feast of Corpus Christi. The principal commemoration of the Institution of the Eucharist is, of course, Maundy Thursday. However, the Church gives us this second eucharistic feast at the end of Eastertide as a way of pondering in greater depth the beauty of the gift which Christ gives to us of his Body and Blood.
By the Medieval period, the custom had arisen to organise processions of the Blessed Sacrament as a way of celebrating this feast. We, too, will take the Lord out into the streets of London as part of our celebrations. Our procession is both an act of witness proclaiming the presence of Christ's Church in our city, but also a loving display of Christ's love for each and very person who sees us.
As we make our way joyfully along the processional route, we become an image of the Church – God's pilgrim people making their way through life in the company of Christ, who is sacramentally present in our midst.
The music will be splendid for Corpus Christi. The Mass will be sung to Mozart's Spatzenmesse and the Offertory motet will be his Ave Verum. There will, of course, be that favourite of so many parishioners, Henschel's Tantum Ergo at Benediction. We very much look forward to welcoming Fr Philip Warner, the Rector of St Magnus the Martyr, London Bridge, as our preacher.
I urge you to make the best effort you can to be present with us on Thursday 8th June to celebrate God's love made visible in the Mass and to proclaim our faith to those around us in the West End.
Fr Peter
Corpus Christi video
We have just released a wonderful short video on social media aimed at attracting interest in our Corpus Christi procession.
The video itself is now available on all our social media platforms: Facebook here; Twitter here; and Instagram here.
Could we ask parishioners and friends on social media to "like" and "share"/"retweet" the video?
It is a really important part of our Christian discipleship to witness to Christ in all areas of our life, including online, and sharing this video would be an immense help in raising awareness of our celebration of Corpus Christi.
Corpus Christi stewards
We desperately need more volunteers to be stewards during our Corpus Christi procession of the Blessed Sacrament on Thursday 8th June.
The role involves wearing a "hi vis" vest, guiding the procession whilst it is outside the church along its route, and ensuring the safety of all present. A thorough briefing if given to all volunteers before the procession so everyone knows what to do. Please be in touch with the parish office if you feel you could help in this role.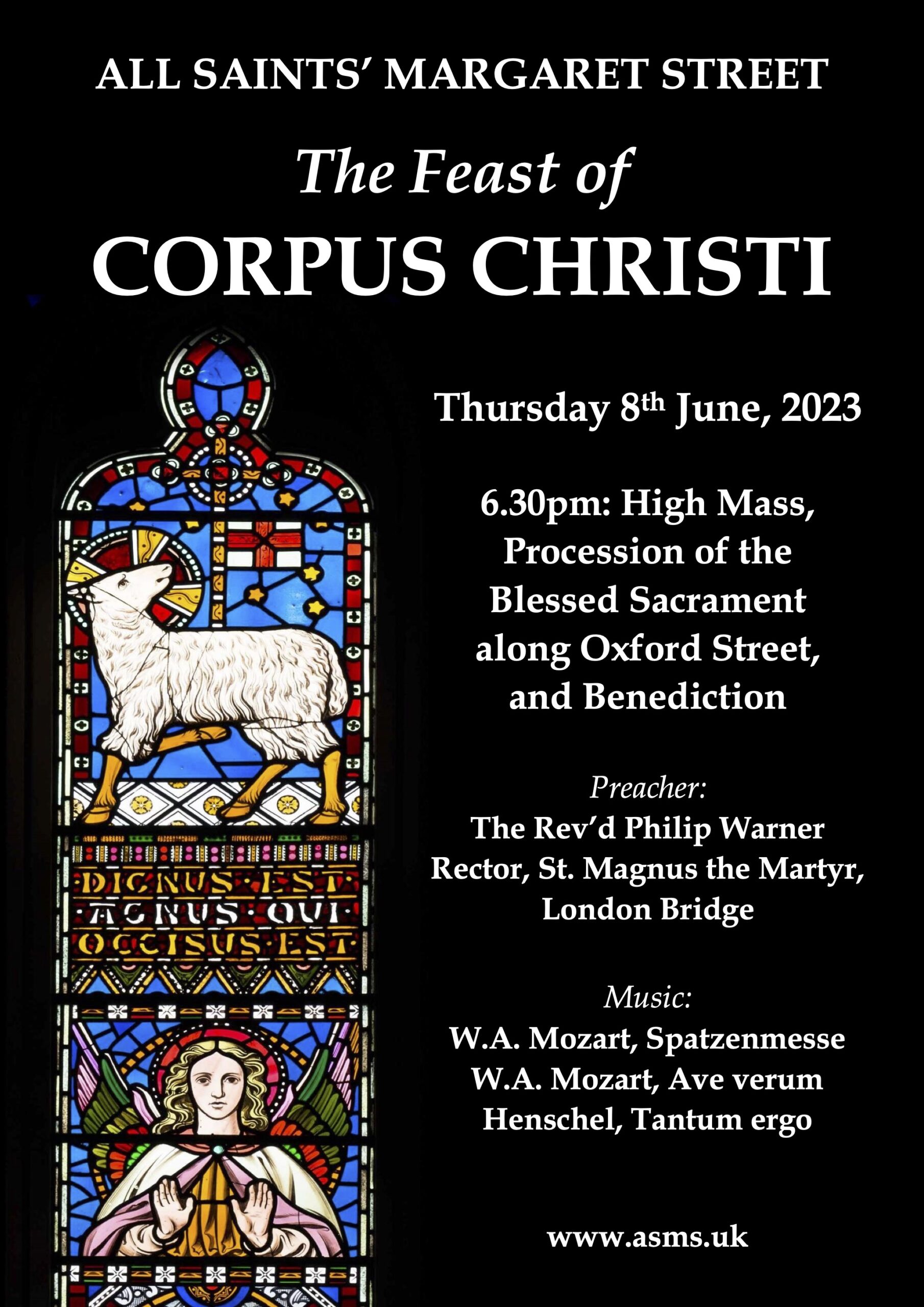 National Pilgrimage to Walsingham
A group of pilgrims from All Saints' made its way to Walsingham on Monday for the National Pilgrimage. We had a wonderful day, blessed by beautiful sunshine and a joyful atmosphere of prayer and devotion.
We shared a bus with pilgrims from Holy Cross, Cromer Street, and St Luke's, Uxbridge Road, and after an early start arrived just in time for the Pilgrimage Mass which takes place in the old Abbey grounds at 12 noon.
As the procession brought the image of Our Lady of Walsingham into the Abbey grounds, we were so pleased to see Aiden Hargreaves Smith in the procession as a Guardian for the first time, dressed in his blue guardian's mantle.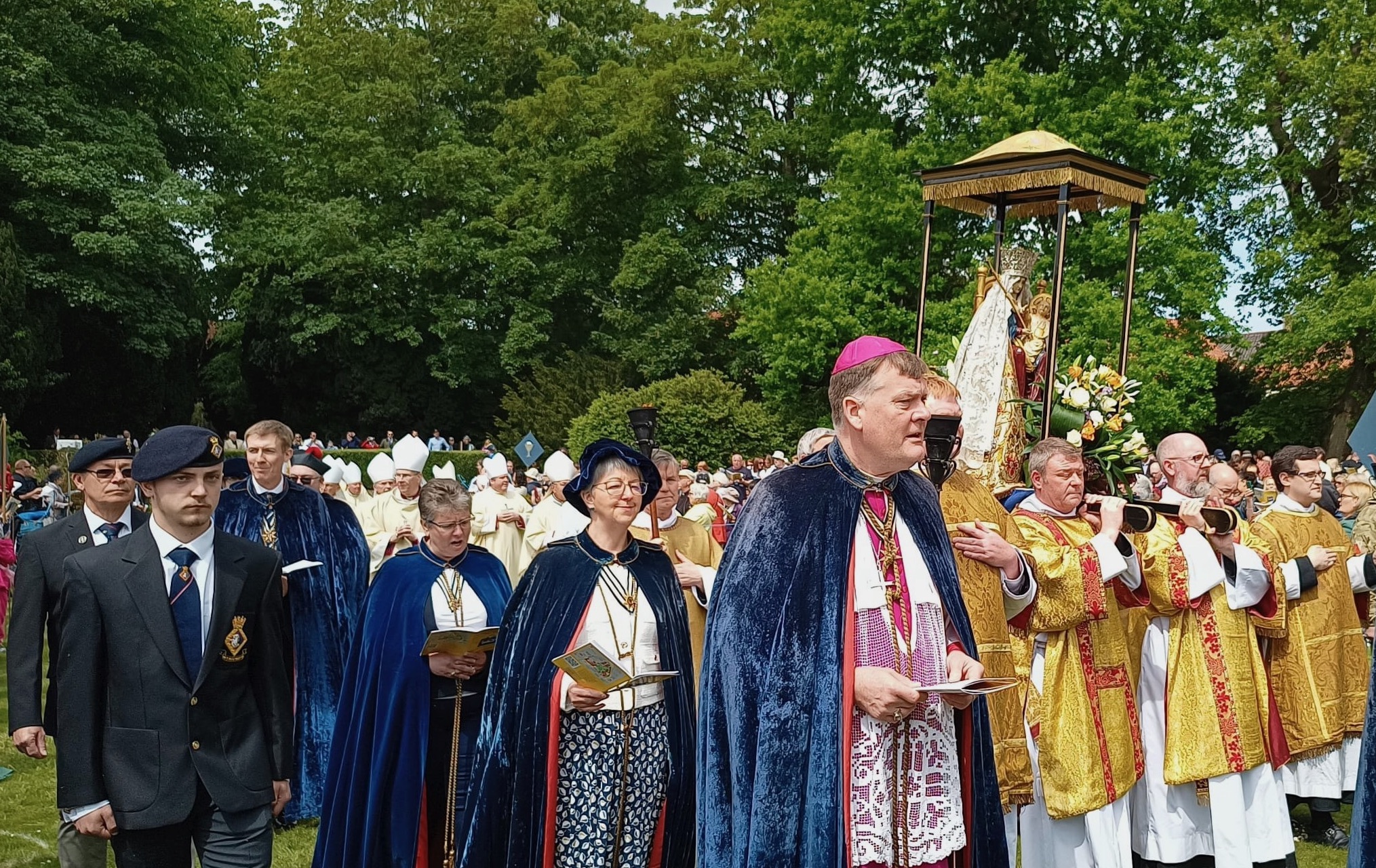 The Mass was followed by time for a picnic lunch.  One innovation this year was that the Shrine had organised a beer tent and barbecue in the Shrine grounds which was terrific!
The afternoon devotion included an excellent homily from Bishop Norman Banks about the nurturing, heavenly motherhood of Our Lady. There then followed a wonderful procession in the afternoon sunshine through the Abbey grounds, down the village High Street, and back to the altar constructed under the Abbey arch for Benediction, which was celebrated by the Bishop of Fulham.
With 45 minutes left before the departure of our coach, we managed to glug down a pint of Norfolk ale from the splendid new beer tent, before making our way back to the metropolis tired, but happy to have spent such a lovely day praising God in the company of Our Lady and so many fellow pilgrims.
Next Zoom Theology Seminar cancelled
We regret to inform you that our next online Zoom Theology seminar has had to be cancelled as our speaker is, for a number of reasons, no longer able to be with us on that day. We apologise for the disappointment this will cause those who regularly participate.
We are in the process of assembling our Zoom Theology programme for the next "academic" year and will re-commence in the early autumn.
Weekend pilgrimage to Walsingham
Do not forget to sign up for our weekend pilgrimage to Walsingham which takes place in a couple of months' time from Friday 21st July to Monday 24th July 2023.
Cost: £270 Friday to Monday; or £190 Friday to Sunday evening (including full board plus mini-coach from Kings Lynn – pilgrims need to book their own train ticket to Kings Lynn).
Our weekend pilgrimage away involves a range of activities and liturgies spread over a Saturday and Sunday: Pilgrimage Mass at the Shrine Church; evening processions; sacraments of healing; sprinkling at the holy well and finishing with procession of the Blessed Sacrament and Benediction.
We are aware that including Monday in the time we are away might not be convenient for those who work. We have decided, therefore, to offer two deals: one for those who wish to come home on Sunday night and one for those who want to come back on Monday.
Please be in touch with our parish office to book your place.
Living London History blog
All Saints' has been the focus of an excellent short film made by the blogger who runs the Living London History blog. It is available on most of our social media platforms and is well worth a look. You can find it on Facebook here, Twitter here and Instagram here.
APCM election results
We are grateful to all those who have served in various capacities on our PCC during their terms of office. We follow the convention that members of our electoral roll can serve two consecutive terms of three years and must then step down from membership of the PCC for at least one year.
At the Annual Parochial Church Council, the following stepped down at the end of their two terms:  Judith Mather; John McWhinney; Keith Postance; and Geoffrey Woodcock. In addition, Martin Amherst Locke decided to step down from the PCC before the end of his term, and Richard Everton was filling a one year term vacated by someone else last year and was, therefore, eligible to stand again.
The following individuals, therefore, were elected to the PCC at the APCM filling the six empty places: Rosamond Clayton; Richard Everton; Robert Mason; Carlos Remotti-Breton; Simon Rainey; Shawn Welby-Cooke. Because one of the places was a half served term (that vacated by Martin Amherst Lock), one individual was randomly chosen by lot to serve a term of one year rather than three, which ended up being Richard Everton.
We also elected two new deanery synod representatives. These individuals represent us on the deanery synod, but also become ex officio members of the PCC. Our allocation of deanery synod representatives has recently gone down from three to two because of psephological changes in the synod and our electoral roll. Janet Drake, Francis O'Neil, and Cedric Stephens stood down after many years of faithful service in this capacity. In their place we elected Keir Martland and Samantha Parker as our new deanery synod representatives.
We thank our new PCC members for their willingness to serve in this important role, and assure them of our prayers and best wishes.
Visit to the National Gallery
A group of parishioners from All Saints' made their way to the National Gallery last Friday to see the new exhibition on the image, role and depiction of St Francis.
We were exceptionally honoured to be given a tour of the exhibition by the Director of the Gallery, Dr Gabriele Finaldi, who has personally curated the show. His commentary was fascinating and we are hugely grateful to him for the time he devoted to showing us the collection of images he has so skilfully brought together.
The exhibition itself is essentially an exercise in what one might describe as "reception history". By that I mean an examination of the way in which the image of St Francis has been portrayed, developed and formed by different artists and cultures over the years since his life in the 13th century.
The exhibition reveals the different facets of Francis' life that people have latched on to, been drawn towards, and the ways in which his life and teaching are still used by many as a lens through which to examine a wide range of contemporary issues.
At the heart of the first sections of the exhibition is a beautiful rotunda in which a series of Sienese panels by Sassetta dating from 15th century portray the biography of St Francis. Here we see a series of incidents which will be portrayed time and again through art history: Francis' rejection of the world and conversion; his setting up of an order of mendicant friars; his encounter with the Sultan of Egypt; the story of the wolf of Gubbio; and, most famously, his reception of the Stigmata.
Sassetta's use of perspective and proportion prompt a restraint and clarity in this cycle of images that give them a wonderfully studied, architectural feel – yet he also succeeds in revealing moments of intense emotion through the gaze, facial expression and movement of the figures involved.
Later rooms explore the way in which the figure of Francis is then used by artists perhaps less interested in recounting the cursus of his biography and more intrigued by presenting him as an individual mystical figure, and revealing his inner world.
The images in Room III from the 16th and 17th centuries were simply transfixing. In different ways, the interior life of Francis comes to the fore and is expressed in magnificent paintings by breath-taking greats such as Carravaggio, El Greco and Murillo.
Two of my favourite discoveries in that room, however, were by Pourbus and Ribalta. Pourbus' acumen as a portrait painter allows him to draw us close to the psychological reality of Francis' experience of the Stigmata through an enchanting depiction of facial expression; whilst Ribalta's painting presents the ecstatic Francis as caught between two world – almost like a dead bed scene.
As the exhibition proceeds, other areas of Francis' life are explored such as his connection with wildlife and the created order. This realm of ideas connects viscerally and immediately with post-modern concerns about the environment and a range of more modern images explores this. The room is filled with bird song, which Dr Finaldi told us he had made sure was recorded in Italy to ensure it was genuine Umbrian chirping!
The final room explores the power of artefacts and relics to communicate the message and presence of St Francis just as much as art. There we see a reliquary containing one of St Francis' habits, along with a horn which was given to Francis by the Sultan of Egypt.
These objects resist categorisation: part historical artefact; part object of devotion; part artistic inspiration. Their relationship to the other images in the room is complex. Art and artefact come together in conversation to communicate the story and spirit of Francis. The combination of the baroque reliquary containing Francis' tunic with an example of "arte povera" by Alberto Burri is particularly inspired and interesting.
This exhibition really is a triumph and Dr Finaldi is to be congratulated on this magnificent achievement. He uncovers and explores so many fascinating and complex facets to the shifting image of St Francis. He is clearly deeply at home both in the realm of art history, but also of theological discourse, and the life of faith.
If you were not able to join us on Friday, I urge you to make time to visit the exhibition. Do not forget that one of its greatest virtues is that entrance is completely FREE!
Forthcoming Guest preachers
Thursday 8th June – Corpus Christi
High Mass, Procession and Benediction | 6.30 pm
The Revd Philip Warner,
Rector, St Magnus the Martyr, London Bridge.
Sunday 11th June – Trinity 1
High Mass | 11.00 am
The Revd Dr Matthew Olver,
Associate Professor of Liturgics and Pastoral Theology,
Nashotah House, Wisconsin, USA.
Sunday 13th August 2023 – Assumptiontide Procession
Evensong, Procession of Our Lady and Benediction | 6.00 pm
The Rt Revd Glyn Webster.
Sunday 10th September – 14th Sunday after Trinity
High Mass | 11.00 am
The Revd Dr Michael Bowie,
Vicar, St Peter's, Eastern Hill, Melbourne, Australia.
Sunday 1st October – 17th Sunday after Trinity
High Mass | 11.00 am
The Revd Katy Hacker Hughes,
Priest Pastor, St Marylebone Parish Church.
Wednesday 1st November 2023 – All Saints' Day
High Mass | 6.30 pm
The Revd Richard Bastable,
Vicar, St Luke's Uxbridge Road, and St Matthew's, Kensington Olympia.
Tuesday 2nd November 2023 – All Souls' Day
High Mass of Requiem | 6.30 pm
The Revd Dr Barry Orford.
Join the Friends of All Saints'
Our celebration of the Friends of All Saints' last Sunday offers an opportunity for us to encourage supporters of All Saints' who may live outside London or who are not able to worship with us regularly to join the Friends.
Joining the Friends of All Saints' is also particularly appropriate for our online worshippers and those who live abroad. You can find further details and the link for subscribing to the scheme here.
Our Friends scheme was rebooted and renewed last year. It continues to grow and the total number of members now stands at 183. Of those,100 are "Friends" contributing £25 a year, 79 are "Benefactors" donating at least £120 a year, and 4 are "Patrons" giving £1000 a year.
This means the Friends of All Saints' currently contribute just under £16,000 a year to our parish's finances. We are hugely grateful for the generosity this represents. The Friends have had a huge difference to our parish finances – many thanks indeed!
Attendance last Sunday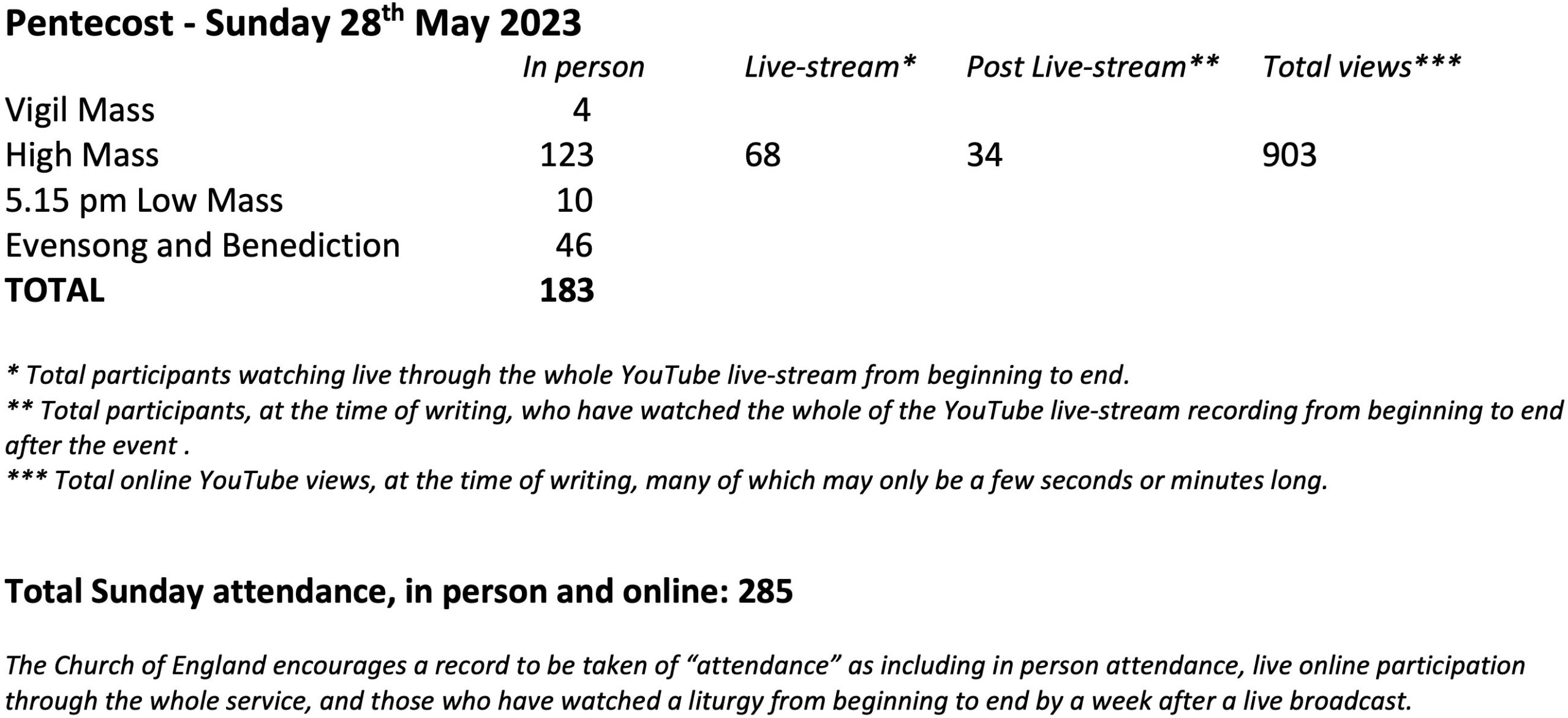 Links for Sunday
The links for the livestream and service sheet for this Sunday's High Mass are at the end of this email.
Evensong and Benediction takes place at 6pm this Sunday. Music will include Byrd's Second Service and Sheppard's Libera nos, salva nos.
Prayer list
The sick
Fr. Harry Hodgetts, Amanda Barrett, Greg Loveday, Don McWhinney, Martin Berka, Pete Turner, James Rodger, Andrew Rodger, David Craig, Charles Thomson, Elizabeth Lyon, Ray Oram, Keith Bevan, Marion Duggan, James Pearson, Eddie Burns, Mary Fourlong, Fr. Tim Peskett, Fr. Peter Strange, Réal Guérin, Bp. Michael Curry
The faithful departed
Roy Pearson Pr., Catherine Rebecca Bailey
Anniversaries of death
June 4th – Joan Arnold
5th – Cyril Tomkinson Pr. (seventh Vicar of All Saints), Winifred Richards, Tony Pulleyn
6th – Margaret White-Cooper
7th – Doris Daw, James Binnie, Denise Gerard
8th – Kenneth Ross Pr. (eighth Vicar of All Saints), Andrew Blackband, Russell Miller
9th – Mark Seymour-Taylor
10th – Hilda Sheppard, Reginald Rawll, David Laing
The Friends of All Saints'
4th – Maureen Cambrey, Adrian Carlton-Oatley, Kate Charles, Stuart Chillingworth, Robert Chote Sandy Christian
5th – Roger Clark, Catharine Clarke, David and Mavis Cleggett, Graham Colville, Alan Cook, Patrick Cook
6th – Eliza Coomber, Karolyn Cooper, William Cooper Bailey, Peter Coulson, Steven Cox, Yvonne Craig
7th – Julie Cridland, Kirill Dashkovskiy, Christopher Davies, Robert Davies, Jack de Gruiter, Peter Dennis
8th – Laura Denton, Suzanna Eaton, Linda Edwards, Pamela Edwards, John Eldridge, Terrence Ellsworth
9th – Sue Enoch, Carolyn Farrar, Sue Feakin, Adrian Felaar, Daniel Fielden, Janice Fielden, Julia Fielden
10th – Nigel Fisher, Mark Fleming, Stuart Fletcher, Christopher Forman, Anthony Fox, Charlotte Gauthier
Service times this week
Saturday 3rd June – Ss. Charles Lwanga and companions
12.00 pm Mass
6.30 pm Vigil Mass of Sunday
Sunday 4th June – Trinity Sunday
11.00 am High Mass
5.15 pm Mass
6.00 pm Evensong and Benediction
Monday 5th June – St. Boniface
12.00 pm Mass
6.30 pm Mass
Tuesday 6th June – St. Norbert
12.00 pm Mass
6.30 pm Mass
Wednesday 7th June – Feria
12.00 pm Mass
6.30 pm Mass
Thursday 8th June – Corpus Christi
12.00 pm Mass
6.30 pm High Mass, Procession and Benediction
Friday 9th June – St. Columba
12.00 pm Mass
6.30 pm Mass
Saturday 10th June – Feria
12.00 pm Mass
6.30 pm Vigil Mass of Sunday
Sunday 11th June – Trinity 1
11.00 am High Mass
5.15 pm Mass
6.00 pm Evensong and Benediction